The 1954 French flap:
The index page for the 1954 French flap section of this website is here.
October 3, 1954, Saint-Brieuc, Côtes-d'Armor:
Reference for this case: 3-Oct-54-Saint-Brieuc.
Please cite this reference in any correspondence with me regarding this case.
Summary:
On October 4 and 5, 1954, the French press reported that in Saint-Brieuc, according to their statements, several people saw, at 300 or 400 meters from them, around 8:45 p.m., a "flying cigar ", at an altitude of about 50 meters. The craft, according to their statements, might have been 15 meters in length and was intermittently lit with pink gleams, and it moved without noise.
Reports:
[Ref. lml1:] NEWSPAPER "LE MERIDIONAL":
[Ref. nrc1:] "LA NOUVELLE REPUBLIQUE DU CENTRE OUEST" NEWSPAPER:
[Ref. lpl1:] NEWSPAPER "LE PROVENCAL":
[Ref. nll1:] NEWSPAPER "NORD LITTORAL":
[Ref. prs1:] UNKNOWN FRENCH NEWSPAPER FOR OCTOBER 5, 1954:
[Ref. lyr1:] NEWSPAPER "L'YONNE REPUBLICAINE":
[Ref. lae1:] NEWSPAPER "L'ALSACE":
[Ref. lhm1:] "LE HAUT-MARNAIS REPUBLICAIN" NEWSPAPER:
[Ref. lml2:] "LE MERIDIONAL" NEWSPAPER:
[Ref. lfo1:] JOURNAL "LE FIGARO":
Note: the full article can be read here.
[Ref. ler1:] NEWSPAPER "L'EST REPUBLICAIN":
[Ref. nnm1:] NEWSPAPER "LE NOUVEAU NORD MARITIME":
[Ref. cdn1:] NEWSPAPER "LA CROIX DU NORD":
[Ref. nmn1:] NEWSPAPER "NORD-MATIN":
[Ref. jps1:] NEWSPAPER "LE JOURNAL DU PAS-DE-CALAIS ET DE LA SOMME":
[Ref. ads1:] NEWSPAPER "L'ARDENNAIS":
[Ref. crn1:] "L'ECHO REPUBLICAIN" NEWSPAPER: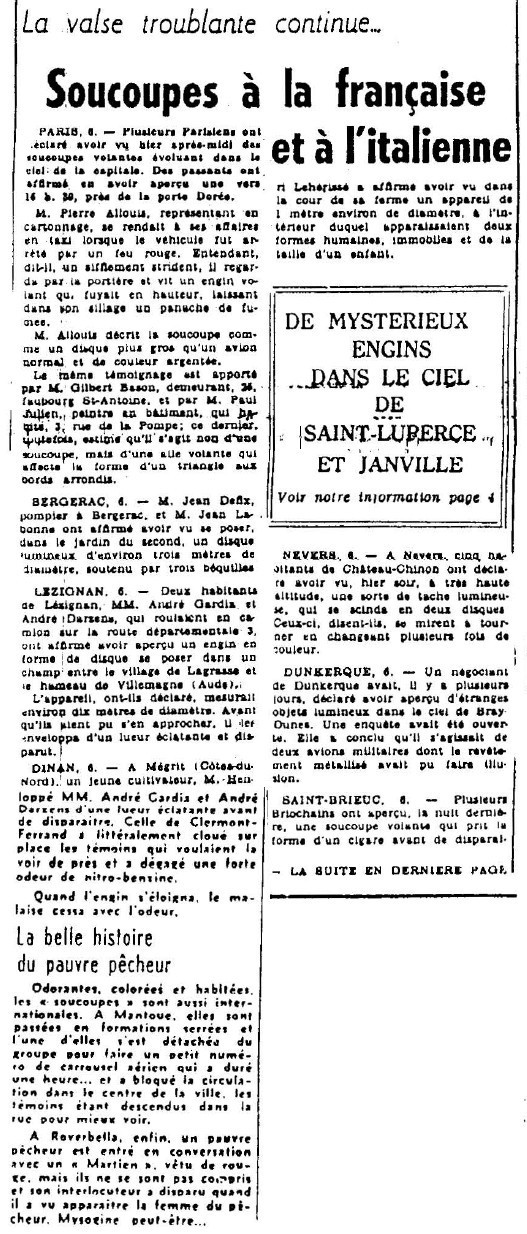 The disturbing waltz continues...
Saucers in the French and Italian way
PARIS, 6. - Several Parisians said they saw yesterday afternoon flying saucers moving in the sky of the capital. Bystanders claimed to have seen one at 4:30 p.m., near the porte Dorée.
Mr. Pierre Allouis, cardboard reseller, was traveling in a cab for business when the vehicle was stopped by a red light. Hearing, he said, a shrill whistling sound, he looked through the window and saw a flying vehicle that fled in height, leaving behind a plume of smoke.
Mr. Allouis described the saucer as a disc larger than a normal plane and of silver color.
The same testimony is given by Mr. Gilbert Bason, residing 35, Faubourg St. Antoine, and Mr. Paul Julien, house painter, who lives 3, rue de la Pompe; the latter, however, believes that this is not a saucer but a flying wing that has the shape of a triangle with rounded edges.
BERGERAC, 4. - Mr. Jean Defix, fireman in Bergerac and Jean Labonne stated they have seen landing in the garden of the latter, a luminous disc about three meters in diameter, supported by three legs.
LEZIGNAN, 6. - Two residents of Lezignan Misters André Gardia and André Darsens, who were driving in a truck on the main road 3, said they saw a disc-shaped craft rise in a field between the village of Lagrasse and the hamlet of Villemagne (Aude).
The craft, they said, was about ten meters in diameter. Before they could approach it, it wrapped a bright glow and disappeared.
DINAN, 6. - In Mégrit (Côtes-du-Nord), a young farmer, Mr. Hen [missing part]
[...]oped MM. Andre and Andre Guardia Darsens of a glow before disappearing. The one in Clermont-Ferrand literally transfixed witnesses who wanted to see it up close and it emitted a strong smell of nitro-benzine.
When the craft moved away, the discomfort ceased like the smell.
Mr. Lehérissé claimed to have seen in the yard of his farm a craft of about 1 meter in diameter, within which appeared two human forms, motionless and the size of a child.
---
MYSTERIOUS CRAFT IN THE SKY IN SAINT-LUPERCE AND JANVILLE
---
see our information page 4
NEVERS, 6. - In Nevers, five inhabitants of Château-Chinon said they saw last night at high altitude, a kind of bright spot, which split in two discs. These, they say, began to turn while changing color several times.
DUNKIRK, 6. - A merchant of Dunkirk had, several days ago, reported seeing strange bright objects in the sky of Bray-Dunes. An investigation was opened. It concluded that they were two military airplanes whose metallic coating could have been misleading.
SAINT-BRIEUC, 6. - Several residents of Saint-Brieuc saw, last night, a flying saucer which took the shape of a cigar before disapea[...]
- CONTINUED ON THE LAST PAGE
The beautiful story of the poor fisherman
Fragrant, colorful and inhabited, the "saucers" are also international. In Mantua, they rose in tight formations and one of them broke off from the group to make a small air carousel number that lasted an hour... and blocked traffic in the center of the city, witnesses being in the streets to see better.
In Roverbella, finally, a poor fisherman entered into conversation with a "Martian" dressed in red, but they did not understand each other and his companion disappeared when the fisherman's wife came around. Misogynist perhaps...
[Ref. vdn1:] NEWSPAPER "LA VOIX DU NORD":
[Ref. las1:] NEWSPAPER "LIBRE ARTOIS":
[Ref. gqy1:] GUY QUINCY:
[Ref. ldl2:] "LUMIERES DANS LA NUIT" UFOLOGY MAGAZINE:
[Ref. jve5:] JACQUES VALLEE:
| | | | | | | | | | | | | | |
| --- | --- | --- | --- | --- | --- | --- | --- | --- | --- | --- | --- | --- | --- |
| 188 | 002.76100 | 48.51000 | 02 | 10 | 1954 | | | | (SAINT-BRIEUC) | F | 151 | C** | 170 |
[Ref. pis2:] "PHENOMENES INCONNUS" UFOLOGY BULLETIN:
In this ufology bulletin, Alain Barbe published a map with cases (but not all the 61 cases or more) for October 2, 1954, including that of St Brieuc, which he, like Aimé Michel did, thooght to often be "aligned" beyond mere chance:
[Ref. via1:] UFOLOGY BULLETIN "VIMANA 21":
The source is said to be the newspaper Le Bien Public.
[Ref. ubk1:] "UFO-DATENBANK":
This database recorded this same case five times, once with a wrong date:
| Case Nr. | New case Nr. | Investigator | Date of observation | Zip | Place of observation | Country of observation | Hour of observation | Classification | Comments | Identification |
| --- | --- | --- | --- | --- | --- | --- | --- | --- | --- | --- |
| 19541002 | | | 02.10.1954 | | St. Brieuc | France | 20.45 | NL | | |
| 19541002 | | | 02.10.1954 | | St. Brieuc | France | 20.45 | NL | | |
| 19541002 | | | 02.10.1954 | | St. Brieuc | France | | | | |
| 19541002 | | | 02.10.1954 | | St. Brieuc | France | | | | |
| 19541005 | | | 05.10.1954 | | St. Brieuc | France | | NL | | |
| 19541005 | | | 05.10.1954 | | St. Brieuc | France | | NL | | |
Explanations:
Insufficient information, possible meteor.
Keywords:
(These keywords are only to help queries and are not implying anything.)
Saint-Brieuc, Côtes d'Armor, multiple, low, cigar, gleam, light, pink, silent
Sources:
[----] indicates sources that are not yet available to me.
[lml1] Article in the regional newspaper Le Méridional, France, October 4, 1954.
[nrc1] Article in the regional newspaper La Nouvelle République du Centre-Ouest, France, October 4, 1954.
[lpl1] Article in the regional newspaper Le Provençal, France, October 4, 1954.
[----] Article in the regional newspaper Le Bien Public, Dijon, France, October 4, 1954.
[nll1] Article in the regional newspaper Nord Littoral, Calais, France, page 8, October 5, 1954.
[prs1] Article in an unknown newspaper, France, October 5, 1954.
[lyr1] Article in the regional newspaper L'Yonne Républicaine, France, page 3, October 5, 1954.
[lae1] Article in the regional newspaper L'Alsace, Mulhouse, France, October 5, 1954.
[nmm1] Article in the regional newspaper Le Nouveau Nord Maritime, France, page 2, October 5, 1954.
[cdn1] Article in the regional newspaper La Croix du Nord, Lille, Pas-de-Calais, France, page 8, October 7, 1954.
[nmn1] Article in the regional newspaper Nord-Matin, Nord - Pas-de-Calais, France, page 8, October 7, 1954.
[jps1] Article in the regional newspaper Le Journal du Pas-de-Calais et de la Somme, France, pages 1 and 6, October 7, 1954.
[ads1] Article in the regional newspaper L'Ardennais, France, page 1, October 7, 1954.
[crn1] Article in the newspaper L'Echo Républicain, France, pages 1,4, October 7, 1954.
[lfo1] Article in the national newspaper Le Figaro, France, October 7, 1954.
[lhm1] Article in the regional newspaper Le Haut-Marnais Républicain, France, October 7, 1954.
[lml2] Article in the regional newspaper Le Méridional, France, October 7, 1954.
[ler1] Article in the regional newspaper L'Est Républicain, France, October 7, 1954.
[vdn1] Article in the regional newspaper La Voix du Nord, Nord - Pas-de-Calais, France, page 4, October 7, 1954.
[las1] Article in the regional newspaper Libre Artois, France, October 10, 1954.
[gqy1] "Observations 1954", monograph by Guy Quincy, France - Algeria, private publication, page 10, the 1950's.
[ldl2] Ufology magazine Lumières Dans La Nuit (LDLN), France, #77, page 3, September / October 1965.
[jve5] "Catalogue préliminaire de 500 observations", listing in "Les Phénomènes Insolites de l'Espace", book by Jacques and Jannine Vallée, Table Ronde publisher, France, 1966.
[pis2] "Du nouveau sur l'orthothénie?", article by Alain Barbe, in the ufology bulletin Phénomènes Inconnus, C.F.R.S, France, #14, pages 17,18, 1971.
[jve5] "Catalogue préliminaire de 500 observations", listing in "Les Phénomènes Insolites de l'Espace", book by Jacques and Jannine Vallée, Robert Laffont publisher, France, page 249, 1978.
[via1] "Catalogue, in the ufology bulletin Vimana 21, A.D.R.U.P. ufology group, France, #10-11, page 20, 3rd quarter 1982.
[ubk1] Online database UFO-Datenbank, Germany, found in 2016, at ufodatenbank.de
Document history:
| Version: | Created/Changed by: | Date: | Change Description: |
| --- | --- | --- | --- |
| 0.1 | Patrick Gross | July 11, 2004 | First published. |
| 1.0 | Patrick Gross | March 15, 2009 | Conversion from HTML to XHTML Strict. First formal version. |
| 1.1 | Patrick Gross | May 31, 2010 | Addition [ler1]. |
| 1.2 | Patrick Gross | June 4, 2010 | Addition [lae1]. |
| 1.3 | Patrick Gross | June 20, 2010 | Addition [jve5]. |
| 1.4 | Patrick Gross | August 15, 2010 | Addition [lml2]. |
| 1.5 | Patrick Gross | October 29, 2016 | Additions [crn1], [ubk1]. |
| 1.6 | Patrick Gross | December 22, 2016 | Additions [prs1]. |
| 1.7 | Patrick Gross | January 9, 2017 | Addition [lhm1]. |
| 1.8 | Patrick Gross | January 11, 2017 | Addition [nrc1]. |
| 1.9 | Patrick Gross | February 29 2020 | Additions [nnm1], [ads1], [ldl2], [pis2], [via1], Summary. |
| 2.0 | Patrick Gross | April 4, 2020 | Addition [cdn1]. |
| 2.1 | Patrick Gross | April 14, 2020 | Addition [nmn1]. |
| 2.2 | Patrick Gross | April 18, 2020 | Addition [nll1]. |
| 2.3 | Patrick Gross | May 15, 2020 | Addition [las1]. |
| 2.4 | Patrick Gross | June 25, 2020 | Addition [vdn1]. |
| 2.5 | Patrick Gross | July 7, 2020 | Addition [jps1]. |
| 2.6 | Patrick Gross | April 21, 2022 | Addition [gqy1]. |