The 1954 French flap:
The index page for the 1954 French flap section of this website is here.
October 3, 1954, Le Meix, Côte-d'Or:
Reference for this case: 3-Oct-54-Le-Meix.
Please cite this reference in any correspondence with me regarding this case.
Reports:
[Ref. lbp1:] NEWSPAPER "LE BIEN PUBLIC":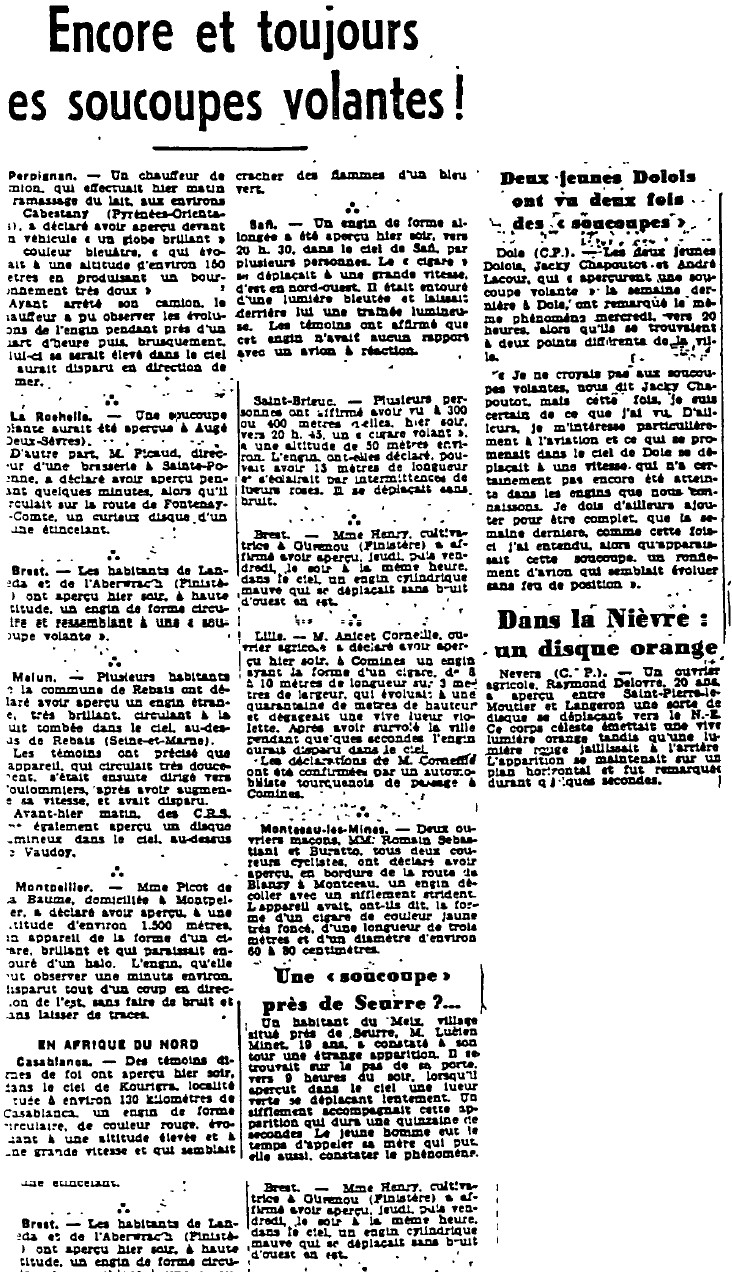 Still and always flying saucers!
Perpignan. -- A truck driver who was collecting milk yesterday morning in the vicinity of Cabestany (Pyrénées-Orientales) said he saw in front of his vehicle a "bluish globe", bluish in color, "which evolved at an altitude of 'About 180 meters producing a very soft hum."
Having stopped his truck, the driver was able to observe the evolutions of the craft for almost a quarter of an hour and then, suddenly, it would have risen in the sky and disappeared in direction of the sea-
La Rochelle. -- A flying saucer would have been seen in Auge (Deux-Sèvres).
Also, Mr. Picaud, the manager of a brewery in Sainte-Pozenne, said he had seen for a few minutes while on the road to Fontenay-le-Compte a curious yellow disc.
Brest, - The inhabitants of Landeda and the Aberwrac'h (Finistère) saw last night at high altitude a machine of circular shape and resembling a "flying saucer".
Melun. -- Several inhabitants of the commune of Rebais declared to have seen a strange, very brilliant machine, circulating at night fall in the sky, above Rebais.
The witnesses specified that the craft, which was traveling very slowly, had then moved towards Coulommiers, having increased its speed, and had disappeared.
The day before yesterday morning, the CRS, also saw a bright disc in the sky, above Vaudoy.
Montpellier. -- Mrs Picot de la Baume, a resident of Montpellier, stated that at an altitude of about 1,500 meters she saw a cigar-shaped device, which was shiny and appeared to be surrounded by a halo. The machine, which she could observe for a minute or so, suddenly disappeared in an easterly direction, without making a sound or leaving a trace.
IN NORTH AFRICA
Casablanca. -- Reliable witnesses saw in the sky of Kourigra, about 130 kilometers from Casablanca, a circular, red-colored machine, evolving at high altitude and at high speed, which seemed to be spitting green blue flames [as a meteor would do].
Safi [Morocco]. -- An elongated craft was seen last night around 8:30 pm, in the sky of Safi, by credible witnesses. The "cigar" was moving at a high speed, from east to northwest. He was surrounded by a bluish light and left behind a luminous trail. Witnesses testified that the aircraft was unrelated to a jet plane [but may have had a "relationship" with a meteor.]
Saint Brieuc. -- Several people said they saw 300 or 400 meters from them last night, around 8 pm. 45, a "flying cigar" at an altitude of about 50 meters. The machine, they said, could be 13 meters in length and lit up intermittently with pink gleams. He moved noiselessly.
Brest. -- Mrs Henry, a farmer in Gouesnou (Finistère) said she had seen a mauve cylindrical craft moving noiselessly from west to east on Thursday and Friday in the evening at the same time.
Lille. -- Anicet Corneille, an agricultural worker, said he saw a cigar-shaped device in Comines last night, 8 to 10 meters long by 3 meters wide, which was about 40 meters Height and exuded a lively violet glow. After flying over the city for a few seconds, the craft would have disappeared into the sky.
Mr. Corneille's statements were confirmed by a Touring engineer passing through Comines.
Montceau-les-Mines. -- Two bricklayers, MM. Romain Sebastiani and Buratto, both cyclists, said they saw a craft take off with a shrill whistle along the road from Blanzy to Montceau. The apparatus had, they said, the shape of a very dark yellow cigar, a length of three meters and a diameter of about 50 to 80 centimeters.
A saucer near Seurre?...
An inhabitant of the Meix, a village near Seurre, Mr. Lucien Minet, 19 years old, has in turn found a strange appearance. He was standing by the doorway at about 9 o'clock in the evening, when he saw in the sky a green glow moving slowly. A whistling accompanied this apparition which lasted fifteen seconds. The young man had time to call his mother, who could also see the phenomenon.
Two young Dolois have seen twice "saucers"
Dole (C.P.). -- The two young Dolois, Jacky Chapoutot and André Lacour, who "saw a flying saucer" last week in Dole, noticed the same phenomenon Wednesday, around 8 pm, while they were at two different points of the city .
"I did not believe in flying saucers," Jacky Chapoutot told us, "but this time I'm sure of what I saw, and I'm particularly interested in aviation and what was going on in the sky of Dole was moving at a speed that certainly is not yet achieved in the machines we know. I must add to be complete, that last week, as this time I heard, when this saucer appeared, an airplane hum that seemed to evolve without navigation lights."
In the Nièvre: An orange disc
Nevers (C.P.) -- An agricultural worker, Raymond Delovre, 20 years old, saw between Saint-Pierre-le-Moutier and Langeron a kind of disk moving towards the N.-E. This celestial body emitted a Bright orange light while a yellow light gushed to the rear. The appearance was maintained on a horizontal plane and was noticed for a few seconds."
[Ref. via1:] UFOLOGY BULLETIN "VIMANA 21":
MONDAY, OCTOBER 4: A SAUCER NEAR SEURRE -
An inhabitant of Le Meix, Mr. Lucien Minet, 19-year-old, has in his turn noticed a strange apparition. He was standing on his doorstep, around 9 p.m., when he saw in the sky a green glow moving slowly. A whistle accompanied this apparition which lasted about fifteen seconds. The young man had the time to call his mother who noticed the phenomenon.
The source is said to be the newspaper Le Bien Public.
[Ref. via3:] "VIMANA 21" UFOLOGY MAGAZINE - ADRUP:
This magazine listed this case:
54 10 03 9 p.m. NL Seurre (Le Meix)
[Ref. ubk1:] "UFO-DATENBANK":
| Case Nr. | New case Nr. | Investigator | Date of observation | Zip | Place of observation | Country of observation | Hour of observation | Classification | Comments | Identification |
| --- | --- | --- | --- | --- | --- | --- | --- | --- | --- | --- |
| 19541002 | | | 02.10.1954 | | Meix | France | 21.00 | NL | | |
[Ref. aln1:] ALAIN LEQUIEN:
The author indicates that on September 29, 1954, there had been numerous observations of a luminous object, a meteor, crossing France, which was seen in Painblanc as in other communes of Burgundy.
In Meix near Seurre, a young 19-year-old resident had noticed a strange apparition. Standing on his doorstep around 9 p.m., he saw a green glow in the sky moving slowly for about fifteen seconds.
The author indicates that the source and the book by Aimé Michel [aml1].
Explanations:
The description suggests it was a meteor.
Keywords:
(These keywords are only to help queries and are not implying anything.)
Le Meix, Côte-d'Or, Seurre, Lucien Minet, night, gleam, green, slow, duration, whistling
Sources:
[----] indicates sources that are not yet available to me.
[lbp1] Article in the regional newspaper Le Bien Public, France, October 4, 1954.
[via1] "Catalogue, in the ufology bulletin Vimana 21, A.D.R.U.P. ufology group, France, #10-11, page 20, 3rd quarter 1982.
[via3] "Listing fichier ADRUP", in the ufology magazine Vimana 21. ADRUP, France, #17, 4th quarter 1984.
[ubk1] Online database UFO-Datenbank, Germany, found in 2016, at ufodatenbank.de
[aln1] "Des ovnis dans le ciel de Bourgogne: De 1461 à nos jours, près de 200 observations dévoilées", book by Alain Lequien, Books on Demand publishers, France, page 50, 2019.
Document history:
| Version: | Created/Changed by: | Date: | Change Description: |
| --- | --- | --- | --- |
| 1.0 | Patrick Gross | December 22, 2016 | First published. |
| 1.1 | Patrick Gross | February 11, 2021 | Additions [via1], [via3], [aln1]. |