The 1954 French flap:
The index page for the 1954 French flap section of this website is here.
October 2, 1954, Quimper, Finistère:
Reference for this case: 2-Oct-54-Quimper.
Please cite this reference in any correspondence with me regarding this case.
Summary:
Several newspapers of October 6 and 7, 1954, listed a number of sightings that took place mainly on October 2, 1954, without giving details.
One of them would have taken place in Quimper.
Reports:
[Ref. lae1:] NEWSPAPER "L'ALSACE":
The newspaper reports on October 6, 1954, with no other information, that there was a sighting in Quimper. The date is not given but the sighting is mentioned among others that took place on October 2 and 3, 1954.
See the article here.
[Ref. ppe1:] NEWSPAPER "PARIS-PRESSE":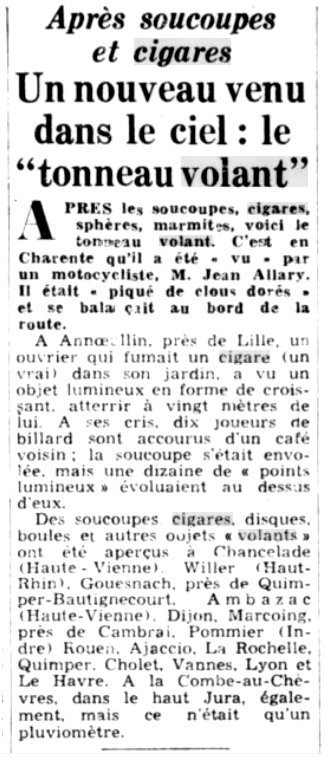 After saucers and cigars
A newcomer in the sky: the
"flying barrel"
AFTER the saucers, cigars, spheres, pots, here is the flying barrel. It was in the Charente that it was "seen" by a motorcyclist, Mr. Jean Allary. It was "studded with golden nails" and was swinging by the side of the road.
In Annoeullin, near Lille, a worker who was smoking a cigar (a real one) in his garden, saw a luminous object in the shape of a crescent landing twenty meters from him. At his shouts, ten billiards players came running from a nearby cafe; the saucer had taken off, but a dozen "luminous dots" were moving above them.
Saucers, cigars, discs, balls and other "flying" objects were spotted in Chancelade (Haute-Vienne), Willer (Haut-Rhin), Gouesnach, near Quimper, Bautignecourt, Ambazac (Haute-Vienne), Dijon, Marcoing, near Cambrai, Pommier (Indre), Rouen, Ajaccio, La Rochelle, Quimper, Cholet, Vannes, Lyon and Le Havre. A la Combe-au-Chèvres, in the Haut Jura, also, but it was just a rain gauge.
[Ref. ads1;] "L'ARDENNAIS" NEWSPAPER:
The flying objects saraband
(Continued from the first page)
[...]
Saucers, cigars, discs, balls and other "flying" objects were seen at Chancelade (Haute-Vienne), Willer (Haut-Rhin) [Sep. 30.], Gouesnach, near Quimper [Oct. 2], Beutignecourt, Ambazac (Haute-Vienne) [Oct. 1], Dijon [Oct. 2], Marcoing near Cambrai [Oct. 3], Pommier (Indre) [Oct. 3], Rouen [Oct. 3], Ajaccio, la Rochelle [Oct. 2], Quimper, Cholet [Oct. 2] and Vannes [Oct. 2].
[...]
[Ref. vdn1:] NEWSPAPER "LA VOIX DU NORD":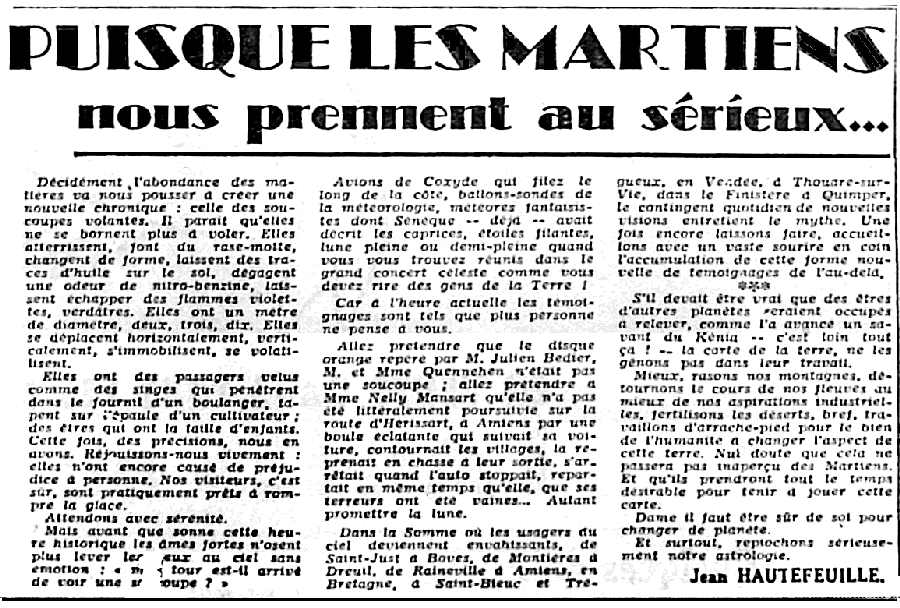 AS THE MARTIANS
Take us seriously...
Definitely, the abundance of materials will push us to create a new chronicle: that of flying saucers. It seems that they are no longer just flying. They land, level off, change shape, leave oil traces on the ground, give off a smell of nitro-benzine, let out purple, greenish flames. They are one meter in diameter, 2,3, 10. They move horizontally, vertically, immobilize, vanish.
They have furry passengers like monkeys who enter a baker's bakery, tap a cultivator on the shoulder; beings the size of children. This time, we have more details. Let us rejoice deeply: they have not yet caused harm to anyone. Our visitors, for sure, are almost ready to break the ice.
Let's wait with serenity.
But before this historic hour strikes strong souls no longer dare to look up at the sky without emotion: "It it my turn to see a saucer?"
Planes of Koksijde, which run along the coast, balloons - meteorological probes, fanciful meteors of which Sénèque - already - had described the whims, shooting stars, full or half-full moon when you find yourself gathered in the big celestial concert you must laugh at the people of the earth!
Because today the testimonies are such that nobody is thinking about you anymore.
Go pretend that the orange disc identified by Mr. Julien Bédié, Mr. and Mrs. Quennehen was not a saucer; go pretend to Mrs. Nelly Mansart that she was not literally chased on the road from Hérissart, to Amiens by a dazzling ball which followed her car, bypassing the villages, resuming hunting at their exit, stopping when the car stopped, leaving at the same time as it, that its terrors were in vain... Might as well promise the moon.
In the Somme where sky users become invasive, from Saint-Just to Boves, from Montières to Dreuil, from Rainneville to Amiens, in Brittany, to Saint-Brieuc and Trégueux, in the Vendée, at Thouare-sur-Vie, in the Finistère in Quimper, the daily quota of new visions fuels the myth. Once again let us do so, let us welcome with a wide smirk the accumulation of this new form of testimonies from the beyond.
If it were to be true that beings from other planets would be busy raising, as a scientist from Kenya put it - that's all that far! - the map of the earth, let's not bother them in their work.
Better, shave our mountains, divert the course of our rivers to the best of our industrial aspirations, fertilize the deserts, in short, let us work hard for the good of humanity to change the appearance of this earth. No doubt this will not go unnoticed by the Martians. And that they will take all the time they want to play this card.
Lady, you have to be sure of yourself to change the planet.
And above all, let's take a serious look at our astrology.
Jean HAUTEFEUILLE
[Ref. ale1:] NEWSPAPER "ABBEVILLE LIBRE":
news across France
According to the account of some people who have seen flying saucers and Martians, the latter do not measure more than 1 m to 1.20 m., wear a helmet and do not speak French.
In the Dordogne, a farmer claims to have been accosted by two passengers in a flying "tureen". This time, both men were perfectly normal.
Flying saucers continue to fly over the skies of France. Near Le Mans, at Châteauroux and at Quimper, these luminous apparatuses were seen.
[Ref. aml1:] AIME MICHEL:
Aimé Michel notes that there was a sighting in Quimper on October 2, 1954.
[Ref. gqy1:] GUY QUINCY:
The Quincy catalogue indicates that a "luminous sphere" was observed above the town of Quimper, on October 2, 1954, at an unknown time.
[Ref. gqy2:] GUY QUINCY:
Saturday October 2 [, 1954]
[...other cases...]
: Quimper(Finistère): sph.lum.
[...other cases...]
[Ref. jve5:] JACQUES VALLEE:
| | | | | | | | | | | | | | |
| --- | --- | --- | --- | --- | --- | --- | --- | --- | --- | --- | --- | --- | --- |
| 186 | 004.10200 | 48.01500 | 02 | 10 | 1954 | | | | QUIMPER | F | 151 | C** | 170 |
[Ref. pis2:] "PHENOMENES INCONNUS" UFOLOGY BULLETIN:
In this ufology bulletin, Alain Barbe published a map with cases (but not all the 61 cases or more) for October 2, 1954, including that of Quimper, which he, like Aimé Michel did, thooght to often be "aligned" beyond mere chance:
[Ref. lcn1:] LUC CHASTAN:
Luc Chastan indicates that in the Finistère in Quimper on October 2, 1954 at an unknown hour, a cigar is observed, evolving at low altitude.
The source is indicated as "M.O.C. by Michel Aimé ** Arthaud 1958."
[Ref. ubk1:] "UFO-DATENBANK":
This database recorded the case twice:
| Case Nr. | New case Nr. | Investigator | Date of observation | Zip | Place of observation | Country of observation | Hour of observation | Classification | Comments | Identification |
| --- | --- | --- | --- | --- | --- | --- | --- | --- | --- | --- |
| 19541002 | | | 02.10.1954 | | Quimper | France | | | | |
| 19541002 | | | 02.10.1954 | | Quimper | France | | | | |
[Ref. voi1:] "ARCHIVES VIGIE OVNI 29":
Quimper ( 29 000 ), 02 October 1954 ...
Testimony nr. FR 29 000 1954 10 02 .. ..
Available documents:
Explanations:
Totally insufficient information.
Keywords:
(These keywords are only to help queries and are not implying anything.)
Quimper, Finistère, sphere, luminous
Sources:
[----] indicates sources that are not yet available to me.
[lae1] Article in the regional newspaper L'Alsace, Mulhouse, France, October 6, 1954.
[ads1] Article in the regional newspaper L'Ardennais, France, October 6, 1954.
[ppe1] Article in the national newspaper Paris-Presse, Paris, France, page 5, October 6, 1954.
[vdn1] Article in the regional newspaper La Voix du Nord, Nord - Pas-de-Calais, France, page 4, October 7, 1954.
[ale1] Article in the local newspaper Abbeville Libre, Abbeville, France, page 1, October 15, 1954.
[aml1] "Mystérieux Objets Célestes", book by Aimé Michel, Arthaud publisher, France, 1958.
[aml1] "Flying Saucers and the Straight-Line Mystery", book by Aimé Michel, English version of "Mystérieux Objets Célestes", S. G. Phillips publisher, USA, 1958.
[gqy1] "Special Annotated Catalogue of Landings", compiled by Guy Quincy, typewritten document, unpublished, France, 1961.
[gqy2] "Observations 1954", monograph by Guy Quincy, France - Algeria, private publication, page 10, the 1950's.
[jve5] "Catalogue préliminaire de 500 observations", listing in "Les Phénomènes Insolites de l'Espace", book by Jacques and Jannine Vallée, Table Ronde publisher, France, 1966.
[aml1] "A Propos de Soucoupes Volantes", book by Aimé Michel, reprint of "Mystérieux Objets Célestes", Planète publisher, France, 1966.
[aml1] "Mystérieux Objets Célestes", book by Aimé Michel, Seghers publisher, France, page 150, 1977.
[aml1] "Mystérieux Objets Célestes", book by Aimé Michel, Robert Laffont publisher, France, page 150, 1978.
[jve5] "Catalogue préliminaire de 500 observations", listing in "Les Phénomènes Insolites de l'Espace", book by Jacques and Jannine Vallée, Robert Laffont publisher, France, page 249, 1978.
[pis2] "Du nouveau sur l'orthothénie?", article by Alain Barbe, in the ufology bulletin Phénomènes Inconnus, C.F.R.S, France, #14, pages 17,18, 1971.
[----] "Fantastiques Rencontres au Bout du Monde", book by Jean-François Boedec, France, page 14, 1982.
[lcn1] Base OVNI France, website by Luc Chastan, France, circa 2005, at baseovnifrance.free.fr/detobs.php?numobs=2456
[ubk1] Online database UFO-Datenbank, Germany, found in 2016, at ufodatenbank.de
[voi1] Web page of the Archives Vigie OVNI 29 website, France, not dated, found in 2017, at https://ufo29.jimdo.com/de-2010-%C3%A0-2019-14/de-1950-%C3%A0-1959-29/1954-29
Document history:
| Version: | Created/Changed by: | Date: | Change Description: |
| --- | --- | --- | --- |
| 0.1 | Patrick Gross | April 23, 2005 | First published. |
| 1.0 | Patrick Gross | January 3, 2009 | Conversion from HTML to XHTML Strict. First formal version. Additions [aml1], [lcn1]. |
| 1.1 | Patrick Gross | June 3, 2010 | Addition [lae1]. |
| 1.2 | Patrick Gross | June 20, 2010 | Addition [jve5]. |
| 1.3 | Patrick Gross | January 2, 2017 | Addition [ubk1]. |
| 1.1 | Patrick Gross | February 7, 2017 | Addition [voi1]. |
| 1.5 | Patrick Gross | January 16, 2020 | Additions [ppe1], [ads1], [pis1]. |
| 1.6 | Patrick Gross | June 25, 2020 | Addition [vdn1]. |
| 1.7 | Patrick Gross | May 28, 2022 | Addition [ale1]. |