The 1954 French flap:
The index page for the 1954 French flap section of this website is here.
Beg. October, 1954, Thouare-sur-Vie, Vendée:
Reference number for this case: Beg-Oct-54-Thouare-sur-Vie. Thank you for including this reference number in any correspondence with me regarding this case.
Reports:
[Ref. lfo1:] NEWSPAPER "LE FIGARO":
Flying saucers
Continued from the first page.
[...]
In Thouares-sur-Vie (the Vendée), ten objects of elongated shapes passed at a high speed and high altitude.
[...]
Note: the full article can be read here.
[Ref. lml1:] "LE MERIDIONAL" NEWSPAPER: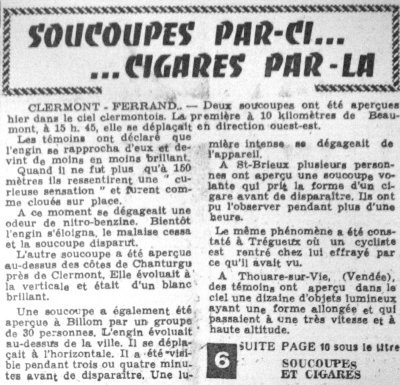 SAUCERS HERE
...CIGARS THERE
CLERMONT-FERRAND. -- Two saucers were seen yesterday in the sky of Clermont. The first within 10 kilometers of Beaumont, at 03:45 p.m., it moved in a west to east direction.
The witnesses stated that the machine approached them and became less and less brilliant.
When it was not any more than within 150 meters they felt a "weird feeling" and were like nailed on the spot.
At this time an odor of nitro-benzene emerged. Soon the machine moved away, faintness ceased and the saucer disappeared.
The other saucer was seen above the hills of Chanturgu close to Clermont. It moved vertically and was of a brilliant white color.
A saucer was also seen in Billom by a group of 30 people. The machine moved above the city. It moved horizontally. It was visible during three or four minutes before disappearing. An intense light emerged from the apparatus.
In St-Brieux several people saw a flying saucer which took the shape of a cigar before disappearing. They were able to observe it during more than one hour.
The same phenomenon was noted in Trégueux where a cyclist returned home frightened by what he had seen.
In Thouare-sur-Vie, (the Vendée) witnesses saw in the sky ten luminous objects having a lengthened shape and passing at a very high speed and high altitude.
CONTINUED ON PAGE 10 under the title SAUCERS AND CIGARS
[Ref. ubk1:] "UFO-DATENBANK":
This database recorded this case twice:
| Case Nr. | New case Nr. | Investigator | Date of observation | Zip | Place of observation | Country of observation | Hour of observation | Classification | Comments | Identification |
| --- | --- | --- | --- | --- | --- | --- | --- | --- | --- | --- |
| 19541005 | | | 05.10.1954 | | Thouare Vie | France | 19.00 | NL | | |
| 19541005 | | | 05.10.1954 | | Thouare Vie | France | 19.00 | NL | | |
Explanations:
Not looked for yet.
Keywords:
(These keywords are only to help queries and are not implying anything.)
Thouares-sur-Vie, Vendée, objects, elongated, high, fast, ten
Sources:
[----] indicates sources which I have not yet checked.
[lfo1] Article in the national newspaper Le Figaro, Paris, France, October 7, 1954.
[lml1] Article in the regional newspaper Le Méridional, France, October 7, 1954.
[ubk1] Online database UFO-Datenbank, Germany, found in 2016, at ufodatenbank.de
Document history:
| Version: | Created/Changed by: | Date: | Change Description: |
| --- | --- | --- | --- |
| 0.1 | Patrick Gross | June 25, 2005 | First published. |
| 1.0 | Patrick Gross | March 5, 2010 | Conversion from HTML to XHTML Strict. First formal version. |
| 1.1 | Patrick Gross | August 15, 2010 | Addition [lml1]. |
| 1.2 | Patrick Gross | February 16, 2017 | Addition [lml1]. |