The 1954 French flap:
The index page for the 1954 French flap section of this website is here.
October 4, 1954, Forgès, Corrèze:
Reference number for this case: 4-Oct-54-Forgès. Thank you for including this reference number in any correspondence with me regarding this case.
Summary:
The newspaper La Dépêche du Midi for October 6, 1945, reported that at 6 p.m. on October 4, 1954, a silent cigar-shaped craft was observed above Forgès, moving slowly, flying at low altitude.
The newspaper said many people saw it at length, including in villages of the area.
Two witnesses - whether they were in Forges or in one of the nearby villages is not specified - had told the newspaper that the "curious craft" seemed to have a kind of propeller at the front.
After a few minutes, it had suddenly dove vertically and "disappeared" quickly, leaving in awe all those "who had followed its moves until then."
Reports:
[Ref. ldm1:] "LA DEPECHE DU MIDI" NEWSPAPER: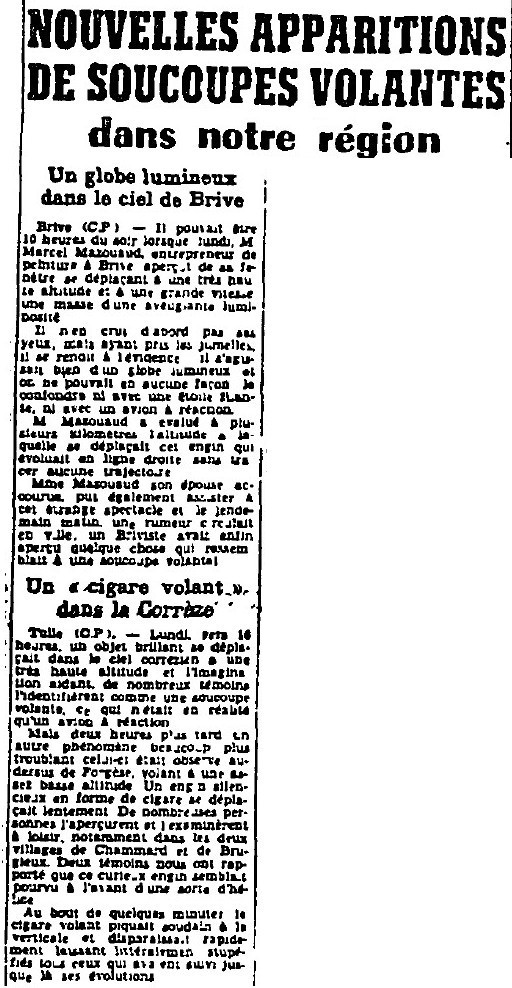 NEW APPARITIONS
OF FLYING SAUCERS
In our region
A luminous globe in the sky of Brive
Brive (P.C.) - It might have been ten o'clock in the evening when, on Monday, Mr. Marcel Mazouaud, a painting contractor in Brive, saw from his window moving at a very high altitude and at high speed a mass of a blinding brightness.
He did not believe his eyes at first, but having taken the binoculars, he accepted the obvious, it was indeed a luminous globe and it could in no way be a shooting star, or a jet plane.
M. Mazouaud estimated at several kilometers the altitude at which this machine moved in a straight line without tracing any trajectory.
Mrs. Mazouaud, his wife, was able to attend this strange display, and the next morning a rumor spread in town, a resident of Brive had finally caught sight of something that looked like a flying saucer.
A "flying cigar" in the Corrèze
Tulle (C.P.). - On Monday, around 4 p.m., a brilliant object was moving in the Corrèze sky at a very high altitude and imagination helping, many witnesses identified it as a flying saucer; whereas it was actually only a jet airplane.
But two hours later another much more troubling phenomenon was observed above Forgèse [sic, Forgès], flying at a low altitude. A silent machine in the shape of a cigar moved slowly. Many people saw it and examined it at length, especially in the two villages of Chammard and Brugieux. Two witnesses told us that this curious machine seemed to have a propeller at the front.
At the end of a few minutes the flying cigar suddenly dove vertically and disappeared quickly leaving all those who had followed its evolutions until then literally stupefied.
[Ref. lpc1:] "LE POPULAIRE DU CENTRE" NEWSPAPER: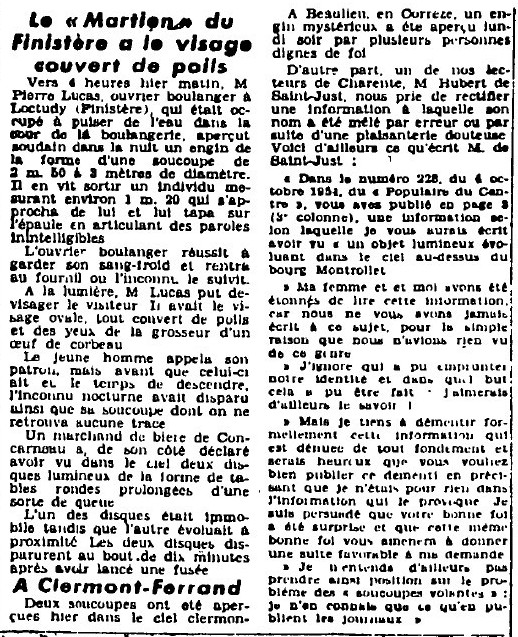 The "Martian" of the Finistère has the face covered with hair
Around 6 o'clock in the morning, Mr. Pierre Lucas, a baker in Loctudy (the Finistère), who was busy getting water from the bakery yard, suddenly saw in the night a machine in the shape of a saucer of 2 m. 50 to 3 meters in diameter. He saw an individual measuring about 1 m. 20 who approached him and patted him on the shoulder, uttering unintelligible words.
The bakery workman managed to keep his cool and went back to the bakery where the stranger followed him.
In the light, Mr. Lucas was able to stare at the visitor. His face was oval, covered with hair and eyes the size of a raven's egg.
The young man called his boss, but before the latter had time to come down, the nocturnal unknown had disappeared as well as his saucer of which no trace was found.
A beer-dealer of Concarneau, for his part, stated that he had seen in the sky two luminous disks of the form of round tables extended with a kind of tail.
One of the discs was motionless while the other was maneuvering nearby. The two discs disappeared after 10 minutes after launching a rocket.
In Clermont-Ferrand
Two saucers were seen yesterday in the sky of Clermont [missing part]
In Beaulieu, the Corrèze, a mysterious machine was seen Monday by several people worthy of faith.
On the other hand, one of our readers in the Charente, M. Hubert de Saint-Just, asks us to rectify an information to which his name has been associated by mistake, or as a result of a dubious joke. This, moreover, is what M. de Saint-Just writes:
"In the issue 228 for October 6th, 1954, of the" Populaire du Centre", you published on page 3 (5th column) an information according to which I would have written to you to have seen a "luminous object" evolving in the sky above the Montrollet village.
"My wife and I were amazed to read this information because we never wrote to you about this, for the simple reason that we did not see anything like that.
"I do not know who borrowed our identities and for what purpose this was done - I would like to know!
"But I want to formally deny this information which is totally unfounded and would be glad that you would publish this denial, stating that I had nothing to do with the information that provoked it. I am persuaded that your good faith was abused and that this same good faith will lead you to give a favorable result to my request.
"I do not mean to take a position on the problem of the "flying saucers": I know only what the newspapers publish.
[Ref. ldm2:] "LA DEPECHE DU MIDI" NEWSPAPER:

SAUCERS AND CIGARS
IN THE CORREZIAN SKY
Disturbing observations, certainly, but nothing that could help to unravel the mystery
In the incredible sarabande that every day (or every night) saucers and cigars and apparatuses of all kinds lead in the sky of our planet, the Corrèze has not, so far, gotten the lion's share.
But I am tempted to write that if we did not get the quantity however we got the quality.
By this I mean that the few observations made in our region were made by serious people whose good faith and judgment cannot be doubted.
Mr. Mazaud of Bugeat gained a solid reputation not because he was the first to see the "flying cigar" even before the findings made in the sky of Rome, but also because his encounter with a curious person, Which one assumes to be the pilot or passenger of the mysterious machine, a character of the most "terrestrial" type that is contrary to what some write with a little too much fantasy.
Several weeks after other witnesses just as serious as M. Mazaud saw in the sky between Forgès and Saint-Chamont another flying cigar which moved a bit in the manner of an aircraft and which suddenly dove vertically.
But to these two serious observations must be added a third observed by a government employee who wishes to remain anonymous. I understand this a little.
"Saturday," he said, "I drove on the road from Egletons to Lapleau in the company of my wife, enjoying a nice morning we went to the neighboring woods to pick up mushrooms. Suddenly I saw in the sky an elongated machine, very bulging in the center, throwing metallic reflections towards the ground, the apparatus descended gradually, then disappeared suddenly behind the wooded hill in a south-easterly direction. When I reached a ridge I scanned the sky but I realized that the mysterious machine had disappeared.
My informant is formal, he did observe this extraordinary aerial ship; it was not a plane, at least not a plane of any known type. There was no [?]. It therefore belongs to the category of the flying cigars.
In the "flying saucer" category, the most serious observation seems to be that of Mr. Besse, which we did report in detail. He was able to observe the machine using binoculars. Other troubling facts were noted. But they do not have the precision of Mr. Besse's observations.
Thus in Puy-de-Noix, commune of Sainte-Fortunade on the road from Tulle to Beaulieu, several people observed a phenomenon inexplicable in their eyes.
It was Mr. Sol who gave the "alarm". At the moment when he was entering his house, from which he oversees a vast [hamlet?], he perceived at the height of a distant ridge in the direction of Falazinges a luminous ball which was moving, while changin in intensity. Mr. Sol called his son. Mr. Lherbe, a neighbor was also invited to come and observe the luminous ball, it moved irregularly, at one time it seemed that it wanted to go towards the village of Puy-de-Noix, but it returned to Falazinges. The night was dark, so we consider several explanations, an automobile headlight, the headlight of a tractor performing its nocturnal plowing. But we were obliged to consent that it could not be a headlight, since we could not see the luminous beam on the ground.
In the village of Puy-de-Noix, one still wonders about it.
Such are, among the various observations made in Correze, and have come to our knowledge, those that seem the most serious to us. They are troubling but they do not, alas, bring the final word of the enigma. -- V.A.
[Ref. ubk1:] "UFO-DATENBANK":
| Case Nr. | New case Nr. | Investigator | Date of observation | Zip | Place of observation | Country of observation | Hour of observation | Classification | Comments | Identification |
| --- | --- | --- | --- | --- | --- | --- | --- | --- | --- | --- |
| 19541003 | | | 03.10.1954 | | Forges | France | | | | |
Explanations:
The apparently strange craft remains unidentified to me, but the information is not sufficient to exclude that it could have been some plane or helicopter.
It should be noted that it is not certain that there were witnesses in Forgès; it is possible that only witnesses in the surrounding villages saw it above Forgès.
Keywords:
(These keywords are only to help queries and are not implying anything.)
Forgès, Corrèze, cigar, slow, low, descent, fast, multiple, day, silent
Sources:
[----] indicates sources which I have not yet checked.
Document history:
| Version: | Created/Changed by: | Date: | Change Description: |
| --- | --- | --- | --- |
| 1.0 | Patrick Gross | December 29, 2016 | First published. |
| 1.1 | Patrick Gross | January 7, 2017 | Additions [ldm2], [lpc1]. |