The 1954 French flap:
The index page for the 1954 French flap section of this website is here.
October 3, 1954, Château-Chinon, Nièvre:
Reference number for this case: 3-Oct-54-Château-Chinon. Thank you for including this reference number in any correspondence with me regarding this case.
Reports:
[Ref. pr1:] UNKNOWN NEWSPAPER FOR OCTOBER 6, 1954: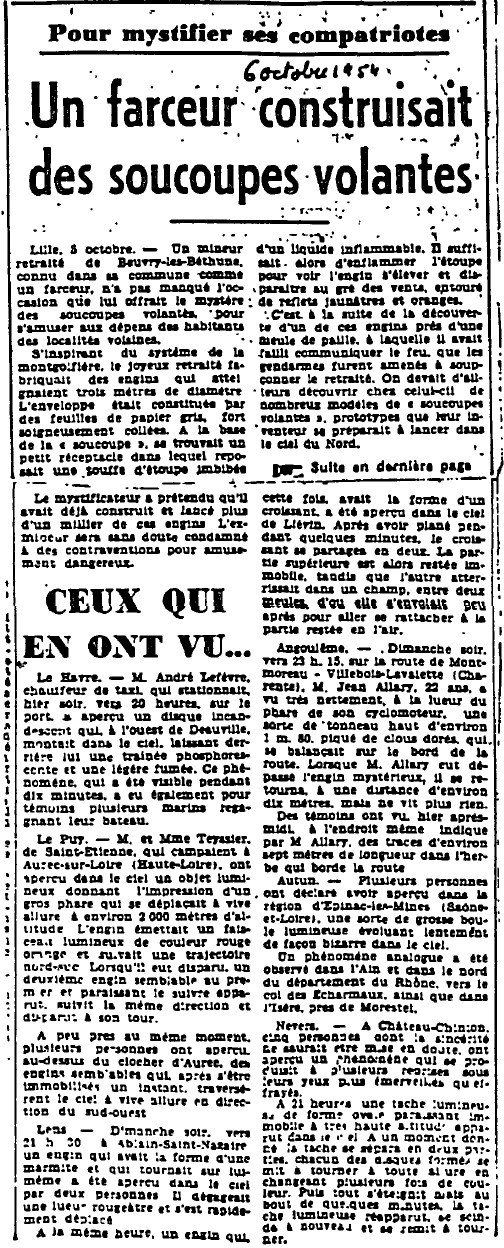 To mystify his compatriots
A prankster built flying saucers
Lille, 5 October. - A retired mine worker of Beuvry-les-Bethune, known in his commune as a prankster, did not miss the opportunity offered to him by the mystery of the flying saucers to amuse himself at the expense of the inhabitants of the neighboring localities.
Inspired by the hot air balloon system, the happy retired man built machines that were three meters in diameter. The envelope consisted of sheets of gray paper, strongly glued together. At the base of the "saucer" was a small receptacle in which lay a tuft of tow impregnated with a flammable liquid. It was then enough to ignite the tow to see the machine rise and disappear at the winds, surrounded by yellowish and orange reflections.
It was after the discovery of one of these devices near a stack of straw, to which it had almost set fire, that the gendarmes were led to suspect the retired man. In fact, there were many models of "flying saucers" at his place, prototypes that their inventor was preparing to launch in the sky of the Nord.
The mystifier claimed that he had already built and launched more than a thousand of these devices. The ex-mine worker will no doubt be sentenced to fines for dangerous amusement.
Those who have seen...
Le Havre. -- Mr. André Lefèvre, a taxi driver, who was parked yesterday evening at 8 p.m. on the harbor, saw an incandescent disk which rose to the west of Deauville, leaving behind a phosphorescent trail and a slight smoke. This phenomenon, which was visible for ten minutes, was also witnessed by several sailors returning to their boat.
The Puy. -- Mr. and Mrs. Teyssier, of Saint-Etienne, who camped at Aurec-sur-Loire (Haute-Loire), saw in the sky a luminous object giving the impression of a large headlight moving at a rapid pace at about 2000 meters altitude. The craft emitted an orange-reddish light beam and followed a north-south trajectory. When it had disappeared, a second apparatus, similar to the first, appeared to follow it, in the same direction, and disappeared in its turn.
At about the same time, several persons saw above the bell-tower of Aurec similar machines which, after being immobilized for a moment, crossed the sky at a rapid pace towards the south-west.
Lens. -- Sunday evening, around 9:30 p.m., in Ablain-Saint-Nazaire, a machine that had the shape of a pot and which rotated on itself was seen in the sky by two people. It emitted a reddish glow and moved quickly.
At the same time, a craft which, this time, had the shape of a crescent, was seen in the sky of Liévin. After hovering for a few minutes, the crescent split in two. The upper part then remained motionless, while the other landed in a field between two haystacks, from which it took off shortly afterwards to join the part that was in the air.
Angoulême. -- Sunday evening, around 9:15 p.m., on the road from Montmoreau to Villebois-Lavallette (the Charente), Mr. Jean Allary, 22, saw very clearly, in the light of his moped's headlight, a sort of barrel high of about 1.50 meters, studded with gilded nails, which swayed on the side of the road. When Mr. Allary had passed the mysterious machine, he looked back, at a distance of about ten yards, but he saw nothing.
Witnesses saw, yesterday afternoon, at the very place indicated by Mr. Allary, traces about seven meters long in the grass that borders the road.
Autun. -- Several people said they saw in the region of Epinac-les-Mines (the Saône-et-Loire), a kind of large luminous ball moving slowly in a bizarre manner in the sky.
A similar phenomenon has been observed in the Ain and in the north of the Rhone department, towards the Col des Echarmaux, as well as in the Isère, near Morestel.
Nevers. -- In Chateau-Chinon, five persons whose sincerity could not be doubted, saw a phenomenon which occurred several times before their more astonished than frightened eyes.
At 9 o'clock a luminous spot of oval shape, seemingly motionless at a very high altitude, appeared in the sky. At one point the spot began to rotate at full speed, changing color several times. Then all went out, but after a few minutes the luminous spot reappeared, split again, and began to rotate.
[Ref. er1:] "L'ECHO REPUBLICAIN" NEWSPAPER: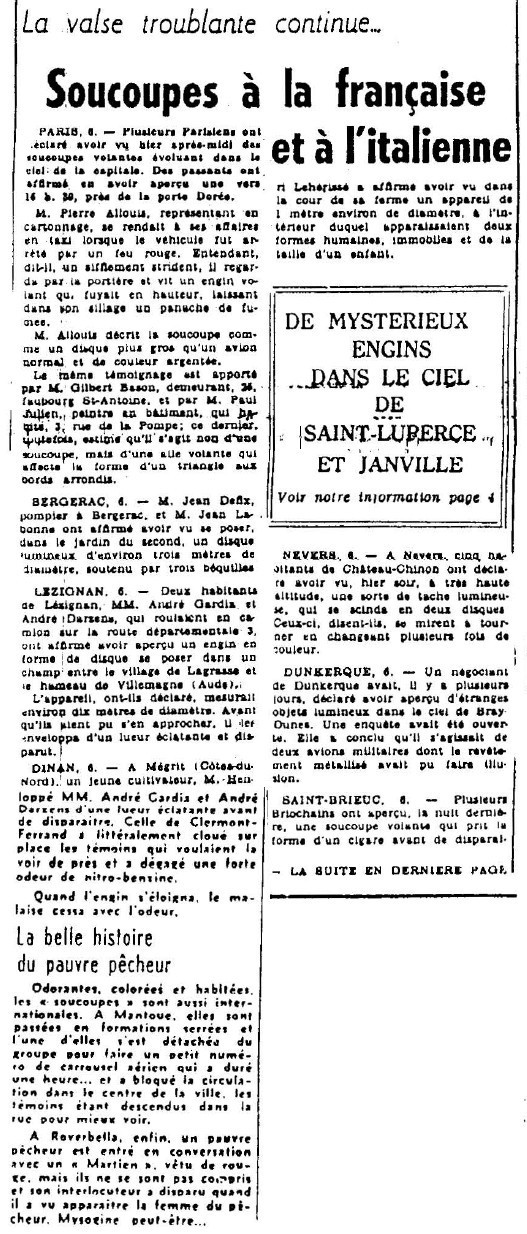 The disturbing waltz continues...
Saucers in the French and Italian way
PARIS, 6. - Several Parisians said they saw yesterday afternoon flying saucers moving in the sky of the capital. Bystanders claimed to have seen one at 4:30 p.m., near the porte Dorée.
Mr. Pierre Allouis, cardboard reseller, was traveling in a cab for business when the vehicle was stopped by a red light. Hearing, he said, a shrill whistling sound, he looked through the window and saw a flying vehicle that fled in height, leaving behind a plume of smoke.
Mr. Allouis described the saucer as a disc larger than a normal plane and of silver color.
The same testimony is given by Mr. Gilbert Bason, residing 35, Faubourg St. Antoine, and Mr. Paul Julien, house painter, who lives 3, rue de la Pompe; the latter, however, believes that this is not a saucer but a flying wing that has the shape of a triangle with rounded edges.
BERGERAC, 4. - Mr. Jean Defix, fireman in Bergerac and Jean Labonne stated they have seen landing in the garden of the latter, a luminous disc about three meters in diameter, supported by three legs.
LEZIGNAN, 6. - Two residents of Lezignan Misters André Gardia and André Darsens, who were driving in a truck on the main road 3, said they saw a disc-shaped craft rise in a field between the village of Lagrasse and the hamlet of Villemagne (Aude).
The craft, they said, was about ten meters in diameter. Before they could approach it, it wrapped a bright glow and disappeared.
DINAN, 6. - In Mégrit (Côtes-du-Nord), a young farmer, Mr. Hen [missing part]
[...]oped MM. Andre and Andre Guardia Darsens of a glow before disappearing. The one in Clermont-Ferrand literally transfixed witnesses who wanted to see it up close and it emitted a strong smell of nitro-benzine.
When the craft moved away, the discomfort ceased like the smell.
Mr. Lehérissé claimed to have seen in the yard of his farm a craft of about 1 meter in diameter, within which appeared two human forms, motionless and the size of a child.
---
MYSTERIOUS CRAFT IN THE SKY IN SAINT-LUPERCE AND JANVILLE
---
see our information page 4
NEVERS, 6. - In Nevers, five inhabitants of Château-Chinon said they saw last night at high altitude, a kind of bright spot, which split in two discs. These, they say, began to turn while changing color several times.
DUNKIRK, 6. - A merchant of Dunkirk had, several days ago, reported seeing strange bright objects in the sky of Bray-Dunes. An investigation was opened. It concluded that they were two military airplanes whose metallic coating could have been misleading.
SAINT-BRIEUC, 6. - Several residents of Saint-Brieuc saw, last night, a flying saucer which took the shape of a cigar before disapea[...]
- CONTINUED ON THE LAST PAGE
The beautiful story of the poor fisherman
Fragrant, colorful and inhabited, the "saucers" are also international. In Mantua, they rose in tight formations and one of them broke off from the group to make a small air carousel number that lasted an hour... and blocked traffic in the center of the city, witnesses being in the streets to see better.
In Roverbella, finally, a poor fisherman entered into conversation with a "Martian" dressed in red, but they did not understand each other and his companion disappeared when the fisherman's wife came around. Misogynist perhaps...
[Ref. br1:] "LA BOURGOGNE REPUBLICAINE" NEWSPAPER:

THE WANDERING "MARTIANS"
(Continued)
Nevers (from our Press Correspondent.). -- According to the testimonies of five people, whose sincerity cannot be doubted, a flying saucer crossed the sky of Château-Chinon on Sunday evening, around 9 p.m. The strange apparition took place around 9 pm. This time, it is a luminous spot, of oval shape, appearing motionless at a very high altitude. At one time the spot appeared to separate into two parts, and each of the formed discs began to turn at full speed, changing color several times. Then everything went out. At the end of a few minutes, the first light spot reappeared, before splitting again and turning. The same phenomenon repeated several times under the more amazed than frightened eyes of the five residents of Chateau-Chinon.
Is it the same machine that was seen at Santenay at approximately the same hour? In any case, the testimony of the residents of Santenay is confirmed by that of the Lille residents who, a few moments earlier, saw three luminous "croissants" above the region.
The "Sauceritis" continues its ravages
Morez (from our special correspondent). -- In the Upper Jura where the statements of the children of Prémanon affirming that they had stoned a saucer, the minds are heated.
The other day, a resident of Les Rousses (whose name is not given) announced that a saucer had landed at the "Combe aux Chèvres" in a small clearing in the forest of the Massacre.
In fact, the many curious (20 cars at least) who drove there, did see a metallic object resplendent in the sun.
In addition, police roadblocks had been installed on all roads. It was learned later that the police were hunting more for Baranès, whose passage to Switzerland was feared, than for the Martian, for the saucer of the forest of the Massacre was only a rain gauge installed there for years!
FLYING SAUCER IN SAVIGNY-LES-BEAUNE
Saturday, 10 pm. 30 and 23 h. 45, a group of four people from Savigny-les-Beaune saw a very bright "ball of fire" followed by a long green trail, which crossed the sky at a dizzying pace.
Two other people who were in a different place also noticed the phenomenon.
It is therefore not a hallucination ... but is it really a "saucer"?
[Ref. am1:] AIME MICHEL:
Aimé Michel reports the "sky display of Château-Chinon" on October 3, 1954.
In this city, around 21 hours, the inhabitants see a sort of luminous spot of oval contour, evoking a flat and circular disc seen slightly by its profile. The spot is motionless and seems to be at a very high altitude, this during several minutes during which the number of people who look at it increases.
Then the spot suddenly divided into two parts which started to turn quickly while changing color several times.
Then, all light disappears and nothing any more is seen during a few moments.
The spot however reappears, and again separates in two object which start to turn, changing color quickly, then disappear again.
The same thing happened five times, after that the light definitively disappeared. The duration of the observation was of approximately five minutes.
[Ref. am2:] AIME MICHEL:
In an article in 1963, Aimé Michel adds:
b) a low-size object that witnesses saying their were close describe as like circular, hemispherical on the top, changing aspect in the bottom. In the night and in flight, the object is generally luminous, the reddish, orange or gilded top, the lower part likely to emit green, white, red, purple colors, either separately, or simultaneously; the closest witnesses state that, in this latter case (simultaneous emission of several colors), the sources of light are sort of small verticals rods under the object which were seen appearing, disappearing, exchanging between them their colors and thus giving an impression of whirling (for example, October 3, 1954, in Armentières, in Château-Chinon, in Montbeliard, and other dates a little everywhere in the world). Instead of the small rods, under the main object, sometimesappears a smaller object, very luminous, interdependent of the first but likely to go down vertically below him (for example, this same 3 October, in Marcoing, in Liévin, Ablain-St-Nazaire, Milly, Champigny).
[Ref. jv5:] JACQUES VALLEE:
| | | | | | | | | | | | | | |
| --- | --- | --- | --- | --- | --- | --- | --- | --- | --- | --- | --- | --- | --- |
| 215 | -003.93471 | 47.06550 | 03 | 10 | 1954 | 21 | 00 | 105 | CHATEAU-CHINON | F | 301 | C** | 214 |
[Ref. cg1:] CHARLES GARREAU:
Charles Garreau mentions that there was an observation on October 3, 1954 with Castle-Chinon in Nièvre.
[Ref. fr1:] MICHEL FIGUET AND JEAN-LOUIS RUCHON:
The two authors indicate that in Château-Chinon in the department of the Nièvres, on October 3, 1954, at some unknown time, five people saw a "luminous spot of oval shape" appearing motionless at a very high altitude. The spot seemed to separate in two parts and each formed a disc which started to rotate at a sharp pace while changing of color several times. Then all died out. At the end of a few minutes, the luminous spot reappeared before being divided again. The same phenomenon occurred on several occasions.
The authors indicate that the source is a newspaper article.
[Ref. jc1:] "LE JOURNAL DU CENTRE" NEWSPAPER:
The newspaper indicates that on October 3, 1954 in the same evening five people observed a luminous spot in the sky of Château-Chinon. The spot separated in two discs which started to turn at full speed, changing several times of color. All disappeared, then the luminous spot reappeared, and the phenomenon reproduced several times.
The source is indicated as the newspaper itself in their October 5, 1954, issue.
[Ref. go1:] GODELIEVE VAN OVERMEIRE:
Godelieve van Overmeire indicates that in 1954, on October 3 in France in Chateau-Chinon (the Nièvre), five witnesses saw a luminous spot of oval form appearing motionless at very high altitude. The spot seemed to separate in two parts and each one produced a disc. They started to ratate fast while changing color, then this died out. At the end of a few minutes, one stain appeared, which separated in two. etc.
The source is indicated as M. Figuet / J.L. Ruchon: "Ovni, Premier dossier complet..." Alain Lefeuvre pub. 1979, p. 115.
[Ref. lc1:] LUC CHASTAN:
Luc Chastan indicates that in the Nièvres in Château Chinon on October 3, 1954 at 21:00 hours, five witnesses saw a " luminous spot of oval form "appearing motionless at very high altitude. The spot seemed to separate in two parts and each formed a disc that started to rotate fast while changing colors several times; then it all died out and, at the end of a few minutes, the luminous spot reappeared before splitting again. The same phenomenon occurred several times.
Luc Chastan indicates that the source is "Ovni, Premier dossier complet... by Figuet M./ Ruchon J.L. ** Alain Lefeuvre pub. 1979".
[Ref. ud1:] "UFODNA" WEBSITE:
The website indicates that on 3 October 1954 at 21:00 in Chateau-Chinon, France, an "unusual object was sighted, that had unconventional appearance and performance. One object was observed by numerous witnesses on a farm for over five minutes. Explanation: Re-entry."
The sources are indicated as Michel, Aime, Flying Saucers and the Straight-Line Mystery, S. G. Phillips, New York, 1958; Vallee, Jacques, Computerized Catalog (N = 3073); Vallee, Jacques, Challenge to Science: The UFO Enigma, Henry Regnery, Chicago, 1966; Vallee, Jacques, Preliminary Catalog (N = 500), (in JVallee01); Hatch, Larry, *U* computer database, Author, Redwood City, 2002.
[Ref. dc1] DOMINIQUE CAUDRON:
Dominique Caudron indicates that the catalogue of 800 cases published in 1970 by Maurice Santos, is a good example of what one should not do; he indicates to extract from it the list of the cases of October 3, 1954; which he knows well as he had investigated into these cases of his area of Nord. For each case, below the text of the Santos catalogue, he states what should have been written, and the explanation after analysis, when there is one.
Santos wrote that for this case #550 of October 3, 1954, of "Various Forms", there had been in Château-Chinon an observation of an Unknown Object Flying in form of two superimposed lids.
Dominique Caudron says that at 9 p.m., in "Château-Chinon, 58, a motionless luminous spot appeared to split in two discs turning and changing color, disappeared and reappeared several times (in fact: possible Moon)"
He notes that the numbering of the cases by Santos seemed a good idea, but that it prevents the evolution of the catalogue, whose numbering becomes incoherent at the first update: "For example, this catalogue contains only 10 cases for the area of the Nord, whereas we know 48 of them. How to place the 38 others?"
[Ref. ub1:] "UFO-DATENBANK":
That same case was recorded 5 times in this database:
| Case Nr. | New case Nr. | Investigator | Date of observation | Zip | Place of observation | Country of observation | Hour of observation | Classification | Comments | Identification |
| --- | --- | --- | --- | --- | --- | --- | --- | --- | --- | --- |
| 19541003 | | | 03.10.1954 | | Chateau Chinon | France | 21.00 | | | |
| 19541003 | | | 03.10.1954 | | Chateau Chinon | France | 21.00 | NL | | |
| 19541003 | | | 03.10.1954 | | Chateau Chinon | France | 21.00 | NL | | |
| 19541003 | | | 03.10.1954 | | Chateau-Chinon | France | | | | |
| 19541005 | | | 05.10.1954 | | Chateau Chinon | France | Evening | | | |
Explanations:
Not looked for yet.
Keywords:
(These keywords are only to help queries and are not implying anything.)
Château-Chinon, Nièvre, object, light, luminous, colors, divides, splits, separatation, multiple, altitude, manoeuvre, duration, city
Sources:
[---] indicates sources which I have not yet checked.
Document history:
| Version: | Created/Changed by: | Date: | Change Description: |
| --- | --- | --- | --- |
| 0.1 | Patrick Gross | January 17, 2006 | First published. |
| 1.0 | Patrick Gross | January 9, 2009 | Conversion from HTML to XHTML Strict. First formal version. Additions [go1], [lc1], [ud1]. |
| 1.1 | Patrick Gross | March 15, 2010 | Addition [jc1]. |
| 1.2 | Patrick Gross | June 21, 2010 | Addition [jv5]. |
| 1.3 | Patrick Gross | July 7, 2010 | Addition [cg1]. |
| 1.4 | Patrick Gross | October 14, 2016 | Addition [dc1]. |
| 1.5 | Patrick Gross | October 29, 2016 | Additions [er1], [ub1]. |
| 1.6 | Patrick Gross | December 30, 2016 | Addition [pr1]. |
| 1.7 | Patrick Gross | January 18, 2017 | Addition [br1]. |