UFOs in the daily Press:
UFO report in La Seyne-sur-Mer, France, 1980:
The article below was published in the daily newspaper Var-Matin - République, France, le 25 janvier 1980.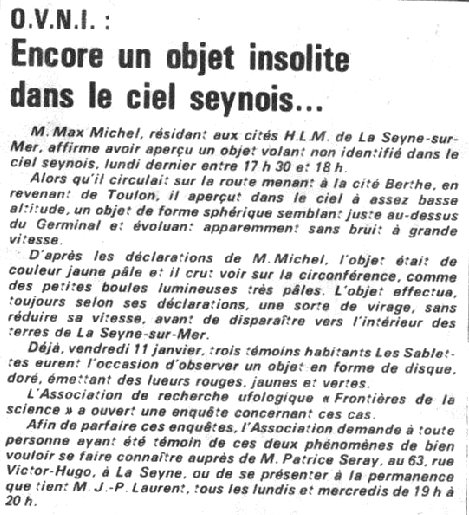 UFO:
Another unusual object
in the La Seyne sky...
Mr. Max Michel, residing at the H.L.M. from La Seyne-sur-Mer, claims to have seen an unidentified flying object in the Seynois sky, last Monday between 5:30 p.m. and 6 p.m.
While he was driving on the road leading to the Cité Berthe, returning from Toulon, he saw in the sky at a fairly low altitude, a spherical object seeming just above the Germinal and apparently moving noiselessly at high speed.
According to Mr. Michel's statements, the object was pale yellow in color and he thought he saw on the circumference, like small very pale luminous balls. The object performed, still according to his statements, a kind of turn, without reducing its speed, before disappearing inland from La Seyne-sur-Mer.
The ufological research Association "Frontières de la science" has opened an investigation into these cases.
In order to complete these investigations, the Association asks anyone who has witnessed these two phenomena to make themselves known to Mr. Patrice Seray, at 63, rue Victor-Hugo, in La Seyne, or to report to the office held by Mr. J.-P. Laurent, every Monday and Wednesday from 7 p.m. to 8 p.m.