UFOs in the daily Press:
The 1954 French flap in the Press:
The article below was published in the daily newspaper Nord Littoral, Calais, France, pages 1 and 8, on September 30, 1954.

A REAL AERIAL
CAROUSEL OF SAUCER
is observed in the sky of the Dauphiné
Lyon, September 29.
In the departments of Rhône, Isère, Drôme and Savoie, many people claim to have seen, in recent days, with more or less clarity, craft having either the shape of a cigars or that of discs.
In the Arbresle region, one of these witnesses, director of a Parisian music-hall, even filmed a of these mysterious craft which moved at a height estimated by him, approximately 700 meters. We will thus know, after development of the film whether or not it is an optical illusion.
Near Feyzin (Isère), a young man reportedly saw in the countryside, not far from the ground, a craft in the shape of a dome and from which sprung is a very bright light. The witness compared it to that caused by the combustion of magnesium. The craft suddenly went up vertically, leaving behind a shower of sparks and disappeared.
In the Drôme, a resident of Valence, Mrs. L..., who was walking near Chabeuil, claims to have met on the way that she was following, a being of small stature and dressed so oddly that at first thought it was a cellophane scarecrow. The dog accompanying the walker barked furiously, overcome with terror. As for Mrs. L..., also terrified, she hid behind a hedge.
It was then that she saw rising from the field of maize that bordered the path, a disc from which came a whistling sound. Shortly after, the witness and some peasants went into the field where, according to them, a circular trace approximately three meters in diameter was clearly distinguished, with ears of maize lying down and broken branches at the edge.
Other residents of Chabeuil also said they saw that day a flying saucer flying over the countryside.
Finally, in Savoie, near Lac du Bourget, above Mont Revard, several motorists, a total of fifteen people, simultaneously saw a craft in the shape of a disc, move for about 4 minutes, then suddenly disappear.
One of the witnesses, a doctor from Chambéry, is a former artillery observer. He carefully noted the observations and drew a sketch reproducing the path of the mysterious apparatus.
A LOCOMOTIVE DRIVER
SCARED,
FALLS ILL
Redon, Sept. 29
MM. Gérard, mechanic and Paroux, driver, who were driving a high-speed machine coming from Nantes, saw last night as they passed at a place called "La Butte du Rouge", commune of Saint-Nicolas-de-Redon, (Ille-et-Vilaine), a craft that rose from the neighboring marshes.
This craft, of a certain length, which was followed by a luminous trail, flew during ten seconds above the machine and disappeared in the sky.
Whereas the mechanic kept his cool, the driver however was so frightened that he fell ill and had to undergo a medical examination this morning.
Read on page 8: The Chronicle of Heaven.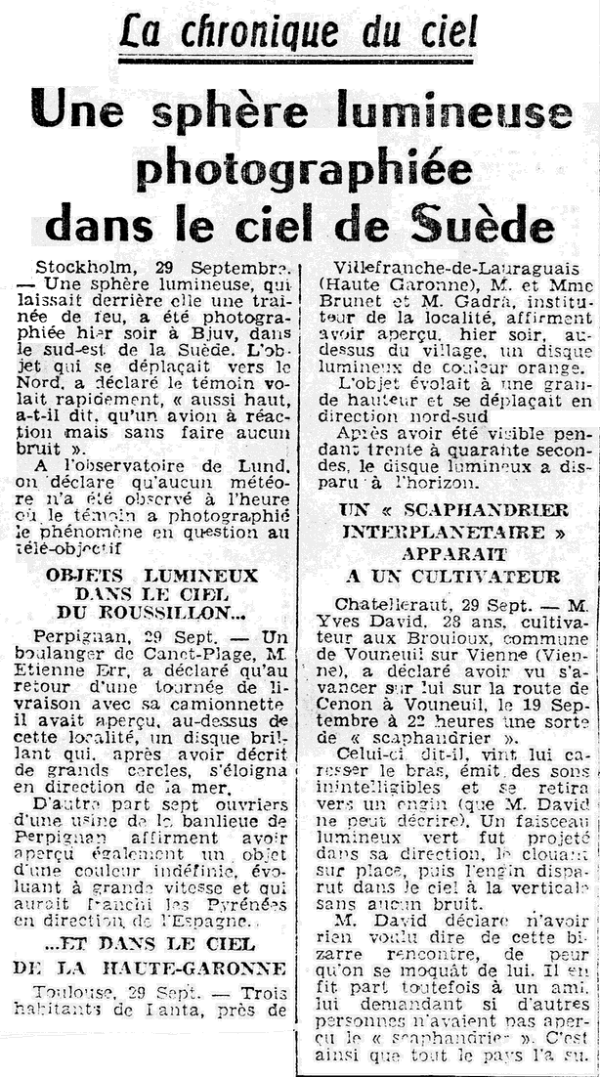 Chronicle of the Sky
A luminous sphere
photographed
in the sky of Sweden
Stockholm, September 29.
- A luminous sphere, which left a trail of fire behind it, was photographed last night in Bjuv, in the south-east of Sweden. The object, which was moving north, said the witness, was flying quickly, "as high, he said, as a jet plane but silenttly."
At the Lund observatory, it is stateed that no meteor was observed at the time when the witness photographed the phenomenon in question on the telephoto lens.
LUMINOUS OBJECTS
IN THE SKY
OF THE ROUSSILLON...
Perpignan, Sept. 29 -- A baker from Canet-Plage, Mr. Etienne Err, said that after returning from a delivery tour with his van he had seen, above this locality, a brilliant disc which, after having described large circles, moved away towards the sea.
On the other hand seven workers from a factory in the suburbs of Perpignan claim to have also seen an object of an indefinite color, moving at high speed and which would have crossed the Pyrenees towards Spain.
... AND IN THE SKY
OF HAUTE-GARONNE
Toulouse, 29 Sept. -- Three inhabitants of Lanta, near Villefranche de Lauraguais (Haute-Garonne), Mr. and Mrs. Brunel and Mr. Gadra, a teacher in the locality, claim to have seen, last night, above the village, a luminous disc of orange color.
The object moved at a great height and moved in a north-south direction.
After being visible for 30 to 40 seconds, the luminous disc disappeared on the horizon.
AN "INTERPLANETARY
DIVER"
APPEAR
TO A CULTIVATOR
Châtellerault, 29 Sep. -- Mr. Yves David, 28, farmer in Les Brouloux, commune of Vouneuil sur Vienne (Vienne), said he saw advancing on him on the road from Cenon to Vouneuil, on September 19 at 10 p.m. a sort of "diver."
The latter, he said, came to caress his arm, emitted unintelligible sounds and withdrew towards a craft (which Mr. David cannot describe). A green light beam was projected in his direction, nailing him on the spot, then the craft disappeared in the sky vertically without any noise.
Mr. David declares that he did not want to say anything about this bizarre encounter, lest someone make fun of him. He did, however, share it with a friend, asking if anyone else had seen the "diver." That's how the whole country found out.