UFOs in the daily Press:
The 1954 French flap in the Press:
The article below was published in the daily newspaper Nord-Eclair, Roubaix, Nord, France, pages 1 and 8, on September 24, 1954.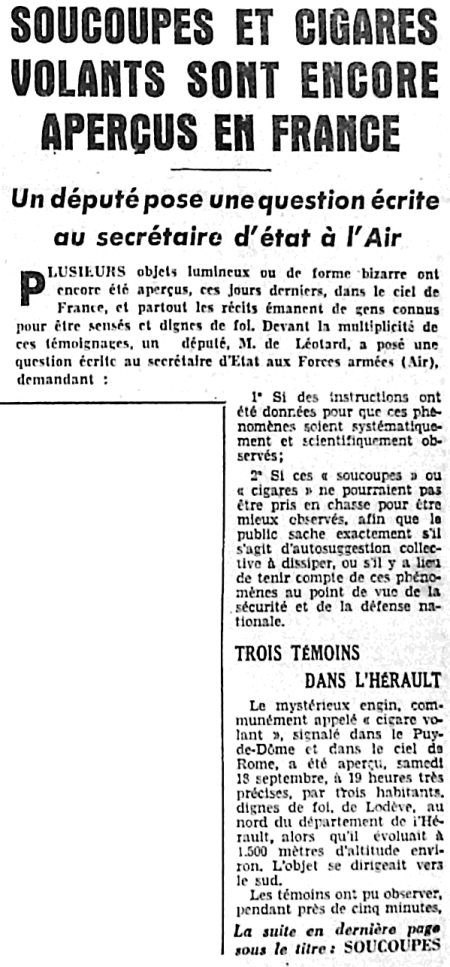 FLYING SAUCER AND CIGARS
ARE STILL
SEEN IN FRANCE
MP asks written question to Secretary of State for Air
Several luminous or oddly shaped objects have still been seen in the skies of France in recent days, and everywhere the stories come from people known to be sensible and trustworthy. In front of the multiplicity of these testimonies, a deputy, Mr. de Léotard, asked a written question to the Secretary of State for the Armed Forces (Air), asking:
1° Wether instructions have been given so that these phenomena are systematically and scientifically observed;
2° If these "saucers" or "cigars" could not be hunted to be better observed, so that the public knows exactly if it is a matter of collective self-suggestion to dissipate, or if these phenomena should taken into consideration from the point of view of security and national defense.
THREE WITNESSES
IN THE HERAULT
The mysterious craft, commonly called flying cigar, reported in Puy-de-Dôme and in the skies of Rome, was seen on Saturday, September 18, at 7 p.m. very precisely, by three trustworthy residents of Lodève, in the north of the Hérault department, when it was operating at around 1,500 meters of height. The object was heading south.
The witnesses were able to observe for almost 5 minutes,
Continuation on the last page under the title: SAUCERS
Saucers
a tapered bow, towing a brilliantly lit fire-red globe and moving silently, approximately at the speed of an ordinary aircraft.
Mr. Louis Moll, country guard, in Oberdorf, (Moselle) stated that he saw on Sunday around 9:15 p.m., an intense glow coming from space and touching the ground east of Tromborn.
This glow, like that of a neon tube, added the guard, and coming from an object of fairly large proportions, changed color. It became reddish and Mr. Moll claims to have seen "black dots" move silently.
The object, motionless for almost 40 seconds, started to rotate and made an almost vertical ascent, taking the appearance of an orange ball and flattening before disappearing at a dizzying speed, in the southeast direction.
The authorities who recorded these statements have opened an investigation.