UFOs in the daily Press:
The 1954 French flap in the Press:
The article below was published in the daily newspaper Nord-Eclair, Roubaix, Nord, France, pages 1 and 11, on October 17, 1954.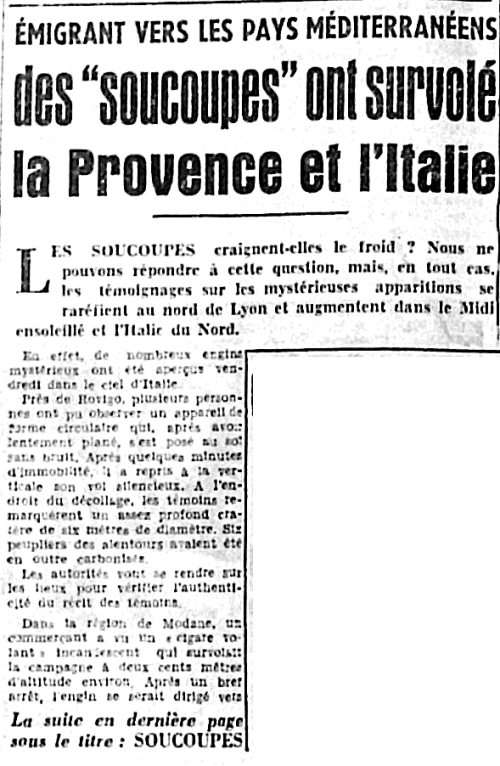 MIGRATING TO MEDITERRANEAN COUNTRIES
Saucers flew over Provence and Italy
Do saucers fear the cold? We cannot answer this question, but, in any case, the accounts of the mysterious apparitions are becoming scarce north of Lyon and increase in the South of France and northern Italy.
Indeed, many mysterious craft were seen Friday in the sky of Italy.
Near Rovigo, several people were able to observe a circular craft which, after slowly hovering, landed silently on the ground. After a few minutes of immobility, it resumed its silent flight vertically. At the place of takeoff, witnesses noticed a fairly deep crater six meters in diameter. Six poplars in the area had also been charred.
Authorities will visit the scene to verify the authenticity of the witnesses' accounts.
In the Modano region, a trader saw an incandescent "flying cigar" flying over the country at an altitude of around two hundred meters. After a brief stop, the craft would have headed for
Continued on the last page
under the title: SAUCERS

Saucers
the northwest. This observation was confirmed by other witnesses.
Finally, a flying saucer with silver reflections flew over Luino, near the Swiss border. Many witnesses said they saw it.
IN THE PROVENCE SKY
Mr. Bérenger, mayor of Saint-Laurent-du-Var, general councilor and many people saw an orange disc over Nice on Friday.
Several residents also observed, above Cannes, a luminous machine of yellow color with a green tail. The most interesting testimony was brought by an employee of the municipal recipe of Antibes, Mr. Casella, who, returning home, found himself "nose to nose with a huge mechanical machine measuring 7 to 8 meters in diameter and posed in the middle of the road."
The witness approached the craft. He was going to touch it when it rose vertically and disappeared into the sky with a slight hissing sound.
In Venergues, several grape pickers saw "a cigar of white and blue color", which emitted luminous rays.
In Le Puy, a bright object was observed for almost an hour, by the weather station of Puy Chadrac.
The craft appeared like a straight olive with a black antenna at the top. The station chief said he believed he was in the presence of the planet Jupiter, but the sudden disappearance of the object showed that he had made a mistake. The same phenomenon was seen by the meteorological center of Ruyeres (Cantal). Thousands of residents of Tulle saw a big shiny and transparent dot in the sky. Some believe it was a weather balloon.