UFOs in the daily Press:
The 1954 French flap in the Press:
The article below was published in the daily newspaper Nord-Eclair, Roubaix, Nord, France, page 10, on October 16, 1954.
See the case file.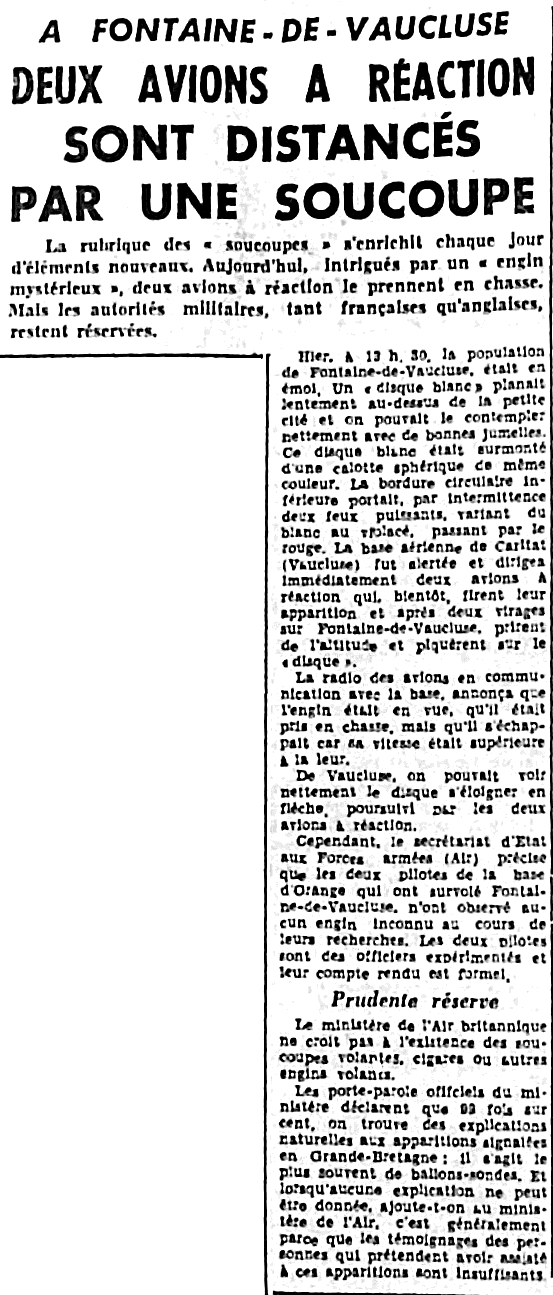 IN FONTAINE-DE-VAUCLUSE
TWO JET PLANES
ARE DISTANCED
BY A SAUCER
The saucer file is enriched with new elements every day. Today, intrigued by a mysterious craft, two jet planes chased it. But the military authorities, both French and English, remain reserved.
Yesterday at 1:30 p.m., the population of Fontaine-de-Vaucluse, was in turmoil. A "white disc" hovered slowly over the small city and could be seen clearly with good binoculars. This white disc was surmounted by a spherical cap of the same color. The lower circular border intermittently carried two powerful lights, varying from white to purplish, passing through the red. The Caritat air base (Vaucluse) was alerted and immediately directed two jet planes which soon appeared and after two turns on Fontaine-de-Vaucluse, gained altitude and dove on the disc.
The radio of the planes in communication with the base announced that the craft was in sight, that it was being chased, but that it was escaping because its speed was higher than theirs.
From Vaucluse, one could clearly see the disc moving away like an arrow, followed by the two jet planes.
However, the Secretary of State for the Armed Forces (Air) specifies that the two pilots from the Orange base who flew over Fontaine-de-Vaucluse, did not observe any unknown craft during their searches. The two pilots are experienced officers and the report is formal.
Careful reserve
The British Air Department does not believe in the existence of flying saucers, cigars or other flying craft.
Official spokesmen for the ministry declare that 99 times out of 100, there are natural explanations for the apparitions reported in Great Britain: they are most often sounding balloons. And when no explanation can be given, the Air Ministry adds, it is generally because the testimonies of people who claim to have attended these appearances are insufficient.