UFOs in the daily Press:
The Belgium flap in the French Press, 1991:
The article below was published in the daily newspaper Le Provenšal, France, page 27, on March 23, 1991.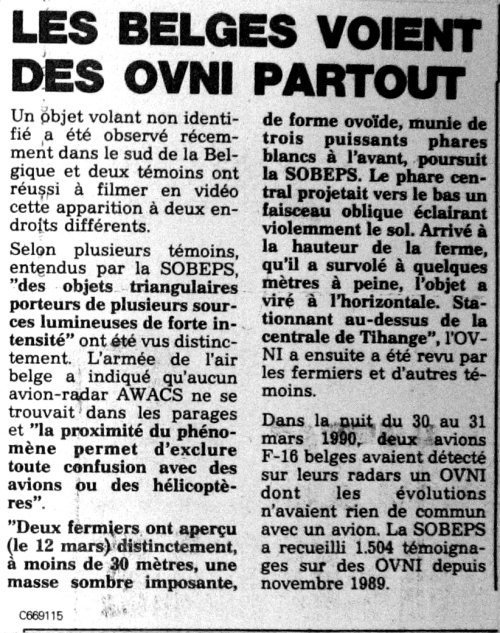 BELGIANS SEE UFOs EVERYWHERE
An unidentified flying object was observed recently in southern Belgium and two witnesses managed to film these sightings on video at two different locations.
According to several witnesses, heard by SOBEPS, "triangular objects carrying several high-intensity light sources" were seen distinctly. The Belgian Air Force indicated that no AWACS radar aircraft were in the vicinity and "the proximity of the phenomenon makes it possible to exclude any confusion with planes or helicopters."
"Two farmers saw (on March 12) distinctly, less than 30 meters away, an imposing dark mass, ovoid in shape, equipped with three powerful white headlights at the front, continues SOBEPS. The central headlight projected towards the bottom an oblique beam illuminating the ground violently. Arrived at the height of the farm, which it flew over at only a few meters, the object veered to the horizontal. Stationary above the Tihange power station, the UFO was later seen again by farmers and other witnesses.
On the night of March 30 to 31, 1990, two Belgian F-16 planes had detected on their radars a UFO whose movements had nothing in common with an airplane. SOBEPS has collected 1,504 testimonies on UFOs since November 1989.