UFOs in the daily Press:
The Mouriéras craft, France, 1954:
The article below was published in the daily newspaper Le Nouveau Nord Maritime, France, page 3, on September 15, 1954.
See the case file.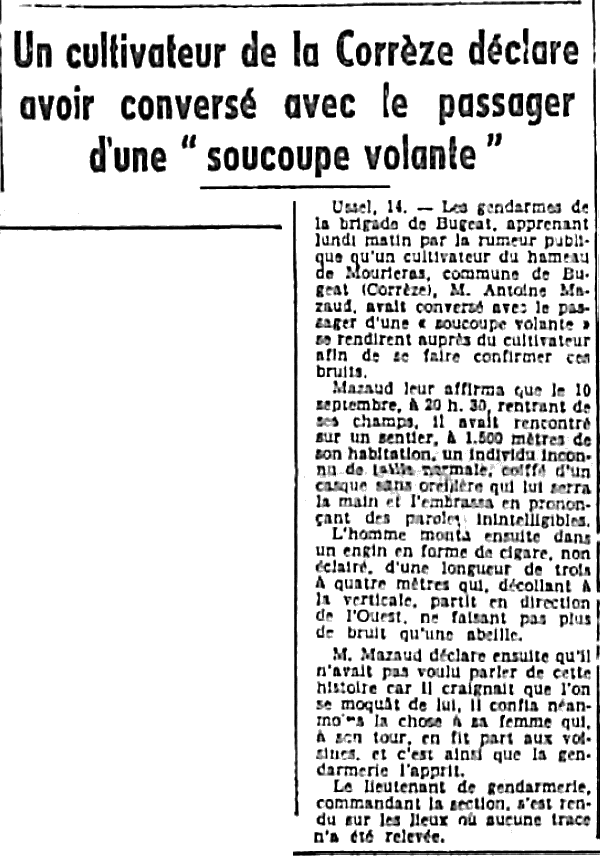 A farmer from Corrèze declares
having conversed with the passenger
of a "flying saucer"
Ussel, 14. -- The gendarmes of Bugeat, learning Monday morning by public rumor that a farmer in the hamlet of Mourieras, commune of Bugeat (Corrèze), Mr. Antoine Mazaud, had conversed with the passenger of a "flying saucer", went to the farmer to confirm this rumor.
Mazaud told them that on September 10, at 8:30 p.m., returning from his fields, he had met on a path, 1.500 meters from his home, an unknown individual of normal size, wearing a helmet without a muff, who shook his hand and kissed him, saying unintelligible words.
The man then climbed into an unlit cigar-shaped craft, three to four meters long which, taking off vertically, set off in a westward direction, making no more noise than a bee.
Mr. Mazaud then declared that he did not want to talk about this story because he feared that one would mock him, he nevertheless entrusted the matter to his wife who, in turn, shared it with the neighbors, and this is how the gendarmerie learned about it.
The lieutenant of the gendarmerie, commanding the section, went to the place where no trace was found.