UFOs in the daily Press:
Michele Morgan's and other French reports seen by the US Press, 1954:
The article below was published in the daily newspaper The Baltimore Evening Sun, Baltimore, Maryland, USA, page 4, on October 9, 1954.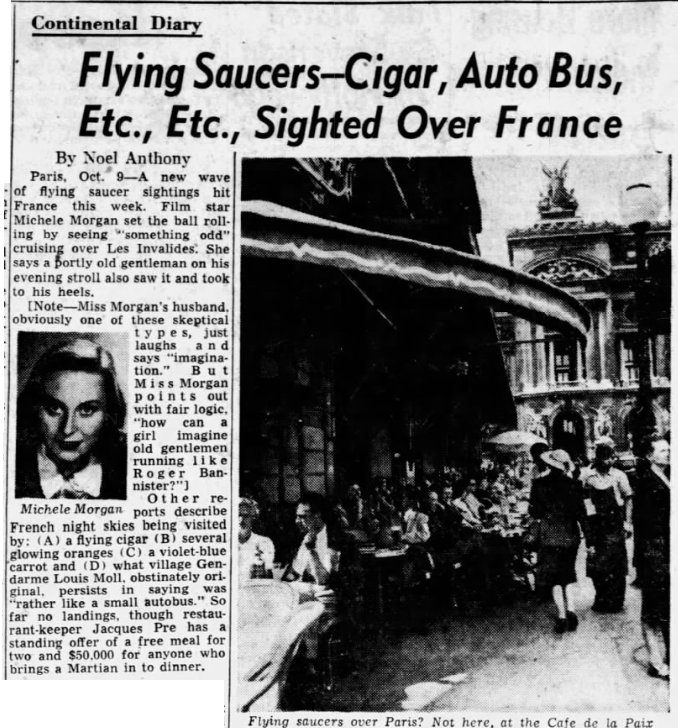 Continental Diary
Flying Saucers - Cigar, Auto Bus,
Etc., Etc., Sighted Over France
By Noel Anthony
Paris, Oct. 9 -- A new wave of flying saucer sightings hit France this week. Film star Michele Morgan set the ball rolling by seeing "something odd" cruising over Les Invalides. She says a portly old gentleman on his evening stroll also so it and took to his heels.
(Note -- Miss Morgan's husband, obviously one of these skeptical types, just laughs and says "imagination." But Miss Morgan points out with fair logic, "how can a girl imagine old gentlemen running like Roger Bannister?")
Other reports describe French nigh skies being visited by (A) a flying cigar (B) Several glowing oranges (C) a violet-blue carrot and (D) what village gendarme Louis Moll, obstinately original, persists in saying was "rather like a small autobus." So far no landings, though restaurant-keeper Jacques Pre has a standing offer of a free meal for two and $50.000 for anyone who brings a Martian in to dinner.