The 1954 French flap:
The index page for the 1954 French flap section of this website is here.
September 22, 1954, La Norville, Essonne:
Reference number for this case: 22-sep-54-LaNorville. Thank you for including this reference number in any correspondence with me regarding this case.
Reports:
[Ref. lj1:] "LE JOURNAL DE VERSAILLES" NEWSPAPER: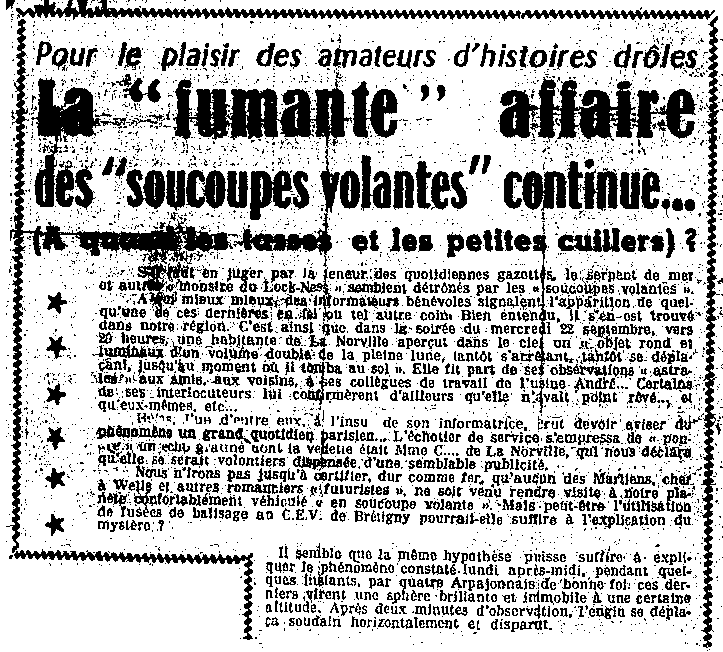 For the amateurs of curious tales
THE "BURNING" AFFAIR OF THE "FLYING SAUCERS" CONTINUES
(When do we get the teacups and the spoons)?
If we are to judge by the content of the daily of the gazettes, the sea serpent and other "monster of the Loch Ness" seem dethroned by the "flying saucers".
Again and again benevolent informers announce the appearance of some of those in this or that corner. Of course, there were some found in our area. Thus in the evening of Wednesday, September 22, around 8 p.m., a resident of La Norville saw in the sky a "round and luminous object of a volume double than the full moon, sometimes stopping, sometimes moving, until the moment when it fell on the ground". She reported of her "astral" observation to friends, neighbors, her colleagues of work at the André factory... Some of her interlocutors assured her, besides, that it she had not dreamed, and that themselves had seen, etc...
Alas, one of them, without the consent of his informant, thought to alert a big national Parisian newspaper. The gossip writer in charge hastened to "lay" a toasted echo whose star was Mrs. C... of La Norville, who told us that she would have rather spared herself such publicity.
We will not go so far as to certify, iron cast, that none of the Martians, those cherished by Wells and other "futuristic" novelists, came to visit our planet comfortably conveyed in "flying saucer". But perhaps the use of beaconing rockets at the C.E.V. of Brétigny could be enough as the explanation to the mystery?
It seems that the same assumption could be sufficient to explain the phenomenon noted Monday afternoon, during a few moments, by four residents of Arpajon, in good faith this time, who saw a brilliant and motionless sphere at a certain altitude. After two minutes of observation, the machine moved suddenly horizontally and disappeared.
[Ref. sm1:] "SEMAINE DU MONDE" MAGAZINE:
[...]
All that I can say, it is that it had a tail... So did Mrs. Chatelin (Pic. 1) summarize her testimony.
Mrs. Chatelin is 60 years old; she is employed with the factories of André shoes, a job which does not predispose to imaginative disorder. And yet, she too, saw a flying saucer.
I live in Norville (S. and O), she says; I was returning from a union meeting. In the sky, above the castle, I saw a moon twice larger than the real moon. Moreover, it had a tail. I pinched myself to make sure that I did not dream: the machine had a kind of sudden start. Then it emitted flames and disappeared...
Mrs. Vasseur, who lives 25, Sénart street, in Montgeron, did not see anything. But her son Marcel, who is sixteen years old, suddenly shouted:
- Mum, he said, there's a fire...
Mrs Vasseur rushed towards the window of the dining room:
- It was, she specified, less [...]
[Ref. am1:] AIME MICHEL:
French ufologist Aimé Michel reports that on September 22, 1954, at 07:30 P.M., Mrs. Chatelain, living on 47 Victor Hugo street, in La Norville in Essonne, at the south city limit with Arpajon, saw a luminous object evolve in the East.
Aimé Michel notes that her description is that of a similar object than the one seen in Saint-Chéron the sane day at the same time.
He indicates as sources the newspapers Paris-Presse and France-Soir for September 24, 1954, and Le Parisien Libéré for October 1, 1954.
[Ref. me1:] ALEXANDER MEBANE ARCHIVE: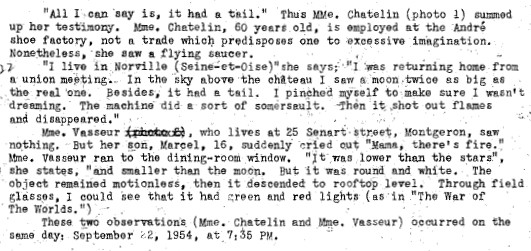 "All I can say is, it had a tail." Thus Mme Chatelin (photo 1) sumed up her testimony. Mme. Chatelin, 60 years old, is employed at the André shoe factory, not a trade which predisposes one to excessive imagination. Nonetheless, she saw a flying saucer.
"I live in Norville (Seine-et-Oise) she says; "I was returning home from a union meeting. In the sky above the château I saw a moon twice as big as the real one. Besides, it had a tail. I pinched myself to make sure I wasn't dreaming. The machine did a sort of somersault. Then it shot out flames and disappeared."
Mme Vasseur, who lives at 25 Senart street, Montgeron, saw nothing. But her son, Marcel, 16, suddenly cried our "Mama, there's fire." Mme Vasseur ran to the dining room window. "It was lower than the stars", she states, "and smaller than the moon. But it was round and white. The object remained motionless, then it descended to rooftop level. Through field glasses, I could see that it had green and red lights (as if in "The war of The Worlds.")
These two observations (Mme Chatelin and Mme Vasseur) occurred on the same day: September 22, 1954, at 7:35 PM.
[Ref. go1:] GODELIEVE VAN OVERMEIRE:
The Belgian ufologist indicates that in 1954, on September 22 in France, in "Ponthierry, Arpajon, etc. (the Seine et Oise)", at 19:30, and "in St Cheron with inter alia witnesses Cyrille Maillard, radio operator officer. Sometimes the object moves on the right, on the left, vertically, in all the directions, with a majestic slowness. In Arpajon Mrs. Chatelin is the witness of the same phenomenon. Little before 20:00 Mr. Rabot of Ponthierry sees a luminous object of great red volume surrounded by a luminous smoke of the same color: the object is vertical. Observation also made by Mrs. Gamundi between Ponthierry and Fontainebleau, who stopped to observe during half an hour. Suddenly another smaller ball emerges from the lower part, which fell in free fall, slows down then fled in oblique. One moment later the phenomenon was repeated, and several times again in continuation. The witness forgot to count so intense his stupor was. When a plane came, the phenomenon hid in the clouds. Then the phenomenon did not reappear any more.
The source are indicated as "Aimé Michel: 'M.O.C.' Seghers pub., p. 89, 90" and "Henry DURRANT: 'Premières enquêtes sur les Humanoïdes ET' - Laffont 1977 - p. 199".
[Ref. lc1:] LUC CHASTAN:
Luc Chastan indicates that in the Essonne in La Norville on September 22, 1954, at 19:30 "A woman observes a luminous object evolving to the east."
Luc Chastan indicates that the source is "M.O.C. by Michel Aimé ** Arthaud 1958".
[Ref. ud1:] "UFODNA" WEBSITE:
The website indicates that on 22 September 1954 at 19:30 in Arpajon, France, "A cigar-shaped object was observed. One luminous ball was observed in cloudy weather by six female witnesses, one of them an experienced observor [sic], in a residential area for over three minutes (Chatelin; Louet; Maillard)."
The sources are indicated as Michel, Aime, Flying Saucers and the Straight-Line Mystery, S. G. Phillips, New York, 1958; Vallee, Jacques, Computerized Catalog (N = 3073); Schoenherr, Luis, Computerized Catalog (N = 3173); Gross, Loren E., UFOs: A History. 1954: September, Author, Fremont; Hatch, Larry, *U* computer database, Author, Redwood City, 2002.
Notes:
In 1954, the department for La Norville was the Seine-et-Oise.
Explanations:
Not looked for yet.
Keywords:
(These keywords are only to help queries and are not implying anything.)
La Norville, Essonne, Arpajon, luminous, object, Chatelin, Chatelain, moon, large, hop, start, fire, flames
Sources:
[---] indicates sources which I have not yet checked.
Document history:
| Version: | Created/Changed by: | Date: | Change Description: |
| --- | --- | --- | --- |
| 0.1 | Patrick Gross | April 26, 2007 | First published. |
| 1.0 | Patrick Gross | January 17, 2010 | Conversion from HTML to XHTML Strict. First formal version. Additions [go1], [lc1], [ud1]. |
| 1.1 | Patrick Gross | October 12, 2016 | Addition [me1]. |