The 1954 French flap:
The index page for the 1954 French flap section of this website is here.
September 16, 1954, Savigny, Rhône:
Reference for this case: 16-Sep-54-Savigny.
Please cite this reference in any correspondence with me regarding this case.
Summary:
An article in the national newspaper Paris-Presse for September 29, 1954, on page 2 reported that Mr. René Valéry, artistic director of the Olympia (in Paris), balanced man who did not believe in flying saucers so far, had filmed one last week from his property in Savigny, a few kilometers from Lyon.
He had the idea to look up to the sky and remained dumbfounded when seeing "a sort of metallic point moved slowly above him without making the slightest noise of engine nor the slightest whistling of jet engine." It trailed behind "a huge tail of smoke unless it was a frozen wake like that left in the air by jet planes."
Mr. Valéry ran to his house, took his 8mm camera and filmed the craft.
The newspaper specified that the sky was blue, and the light excellent, and that the film "must be good"; it has been sent to development, and "will be ready the day after tomorrow."
An article in the regional newspaper Var-Matin - République of Toulon, for September 30, 1954, reported that Mr. René Valery, artistic director of the Olympia de Paris, who was in Lyon, had confirmed to this newspaper that he and his wife had seen a curious "cigar" on September 16, 1954, in Savigny. He was quoted saying:
"It was around 6 p.m. We were walking around, when we saw a craft at about 700 or 800 m of altitude, it was going up vertically without any sound of engine noise."

"Behind it, it left a trail of white smoke. I think it could not have been a jet plane, whose whistling sound I would have perceived because of its proximity. Actually this cigar had not at all the shape of a jet plane."
The newspaper indicated that Mr. Valery did not seem ready to admit, despite the testimony of his senses, that he had seen a flying saucer. But he had an 8mm movie camera, and he filmed the object. He was supposed to go on Thursday get his film developed, and so to discover whether he and his wife had been "the victims of an hallucination or if, on the contrary, it was indeed one of these famous saucers."
It was also said that the visibility had not been very good and that he feared he may have missed "his saucer".
Unfortunately, nothing more seems to have been learned about that. Other newspapers, including Italian newspapers, had reported the case, but no image seems to have surfaced. Of course, while it was easy at the time to publish a photo in a newspaper, it was not so easy to publish images from an 8 mm movie.
The newspaper gave the "Thursday 16" September 1954 as the date of observation. But the other newspapers, mostly published on September 30, 1954, gave no precise date, and the case then appeared in the ufology literature as dated approximately September 27, 1954.
Reports:
[Ref. ppe1:] NEWSPAPER "PARIS-PRESSE":
[Ref. lgp1:] NEWSPAPER "LA GAZETTE PROVENCALE":
[Ref. jps1:] NEWSPAPER "LE JOURNAL DU PAS-DE-CALAIS ET DE LA SOMME":
[Ref. cpd1:] NEWSPAPER "LE COURRIER PICARD":
[Ref. nnm1:] NEWSPAPER "LE NOUVEAU NORD MARITIME":
[Ref. nmn1:] NEWSPAPER "NORD-MATIN":
[Ref. vmr1:] NEWSPAPER "VAR-MATIN REPUBLIQUE":
[Ref. lme1:] "LE MERIDIONAL" NEWSPAPER:
[Ref. cdn1:] NEWSPAPER "LA CROIX DU NORD":
[Ref. vdn1:] NEWSPAPER "LA VOIX DU NORD":
[Ref. nll1:] NEWSPAPER "NORD LITTORAL":
[Ref. ner1:] NEWSPAPER "NORD-ECLAIR":
[Ref. ads1:] NEWSPAPER "L'ARDENNAIS":
[Ref. lon1:] NEWSPAPER "L'OISE-MATIN":
[Ref. lqh1:] NEWSPAPER "LE QUOTIDIEN DE LA HAUTE-LOIRE:"
[Ref. lbl1:] NEWSPAPER "LA BAILLEULOISE":
[Ref. hws1:] HAROLD T. WILKINS:
The author indicates that in the Pyrénees, in France, in September 1954, the director of a Parisian cabaret saw a saucer 2297 feet up, and with presence of mind, photographed it.
[Note: Wilkins indicates September 30 for other cases, it is the date of their report in the press, not their observation date.]
[Ref. gqy1:] GUY QUINCY:
[Ref. via1:] UFOLOGY BULLETIN "VIMANA 21":
The source is said to be the newspaper Le Bien Public.
[Ref. lgs1:] LOREN GROSS:
Loren Gross reproduced this newspaper article without giving its source:
[Ref. rlt1:] RENAUD LECLET - CNEGU:
[Ref. jbs1:] VINCENTE-JUAN BALLESTER-OLMOS, FOTOCAT 1954:
[Ref. lcn1:] LUC CHASTAN:
Luc Chastan indicates in his database that in the Rhone in Savigny on September 16, 1954 at 18:00 hours "a couple walks when they observe at an altitude estimated as 700 or 800 m a kind of cigar going up vertically without noise. A broad white trail is visible."
The source is indicated as "Var Matin".
[Ref. jbs2:] VINCENTE-JUAN BALLESTER-OLMOS, FOTOCAT 1954:
[Ref. ubk1:] "UFO-DATENBANK":
This database recorded the same case twice.
| Case Nr. | New case Nr. | Investigator | Date of observation | Zip | Place of observation | Country of observation | Hour of observation | Classification | Comments | Identification |
| --- | --- | --- | --- | --- | --- | --- | --- | --- | --- | --- |
| 19540916 | | | 16.09.1954 | | Savigny | France | 18.00 | NL | | |
| 19540927 | | | 27.09.1954 | | Savigny | France | | | | |
[Ref. jbo2:] JUAN-VICENTE BALLESTER OLMOS:
Date
Approx
UFO
Nation
Photo Film
Media
Duration
Blue Book
09-22-1954
D
Day
UFO
Savigny, Rhône (France)
FRA
69
FILM
René Valérie [sic]
L'Ardennais, September 30, 1954, p 1, in Renaud Leclet, Les Mystères de L'Est, 8, 2003, p 48. Corriere Lombardo (Milano), October 9-10, 1954. Loren Gross, UFOs A History, 1954, September 1991, p 77. Harold T. Wilkins, Flying Saucers Uncensored, Citadel, 1955, pp 229-230. Giuseppe Stillo, Il quinto cavallere dell'Apocalisse, UPIAR, 2006, p 111. Vimana 21, 10-11, p. 15 (not consulted). Claude Maugé.
September 30, 1954
Explanations:
To date I did not find in the press any new information about the developed film; the articles were published before it was developed.
Two explanations come to mind from the description given of the craft: a meteor, or a jet plane.
A jet plane is perhaps more plausible than a meteor since Mr. Valéry had the time to go inside his house and come out again with his movie camera.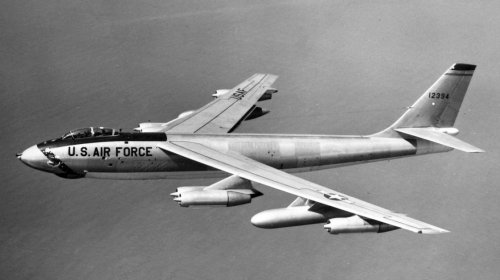 Boeing RB-47 Stratojet.
Due to the lack of reliable and precise information, no explanation is guaranteed, of course.
Keywords:
(These keywords are only to help queries and are not implying anything.)
Savigny, Rhône, couple, cigar, silent, trail, photograph, white, ascent
Sources:
[----] indicates sources that are not yet available to me.
[ppe1] Article in the national newspaper Paris-Presse, Paris, France, page 2, September 29, 1954.
[lgp1] Article in the regional newspaper La Gazette Provençale, Avignon, France, France, pages 1 and 3, September 29, 1954.
[----] Article in the foreign newspaper Il Mattino, Naples, Italy, September 29, 1954.
[----] Article in the foreign newspaper Corriere di Sicilia, Catania, Italy, September 29, 1954.
[jps1] Article in the regional newspaper Le Journal du Pas-de-Calais et de la Somme, France, pages 1 and 6, September 30, 1954.
[cpd1] Article in the regional newspaper Le Courrier Picard, France, pages 1 and 2, September 30, 1954.
[nmm1] Article in the newspaper Le Nouveau Nord Maritime, France, page 9, September 30, 1954.
[nmn1] Article in the regional newspaper Nord-Matin, Nord - Pas-de-Calais, France, pages 1 and 10, September 30, 1954.
[vmr1] Article in the regional newspaper Var-Matin - République, Toulon, France, September 30, 1954.
[lme1] Article in the regional newspaper Le Méridional, France, September 30, 1954.
[cdn1] Article in the regional newspaper La Croix du Nord, Lille, Pas-de-Calais, France, pages 1 and 8, September 30, 1954.
[vdn1] Article in the regional newspaper La Voix du Nord, Nord - Pas-de-Calais, France, page 1, September 30, 1954.
[nll1] Article in the regional newspaper Nord Littoral, Calais, France, pages 1 and 8, September 30, 1954.
[ner1] Article in the regional newspaper Nord-Eclair, Roubaix, Nord, France, page 7, September 30, 1954.
[ads1] Article in the regional newspaper L'Ardennais, France, pages 1,6, September 30, 1954.
[----] Article in the foreign newspaper Giornale di Trieste, Trieste, Italy, September 30, 1954.
[----] Article in the foreign newspaper Giornale del Mattino, Florence, Italy, September 30, 1954.
[----] Article in the foreign newspaper La Nazione Italiana, Italy, September 30, 1954.
[lon1] Article in the regional newspaper L'Oise-Matin, Beauvais, France, pages 1,10, October 1, 1954.
[lqh1] Article in the regional newspaper Le Quotidien de la Haute-Loire, France, October 1, 1954.
[----] Article in the regional newspaper Le Progrès, Lyon, France, page 1, October 1, 1954.
[----] Article in the foreign newspaper Il Gazzettino, Trento, Italy, October 1, 1954.
[----] Article in the foreign newspaper Il Mattino, Italy, October 1, 1954.
[----] Article in the foreign newspaper Milano Sera, Milano, Italy, October 1-2, 1954.
[lbl1] Article in the local newspaper La Bailleuloise, Bailleul, Nord, France, page 1, October 10, 1954.
[hws1] "Flying Saucers Uncensored", book by Harold T. Wilkins, Pyramid Books publishers, USA, page 241, 1954.
[hws1] "Flying Saucers Uncensored", book by Harold T. Wilkins, The Citadel Press publisher, pp 229-230, 1955.
[gqy1] "Observations 1954", monograph by Guy Quincy, France - Algeria, private publication, page 7, the 1950's.
[----] UFOCAT, maintained by Dr. Donald Johnson, www.ufocat.com.
[via1] "Catalogue, in the ufology bulletin Vimana 21, A.D.R.U.P. ufology group, France, #10-11, pp 15-16, 3rd quarter 1982.
[lgs1] "UFOs: A History - 1954 September", monograph by Loren Gross, USA, page 77, 1991.
[----] "Le Problème de la Vie Extraterrestre", book by Michel Jeantheau, Ramuel publisher, France, 1998.
[rlt1] "Catalogue de Presse - Journal: "L'ARDENNAIS" - Département des Ardennes (08). ANNEE 1954", catalog by Renaud Leclet, in the annual ufology magazine Les Mystères de l'Est, CNEGU, France, page 48, 2003.
[jbs1] "The Year 1954 in Photos", aka Fotocat 1954, paper by Vicente-Juan Ballester-Olmos, Fondation Anomalia, Spain, 2004.
[lcn1] Base OVNI France, website by Luc Chastan, France, circa 2005, at baseovnifrance.free.fr/detobs.php?numobs=3140
[----] "Il quinto cavaliere dell'Apocalisse", book by Giuseppe Stilo, page 111, UPIAR publisher, Italy, 2006.
[jbs2] "The Year 1954 in Photos - Expanded", aka Fotocat 1954, paper by Vicente-Juan Ballester-Olmos, Fondation Anomalia, Spain, 2008.
[ubk1] Online database UFO-Datenbank, Germany, found in 2016, at ufodatenbank.de
[jbo2] "France Fotocat", electronic spreadsheet by Juan-Vicente Ballester Olmos, Spain, as of 2021, at https://docs.google.com/spreadsheets/d/1dXknrr52UAWC4uURr0ruOLsllw3zDUj3VdZ8dprTsow/edit#gid=0
Document history:
| Version: | Created/Changed by: | Date: | Change Description: |
| --- | --- | --- | --- |
| 1.0 | Patrick Gross | June 16, 2009 | First published. |
| 1.1 | Patrick Gross | April 8, 2010 | Addition [jbs1]. |
| 1.2 | Patrick Gross | January 29, 2017 | Addition [ubk1]. |
| 1.3 | Patrick Gross | July 30, 2019 | Additions [ads1], [hws1], [via1], [lgs1]. Explanations changed, were "Not looked for yet." |
| 1.4 | Patrick Gross | September 13, 2019 | Additions [rlt1], [jbs2], Summary. |
| 1.5 | Patrick Gross | January 5, 2020 | Addition [ppe1]. Explanations changed, were "Not looked for yet. Obvious description of a meteor." |
| 1.6 | Patrick Gross | February 20, 2020 | Addition [cpd1]. |
| 1.7 | Patrick Gross | March 1, 2020 | Addition [nnm1]. |
| 1.8 | Patrick Gross | March 13, 2020 | Addition [lbl1]. |
| 1.9 | Patrick Gross | March 29, 2020 | Addition [cdn1]. |
| 2.0 | Patrick Gross | April 19, 2020 | Addition [vdn1]. |
| 2.1 | Patrick Gross | April 25, 2020 | Addition [jps1]. |
| 2.2 | Patrick Gross | June 13, 2020 | Addition [nll1]. |
| 2.3 | Patrick Gross | June 15, 2020 | Addition [ner1]. |
| 2.4 | Patrick Gross | June 24, 2020 | Addition [nmn1]. |
| 2.5 | Patrick Gross | January 25, 2021 | Addition [lgp1]. |
| 2.6 | Patrick Gross | March 22, 2021 | Addition [gqy1]. |
| 2.7 | Patrick Gross | May 5, 2021 | Addition [lon1]. |
| 2.8 | Patrick Gross | November 22, 2021 | Addition [jbo2]. |