The 1954 French flap:
The index page for the 1954 French flap section of this website is here.
September 27, 1954, Clamart, Hauts-de-Seine:
Reference for this case: 27-Sep-54-Clamart.
Please cite this reference in any correspondence with me regarding this case.
Summary:
A German Web database of UFO sightings sais in the 2010's that there was a sighting of the "Nocturnal Light(s)" type in Clamart on September 27, 1954, at 9 p.m.
Later I found in the newspaper La Gazette Provençale, of Avignon, for September 29, 1954, an observation which could be this one, dated indirectly and with little certainty September 27, 1954:
"Mr. Hébert, butcher, avenue de la liberation, in Petit-Clamart" - a district of Clamart - "saw the same phenomenon" as that of 05:00 p.m. in Montmorency, "at 9 p.m., heading east to west."
Reports:
[Ref. lgp1:] NEWSPAPER "LA GAZETTE PROVENCALE":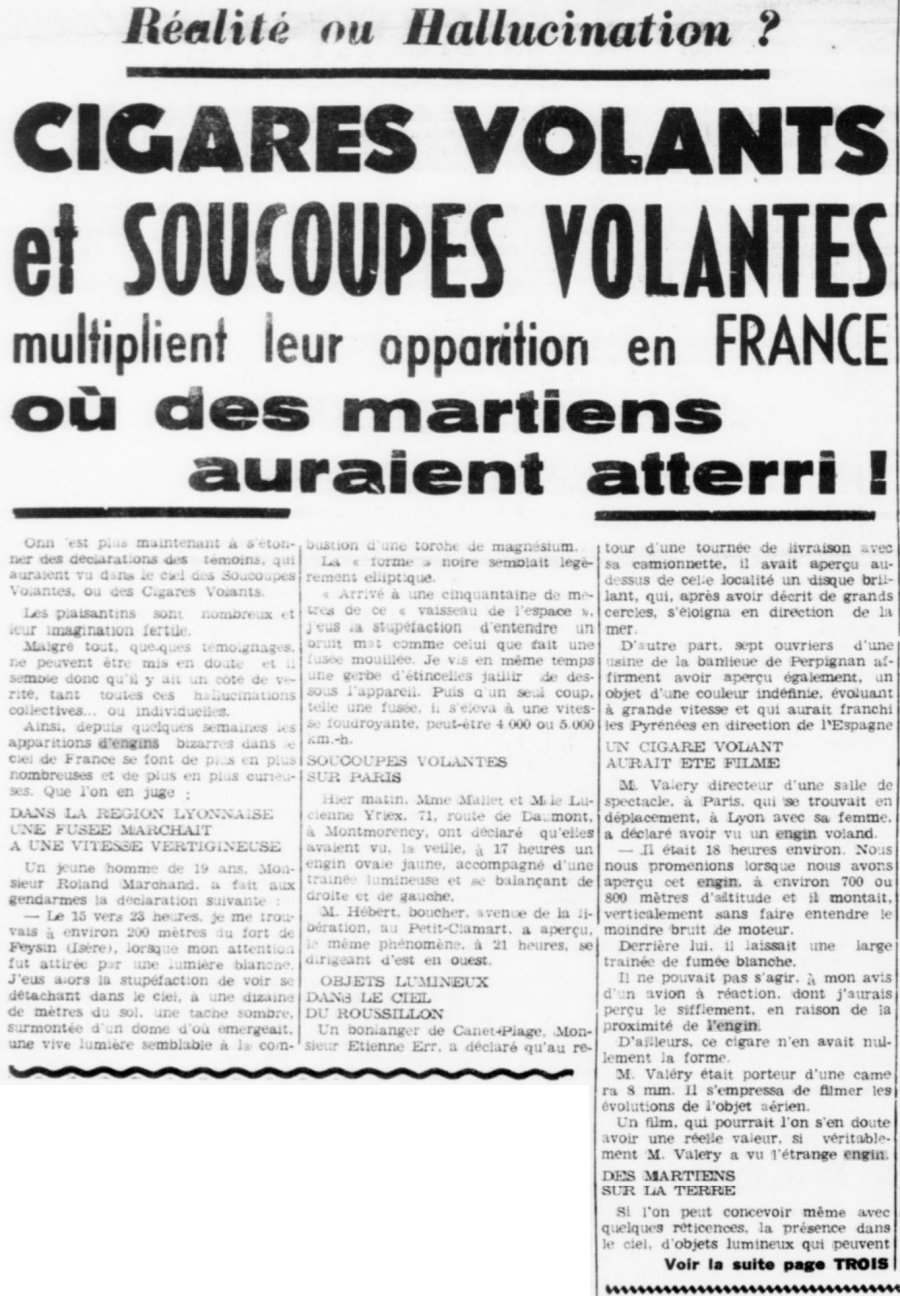 Reality or Hallucination?
FLYING CIGARS
and FLYING SAUCERS
multiply their appearance in FRANCE
where Martians
reportedly landed!
We are no longer surprised by the statements of witnesses, who allegedly saw Flying Saucers in the sky, or Flying Cigars.
There are many prakksters and their imaginations are fertile.
Despite everything, some testimonies, cannot be doubted and it therefore seems that there is a side of truth, both in all these collective... or individual hallucinations.
Thus, for a few weeks now, appearances of bizarre craft in the skies of France have been more and more numerous and more and more curious. See for yourselves:
IN THE LYON REGION
A ROCKET MOVED
AT A VERTIGINOUS SPEED
A 19-year-old young man, Mr. Roland Marchand, made the following statement to the gendarmes:
- Around 11 p.m. on the 15th, I was about 200 meters from Fort Feyson (Isère), when my attention was drawn by a white light. I was then amazed to see standing out in the sky, about ten meters above the ground, a dark spot, surmounted by a dome from which emerged a bright light similar to the combustion of a magnesium torch.
The black "shape" appeared to be slightly elliptical.
"Arrived about fifty meters from this 'space ship', I was amazed to hear a dull sound like that made by a wet rocket. I saw at the same time a shower of sparks shoot up from below the craft. Then suddenly, like a rocket, it rose at a blazing speed, perhaps 4,000 or 5,000 km.-h.
FLYING SAUCERS
IN PARIS
Yesterday morning, Mrs. Mallet and Miss Lucienne Yriex, 71 route de Daumont, in Montmorency, stateded that they had seen the day before, at 5 p.m. a yellow oval craft, accompanied by a luminous trail and swaying from right to left.
Mr. Hébert, butcher, avenue de la liberation, in Petit-Clamart, saw the same phenomenon, at 9 p.m., moving from east to west.
LUMINOUS OBJECTS
IN THE SKY
OF THE ROUSSILLON
A baker from Canet-Plage, Mr. Etienne Err, declared that upon returning from a delivery round with his van, he had seen above this locality a shining disc, which, after having flown in large circles, moved away in the direction of the sea.
Also, seven workers in a factory in the suburbs of Perpignan claim to have also seen an object of an indefinite color, evolving at high speed and which would have crossed the Pyrenees towards Spain.
A FLYING CIGAR
WAS ALLEGEDLY FILMED
Mr. Valéry, director of an auditorium, in Paris, who was traveling to Lyon with his wife, said he saw a flyind [sic] machine.
- It was around 6 p.m. We were walking around when we saw this craft, at about 700 or 800 meters above the ground and it was climbing, vertically without making the slightest sound of an engine.
Behind it left a wide trail of white smoke.
It could not be, in my opinion, a jet plane, of which I would have heard the hissing, because of the proximity of the craft.
Besides, this cigar didn't have the shape [of a jet plane].
Mr. Valéry was carrying an 8mm camera. He hastened to film the moves of the aerial object.
A film, which could undoubtedly be of real value, if Mr. Valéry really saw the strange craft.
MARTIANS
ON EARTH
If one can conceive even with some reluctance, the presence in the sky, of luminous objects which can
See more on page THREE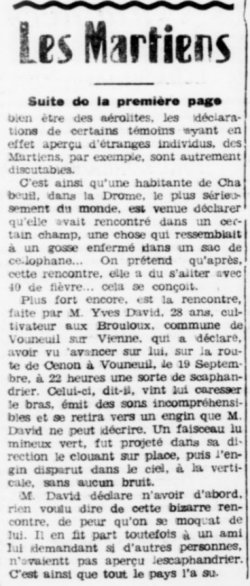 The Martians
Continued from first page
well be fireballs, the statements of certain witnesses having indeed seen strange individuals, Martians, for example, are otherwise questionable.
This is how a female resident of Chabeuil, in the Drôme, most seriously in the world, came to declare that she had met in a certain field, something that looked like a kid locked in a cellophane bag... It is claimed that after this meeting, she had to go to bed with a fever of 40°C... That is understandable.
Even better, is the encounter, made by Mr. Yves David, 28, farmer in Les Brouloux, commune of Vouneuil-sur-Vienne, who stated he had seen advancing on him, on the road from Cenon to Vouneuil, on September 19, at 10 p.m. a sort of diver. The latter, he said, came to stroke his arm, emitted incomprehensible sounds and withdrew towards a craft which Mr. David cannot describe. A green light beam was projected in its direction, pinning him on the spot, then the craft disappeared in the sky, vertically, without any noise.
Mr. David states that he initially did not want to say anything about this bizarre encounter, for fear that he would be laughed at. However, he shared it with a friend asking him whether other people had seen the diver. This is how the whole country knew about it.
[Ref. ubk1:] "UFO-DATENBANK":
| Case Nr. | New case Nr. | Investigator | Date of observation | Zip | Place of observation | Country of observation | Hour of observation | Classification | Comments | Identification |
| --- | --- | --- | --- | --- | --- | --- | --- | --- | --- | --- |
| 19540927 | | | 27.09.1954 | | Clamart | France | 21.00 | NL | | |
Explanations:
Totally insufficient information.
Keywords:
(These keywords are only to help queries and are not implying anything.)
Clamart, Hauts-de-Seine, Hébert, luminous, night
Sources:
[----] indicates sources that are not yet available to me.
[lgp1] Article in the regional newspaper La Gazette Provençale, Avignon, France, France, pages 1 and 3, September 29, 1954.
[ubk1] Online database UFO-Datenbank, Germany, found in 2016, at ufodatenbank.de
Document history:
| Version: | Created/Changed by: | Date: | Change Description: |
| --- | --- | --- | --- |
| 1.0 | Patrick Gross | February 9, 2017 | First published. |
| 1.1 | Patrick Gross | July 29, 2019 | Addition of the Summary. Explanations changed, were "Not looked for yet." |
| 1.2 | Patrick Gross | January 25, 2021 | Addition [lpg1]. In the Summary, addition of the information from [lgp1]. |