Documents
50 years of UFO disclosure
US Air Force General Gerald W. Johnson tells of his 1952 UFO sighting:
On July 8, 2015, MUFON published their video interview with General Johnson, having a 33-year-long career in the US Air Force, having participated in World War II and the Vietnam War. He died in 2002.
He reported that on August 24, 1952, as he was a Colonel, he had met two silvery non-terrestrial craft, about six feet in diameter, that approached his F-84G jet fighter over New Mexico and Texas.
According to Johnson, the two discs flew very close to his plane, before separating and disappearing suddenly. One flew above and the other below the other.
He made contact with the ground control tower asking them if another aircraft was in the area, but there was, according to them, no known craft in the vicinity.
Two silver objects appearing like balls of 2 meters diameter line flew off about four to five hundred meters away from each other and two miles from his plane. They changed shape, foe example when one of the two objects turned right in front of the observer, taking the appearance of a gray object twice as long as when it had the appearance of a ball. The other object continued on its course and gradually took a gray color.
The objects have sped away so fast it was impossible to start a pursuit. Seven minutes later, they returned...
A declassified report by Major John E. Albert, intelligence officer, confirms the statements of Johnson, highlighting the fact that the pilot had not distinguished a propulsion system and the UFO had left no visible trail.
See the video of the interview:
Le rapport déclassifié: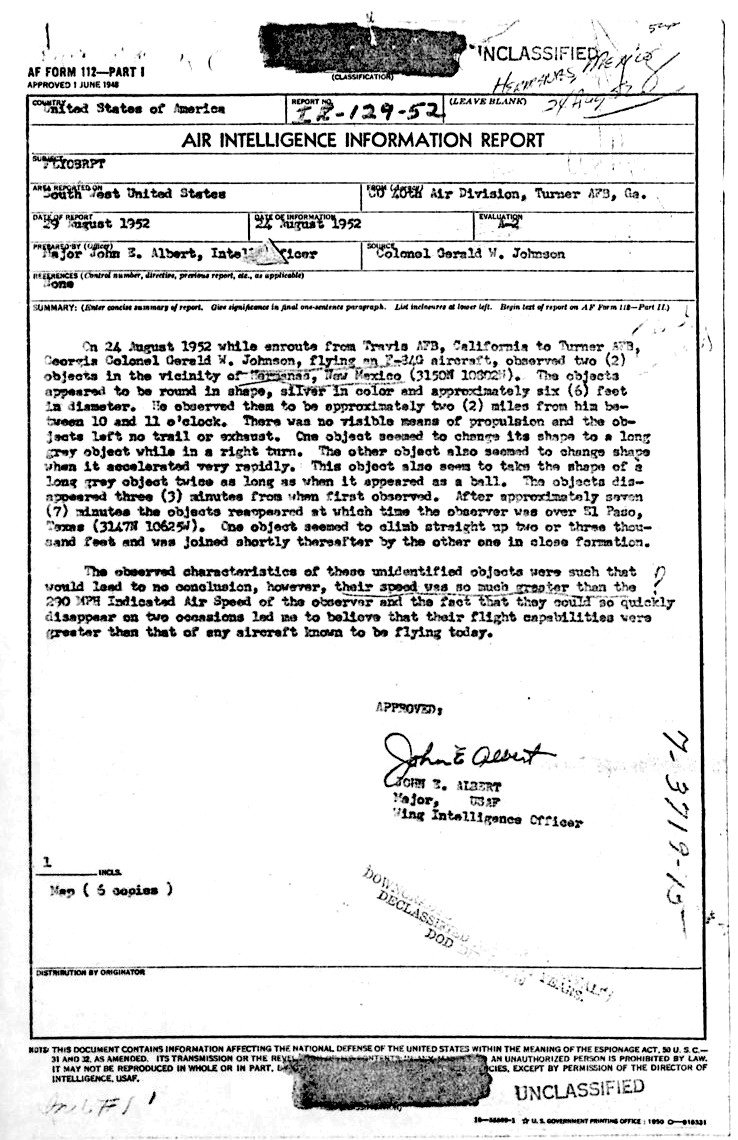 AF FORM 112-PART III
APPROVED 1 JUNE 1948
COUNTRY
United States of America

Report Nr.
IR-127-52

(LEAVE BLANK)

AIR INTELLIGENCE INFORMATION REPORT

SUBJECT
FLYOBRPT [Flying Object Report]

AREA REPORTED ON
South West United States

FROM
40th Air Division, Turner AFB, Ca.

DATE OF REPORT
29 August 1952

DATE OF INFORMATION
24 August 1952

EVALUATION


PREPARED BY (Officer)
Major John E. Albert, Intelligence Officer

SOURCE
Colonel Geralf W. Johnson

REFERENCES (Control number, direction, previous report, etc., as applicable)
None

SUMMARY: (Enter concise summary of report. Give significance in final one-sentence paragraph. List enclosures at lower left. Begin text of report on AF Form 118 - Part III).

On 24 August 1952 while enroute from Travis AFB, California, to Turner AFB, Georgia, colonel Gerald W. Johnson, flying an F-84G aircraft, observed two (2) objects in the vicinity of Hermanas, New Mexico (3150N, 10802W). The objects appeared to be round in shape, silver in color and approximately six (6) feet in diameter. He observed them to be approximately two (2) miles from him between 10 and 11 o'clock. There was no visible means of propulsion and the objects left no trails or exhaust. One object seemed to change its shape to a long gray object while in a right turn. he other object also seemed to change shape when it accelerated very rapidly. This object also seemed to take the shape of a long gray object twice as long as when it appeared as a ball. The objects disappeared three (3) minutes from when observed. After approximately seven (7) minutes the objects reappeared at which time the observer was over El Paso, Texas (31A7N 10625W). One object seemed to climb straight up two ot three thousand feet and was joined shortly thereafter by the other one in close formation.

The observed characteristics of these unidentified objects were such that would lead to no conclusion, however, their speed was so much greater than the 290 MPH Indicated Air Speed of the observer and the fact that they could so quickly disappear on two occasions led us to believe that their flight capabilities were greater than that of any aircraft known to be flying today.

APPROVED,

[Signed]
JOHN E. ALBERT
Major, USAF
Wing Intelligence Officer

1 INCLS.
Map (5 copies)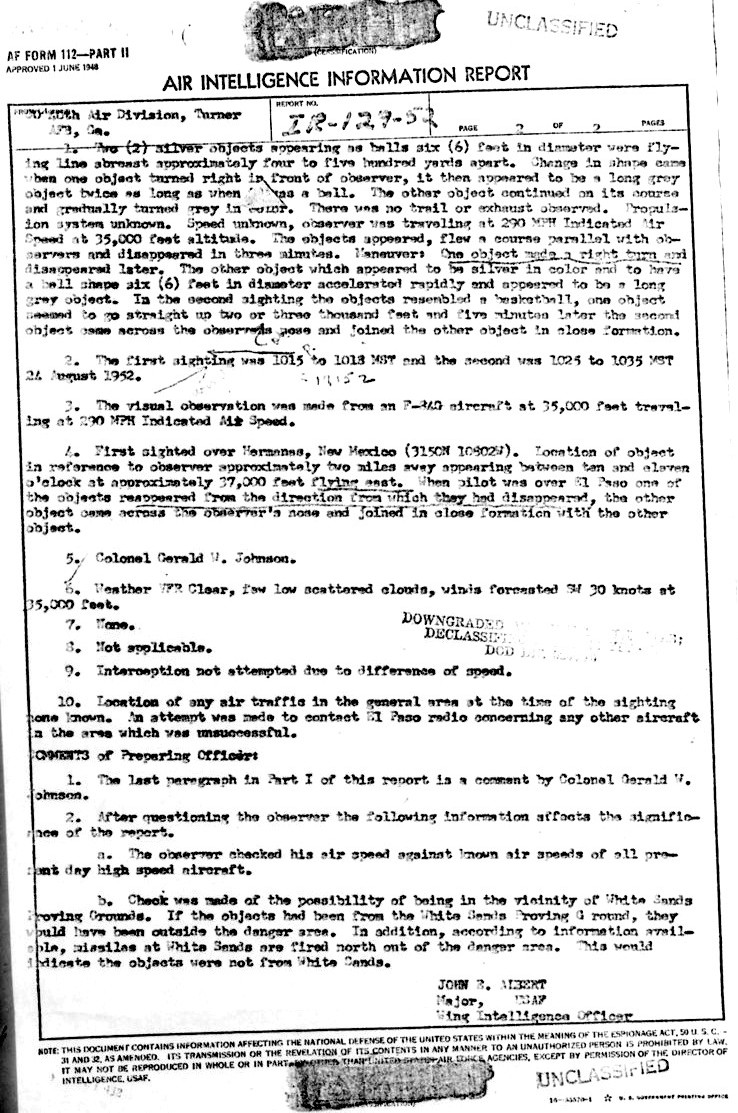 AF FORM 112-PART III
APPROVED 1 JUNE 1948
AIR INTELLIGENCE INFORMATION REPORT

From
40th Air Division, Turner AFB, Ca..

Report Nr.
IR-127-52

Page
2 of 2 PAGES

1. Two (2) silver objects appearing as balls six (6) feet in diameter were flying line abreast approximately four to five hundred yards apart. Change in shape came when one object turned right in front of observer, it then appeared to be a long grey object twice as long as when it was a ball. The other object continued on its course and gradually turned gray in color. There was no trail or exhaust observed. Propulsion system unknown. Speed unknown, observer was traveling at 290 MPH Indicated Air Speed at 35,000 feet altitude. The objects appeared, flew a course parallel with observer and disappeared in three minutes. Maneuvers: One object made a right turn and disappeared later. The other object which appeared to be silver in color and to have a ball shape six (6) feet in diameter accelerated rapidly and appeared to be a long grya object. In the second sighting the objects resembled a basketball, one object seemed to go straight up two or three thousand feet and five minutes later the second object came across the observers' nose and joined the other object in close formation.

2. The first sighting was 1015 to 1018 MST and the second was 1025 to 1035 MST 24 August 1952.

3. The visual observation was made from an F-84G aircraft at 35,000 feet traveling at 390 MPH Indicated Air Speed.

4. First sighted over Hermanas, New Mexico (3150N 10802W). Location of object in reference to observer approximately two miles away appearing between ten and eleven o'clock at approximately 37,000 feet flying east. When pilot was over El Paso one of the objects reappeared from the direction which they had disappeared, the other object came across the observer's nose and joined in close formation with the other object.

5. Colonel Gerald W. Johnson.

6. Weather VFR Clear, few low scattered clouds, winds forecasted SW 30 knots at 35,000 feet.

7. None

8. Not applicable.

9. Interception not attended due to difference of speed.

10. Location of any air traffic in the general area at the time of the sighting none known. An attempt was made to contact El Paso radio concerning any other aircraft in the area which was unsuccessful.

COMMENTS of Preparing Officer:

1. The last paragraph in Part I of this report is a comment by Colonel Gerald W. Johnson.

2. After questioning the observer the following information affects the significance of the report.

a. The observer checked his air speed against known air speed of all present day high speed aircraft.

b. Check was made of the possibility of being in the vicinity of White Sands Proving Grounds. If the objects had been from the White Sands Proving Ground, they would have been outside the danger area. In addition, according to information available, missiles at White Sands are fired North out of the danger area. This would indicate the objects were not from White Sands.

JOHN E. ALBERT
Major, USAF
Wing Intelligence Officer