UFOs in the daily Press:
UFO in the Drôme, France, 1977:
The article below was published in the daily newspaper Var-Matin - République, France, on January 9, 1977.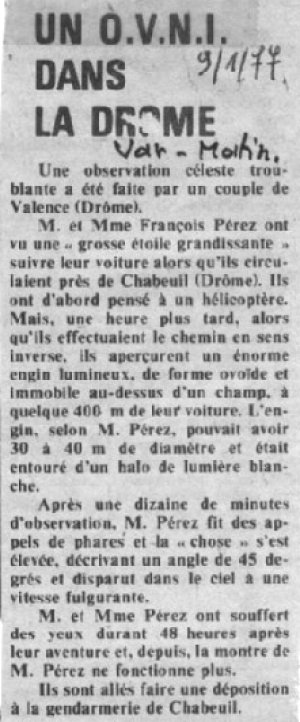 A U.F.O. IN THE DROME
A disturbing celestial observation was made by a couple from Valence (Drôme).
Mr. and Mrs. François Pérez saw a "big growing star" following their car as they drove near Chabeuil (Drôme). They first thought of a helicopter. But, an hour later, while they were traveling in the opposite direction, they saw a huge luminous craft, ovoid in shape and motionless above a field, some 400 m from their car. The craft, according to Mr. Pérez, could have been 30 to 40 m in diameter and was surrounded by a halo of white light.
After about ten minutes of observation, Mr. Pérez flashed his headlights and the "thing" rose, following an angle of 45 degrees and disappeared into the sky at lightning speed.
Mr. And Mrs. Pérez suffered from eye pain for 48 hours after their adventure and, since then, Mr. Pérez's watch has stopped functioning.
They went to make a statement to the Chabeuil gendarmerie.