UFOs in the daily Press:
Cattle mutilated in Colorado, USA, 1980:
The article below was published in the daily newspaper The Tribune, of Greeley, Colorado, USA, on October 9, 1980.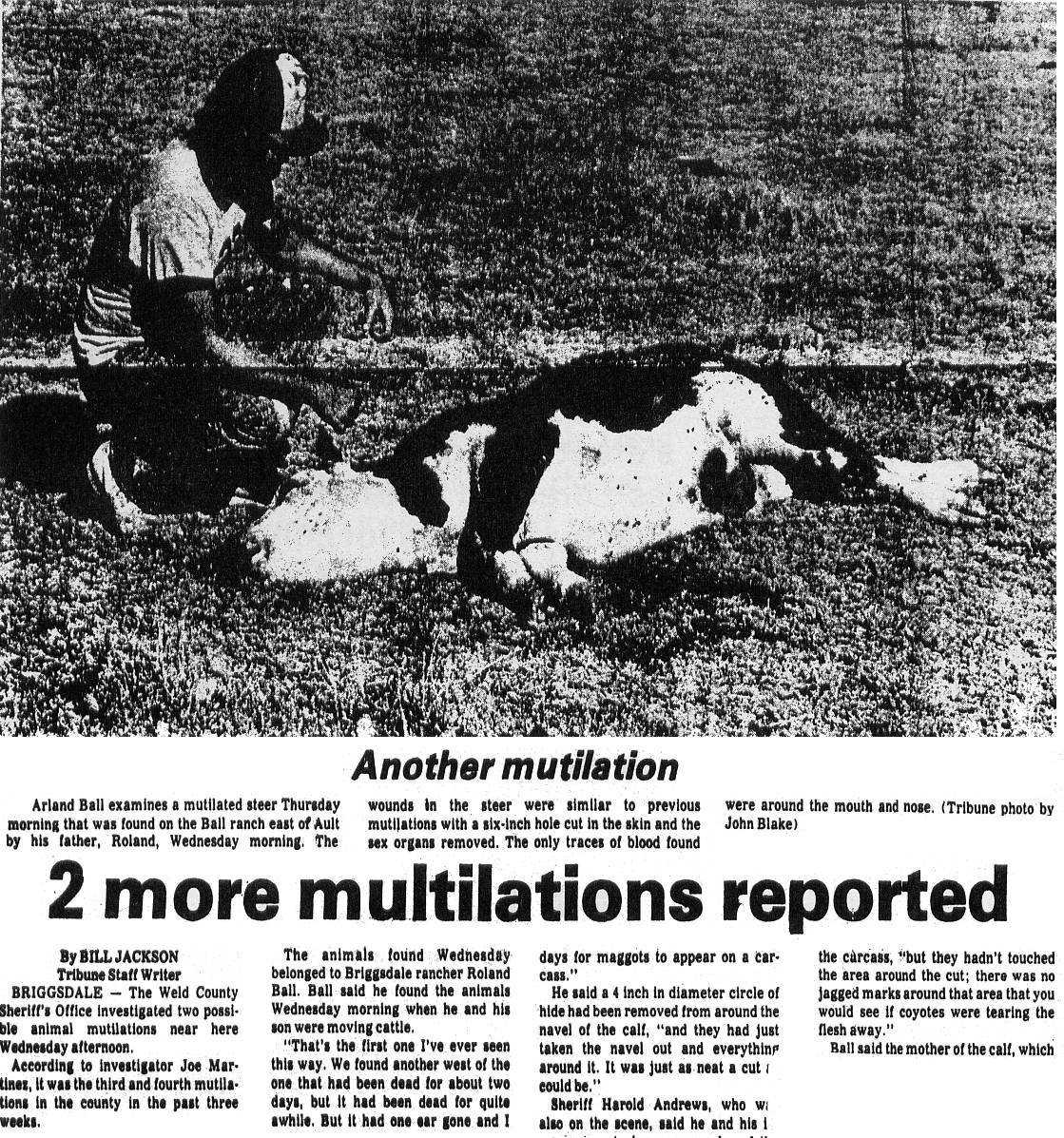 Another mutilation
Arland Bell examines a mutilated steer Thursday morning that was found on the Ball ranch of Ault by his father, roland, Yesterday morning. The wounds in the steer were similar to previous mutilations with a six-inch hole cut in the skin and the sex organs removed. The only trace of blood found were around the mouth and nose. (Tribune photo by John Blake)
2 more mutilations reported
By Bill Kackson
Tribune Staff Writer
BRIGGSDALE. -- The Weld County Sheriff's Office investigated two possible animal mutilations near here Wednesday afternoon.
According to investigator Joe Martinez, it was the third and fourth mutilations in the county in the past three weeks.
The animals found Wednesday belonged to Briggsdale rancher Roland Ball. Ball said he found the anilmals Wedenesday morning wgen he and his son were moving cattle.
"That's the first one I've ever seen this way. We found another west of the one that had been dead for about two days, but it had been dead for quite a while. But it had one ear gone and I [?] days for maggots to appear on a carcass."
He said a 4 inch in diameter circle of hide had been removed from around the navel of the calf, "and they had just taken the navel out and everything around it. It was juste as neat a cut it could be."
Sheriff Harold Andrews, who was also on the scene, said he and his [] the carcass, "but they hadn't touched the area around the cut; there was no jagged marks around that area that you would see if coyotes were tearing the flesh away."
Hall said the mother of the calf, which [?]