UFOs in the daily Press:
Sightings in the Lot-et-Garonne, France, 1980:
The article below was published in the daily newspaper Sud Ouest, France, on 26 mars 1980.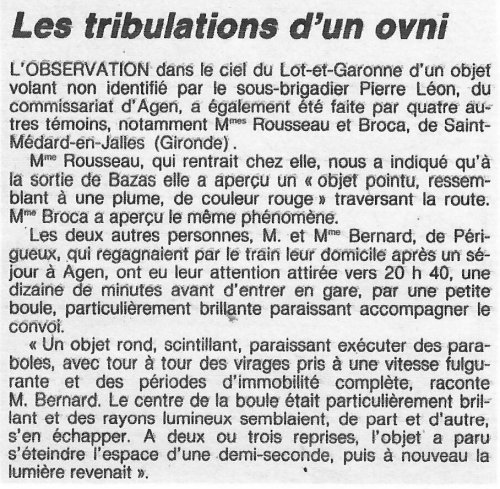 The tribulations of a UFO
THE OBSERVATION in the Lot-et-Garonne sky of an unidentified flying object by Brigadier Pierre L on, from the Agen police station, was also made by four other witnesses, including Mrs Rousseau and Mrs Broca, from Saint-M dard-en-Jalles (the Gironde).
Mrs. Rousseau, who was returning home, told us that after leaving Bazas she saw a "red-feathered, feather-like object" crossing the road. Mrs. Broca saw the same phenomenon.
The other two persons, Mr. and Mrs. Bernard, from P rigueux, who were returning home by train after a stay in Agen, had their attention drawn for about 40 minutes, about ten minutes before entering the station, by a small ball, particularly brilliant appearing to accompany the convoy.
"A round, glittering object, seeming to perform parabols, with from time to time a blazing speed and periods of complete immobility," says Mrs. Bernard. The center of the ball was particularly bright and light rays seemed, on two or three occasions, the object seemed to come out for half a second, then again the light came back."