UFOs in the daily Press:
The Valentich case in the French Press, 1978:
The article below was published in the daily newspaper Sud Ouest, France, on October 25, 1978.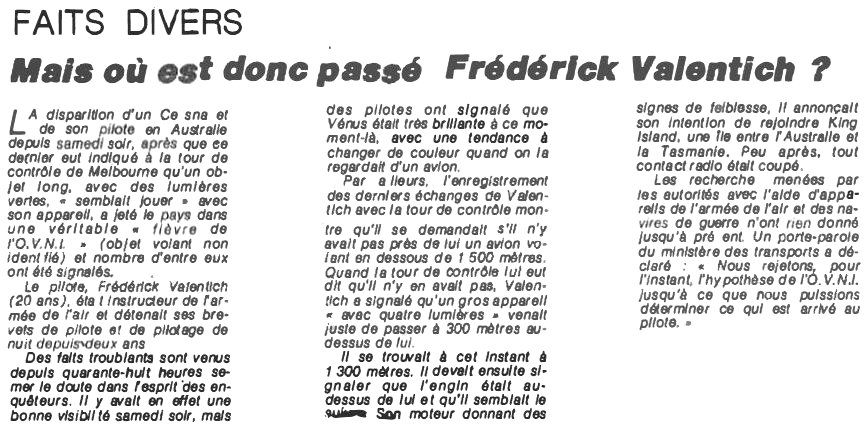 MISCELLANEOUS
But where did Frédéric Valentich go?
The disappearance of a Cessna and its pilot in Australia since Saturday evening, after the latter indicated to the Melbourne control tower that a long object, with green lights, "seemed to be playing" with his aircraft, threw the country into a true "UFO fever" (unidentified flying object) and many of them have been reported.
The pilot, Frédérick Valentich (20 years old), was an air force instructor and had held his pilot and night pilot's license for two years.
Disturbing facts have come over the past forty-eight hours to sow doubt in the minds of investigators. There was indeed good visibility Saturday evening, but pilots reported that Venus was very bright at that time, with a tendency to change color when viewed from an airplane.
Moreover, the recording of Valentich's last exchanges with the control tower shows that he wondered whether there was not near him a plane flying below 1,500 meters. When the control tower told him there were none, Valentich reported that a large craft "with four lights" had just passed 300 meters above him.
At that moment he was at 1,300 meters. He then reported that the craft was above him and that it seemed to be following him. His engine showing signs of weakness, he announced his intention to reach King Island, an island between Australia and Tasmania. Shortly after, all radio contact was cut off.
Research carried out by the authorities with the help of aircraft from the air force and warships has yielded nothing so far. A Department of Transport spokesperson said: "We are rejecting the UFO hypothesis at this time until we can determine what happened to the pilot."