UFOs in the daily Press:
Observation in Sainte-Eulalie-en-Royans, France, 1976:
The article below was published in the daily newspaper Le Provenšal, France, 24 mars 1976.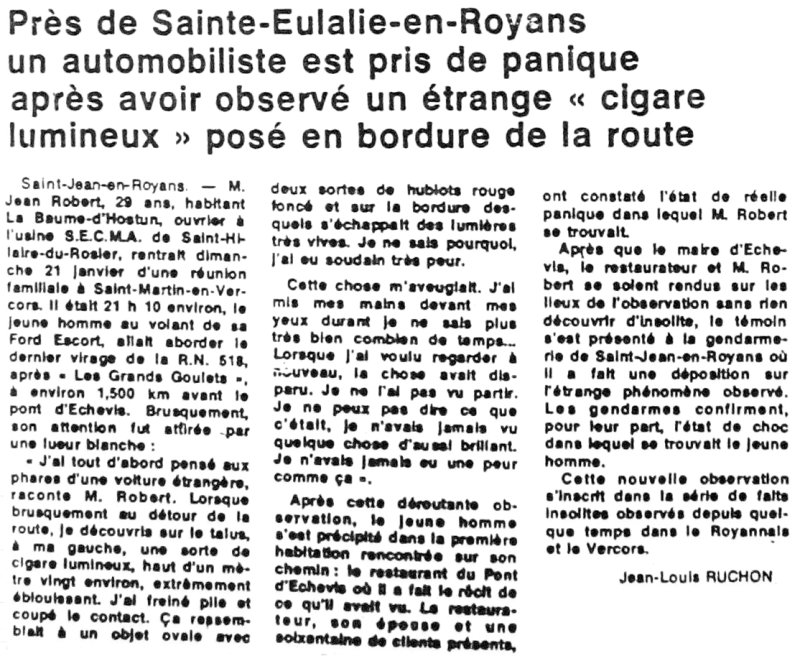 Near Sainte-Eulalie-en-Royans, a motorist panics after observing a strange "luminous cigar" lying on the side of the road
Saint-Jean-en-Royans. -- Mr. Jean Robert, 29, living in La Baume-d'Austun, worker at the S.E.C.M.A. plant of Saint-Hilaire-du-Rozier, was returning on Sunday January 21 from a family reunion in Saint-Martin-en-Vercors. It was around 9:10 p.m., the young man at the wheel of his Ford Escort, was about to approach the last bend of the R.N. 518, after "Les Grands Goulets", about 1,500 kilometers before the Echevis bridge. Suddenly his attention was caught by a white glow:
"I first thought of the headlight of a foreign car [*], says Mr. Robert. When suddenly at a bend in the road, I discovered on the embankment, to my left, a sort of luminous cigar, about four feet tall, extremely dazzling. I braked sharply and cut the ignition. It looked like an oval object with two kinds of dark red portholes and on the edge of which escaped very bright lights. I don't know why, I was suddenly very scared.
After this puzzling observation, the young man rushed to the first dwelling he encountered on his way: the restaurant on the Echevis bridge where he told the story of what he had seen. The restaurant owner, his wife and about sixty customers present, noted the state of real panic in which Mr. Robert found himself.
After the mayor of Echevis, the restaurant owner and Mr. Robert went to the scene of the observation without discovering anything unusual, the witness presented himself to the gendarmerie of Saint-Jean-en- Royans where he made a statement on the strange phenomenon observed. The gendarmes confirm, for their part, the state of shock in which the young man was.
This new observation is part of the series of unusual facts observed for some time in Royannais and Vercors.
Jean-Louis RUCHON.
[*] French cars had yellow-colored headlights at the time, whereas foreign cars had white headlights.