UFOs in the daily Press:
UFO in Andelot, France, 1975:
The article below was published in the daily newspaper Le Parisien Libéré, France, le 19 août 1975.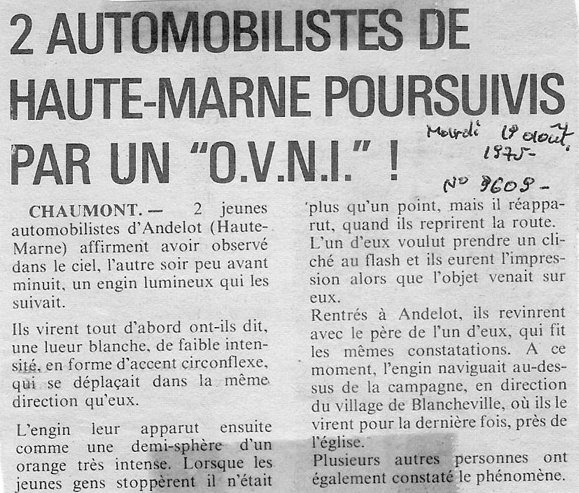 2 HAUTE-MARNE MOTORISTS CHASED BY A "U.F.O."!
CHAUMONT. -- 2 young motorists from Andelot (Haute-Marne) claim to have observed in the sky, the other evening shortly before midnight, a luminous craft which was following them.
First they saw, they said, a white light, of low intensity, in the shape of a circumflex, which moved in the same direction as them.
The craft then appeared to them as a very intense orange hemisphere. When the two young people stopped it was only a dot, but it reappeared when they resumed their journey.
One of them wanted to take a flash shot and they had the impression that the object was coming at them.
When they returned to Andelot, they came back with the father of one of them, who made the same observations. At this time, the craft was sailing over the countryside, towards the village of Blancheville, where they saw it for the last time, near the church.
Several other people have also noticed the phenomenon.