UFOs in the daily Press:
Space junk, France, 1980:
The article below was published in the daily newspaper La Nouvelle République, France, on December 12, 1980.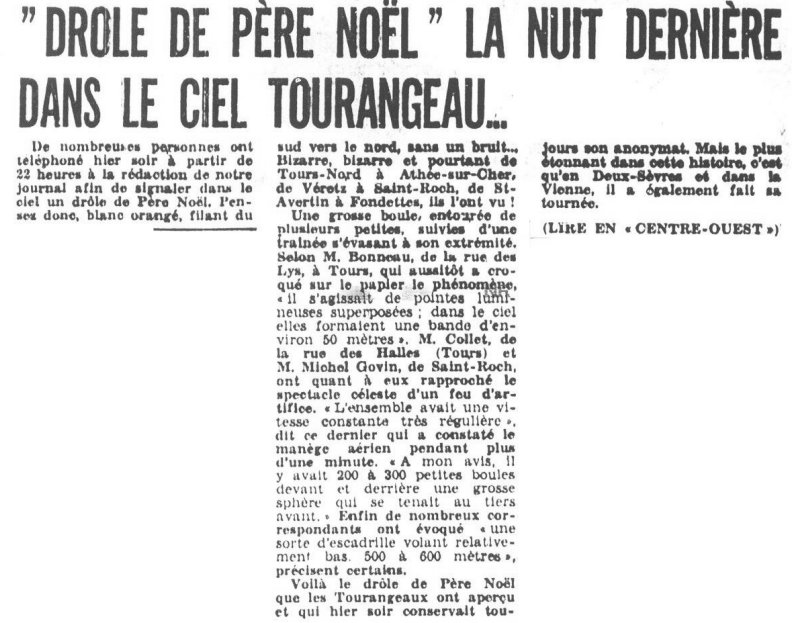 "WEID FATHER XMAS" LAST NIGHT IN THE TOURS SKY
Many people called the editorial office of our newspaper last night from 10 p.m. to report a weird Father Christmas in the sky. Just think, orange, running from south to north, without a sound... Weird, weird and yet from Tour-Nord to Athée-sur-Cher, from Vérois to Saint-Roch, from St-Avertin to Fondettes, they 'have seen it'!
A large ball, surrounded by several smaller ones, followed by a trail flaring out at its end. According to Mr. Bonnot, from rue des Lys, in Tours, who immediately sketched the phenomenon on paper, "it was superimposed luminous dots in the sky and it formed a strip of approximately 50 meters." Mr. Collet, from rue des Halles (Tours) and Mr. Michel Govin, from Saint-Roch, have compared the celestial spectacle to a fireworks display. "The whole thing had a very regular constant speed," said the latter, who observed the aerial ride for more than a minute. "In my opinion, there were 200 to 300 small balls in front and behind a large sphere which stood a third before." Finally, many correspondents mentioned a sort of squadron flying relatively low, 500 to 600 meters," some specify.
This is the eird Father Xmas that the people of Tours saw and who last night still retained his anonymity. But the most surprising thing in this story is that in Deux-Sèvres and Vienne, it also made his rounds.
(READ IN "CENTRAL-WEST")