UFOs in the daily Press:
The 1954 French flap in the Press:
The article below was published in the daily newspaper Nord Littoral, Calais, France, page 1, on November 2, 1954.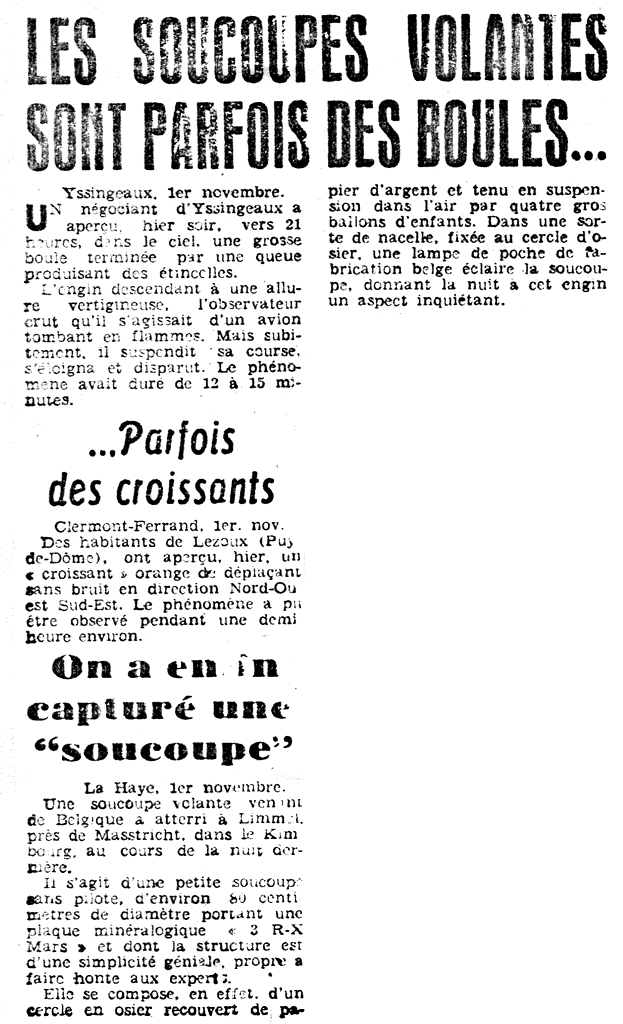 THE FLYING SAUCERS
ARE SOMETIMES BALLS...
Yssingeaux, November 1.
A merchant of Yssingeaux saw last night, around 9 p.m., in the sky, a large ball ending in a tail producing sparks.
As the craft descended at a dizzying pace, the observer believed that it was a plane falling in flames. But suddenly it stopped moving, went away and disappeared. The phenomenon lasted 12 to 15 minutes.
Sometimes crescents
Clermont-Ferrand, Nov. 1
Residents of Lezoux (Puy-de-D˘me), saw yesterday, an orange "croissant" moving silently in direction North-West South-East. The phenomenon could be observed for half an hour.
A "saucer" captured at last
The Hague, November 1.
A flying saucer from Belgium landed in Limmel near Maastricht in the Kimburg last night.
It is a small unmanned saucer of about 80 centimeters in diameter carrying a license plate "3 R-X Mars" and whose structure is brilliantly simple, enough for shaming experts.
It is made up of a wicker circle covered with silver paper and suspended in the air by four toy balloons. In a kind of basket, attached to the wicker circle, a Belgian-made flashlight lights up the saucer, giving this craft a disturbing appearance at night.