UFOs in the daily Press:
The 1954 French flap in the Press:
The article below was published in the daily newspaper Nord Littoral, Calais, France, page 8, on October 22, 1954.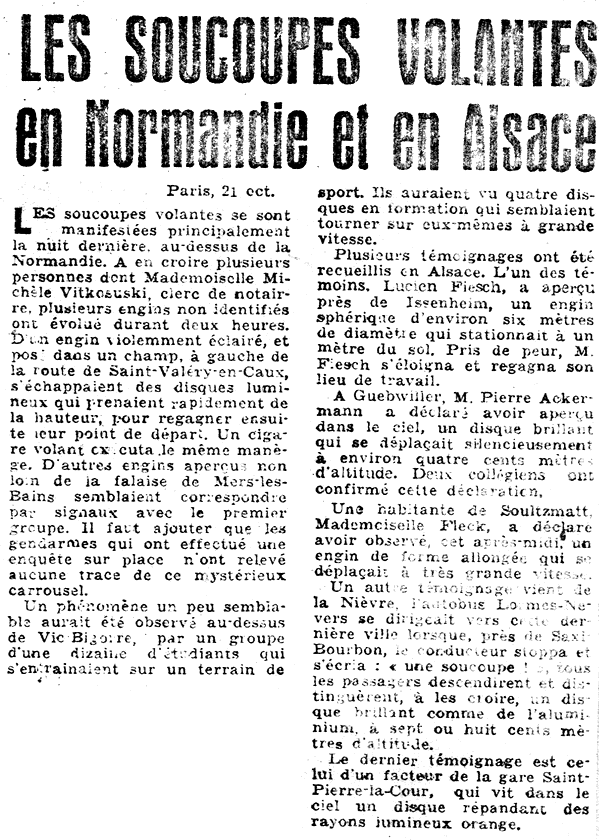 THE FLYING SAUCERS
in Normandy and Alsace
Paris, Oct. 21
The flying saucers mainly appeared last night, over Normandy. To believe several people including Mademoiselle Michèle Vitkosuski, notary's clerk, several unidentified vehicles moved for over two hours. From a violently lit machine, and posed in a field, to the left of the road to Saint-Valéry-en-Caux, luminous discs escaped which quickly took height, to then return to their starting spot. A flying cigar performed the same ride. Other machines seen not far from the cliff of Mers-les-Bains seemed to correspond by signals with the first group. It should be added that the gendarmes who carried out an investigation on the spot did not find any trace of this mysterious carousel.
A somewhat similar phenomenon was reportedly observed above Vic Bigorre, by a group of ten students who were training on a sports ground. They reportedly saw four discs in formation which seemed to spin on themselves at high speed.
Several testimonies were collected in Alsace. One of the witnesses, Lucien Fiesch, saw near Issenheim, a spherical craft about six meters in diameter which was hovering one meter above the ground. Frightened, Mr. Fiesch went and returned to his workplace.
In Guebwiller, Mr. Pierre Ackermann said he had seen in the sky, a brilliant disc which moved silently at about four hundred meters of altitude. Two middle school students confirmed this statement.
A resident of Soultzmatt, Miss Fleck, said that she had observed this afternoon, an elongated machine which was moving at great speed speed.
Another testimony comes from the Nièvre. The Lormes-Nevers bus was on its way to the latter town when, near Saxi-Bourbon, the driver stopped and shouted: "A saucer!". All the passengers alighted and distinguished, if they were to be believed, a disc shining like aluminum, at an altitude of seven or eight hundred meters.
The last testimony is that of a postman from Saint-Pierre-la-Cour station, who saw in the sky a disc spreading orange luminous beams.