UFOs in the daily Press:
The 1954 French flap in the Press:
The article below was published in the daily newspaper Nord Littoral, Calais, France, page 5, on September 21, 1954.
See the case file.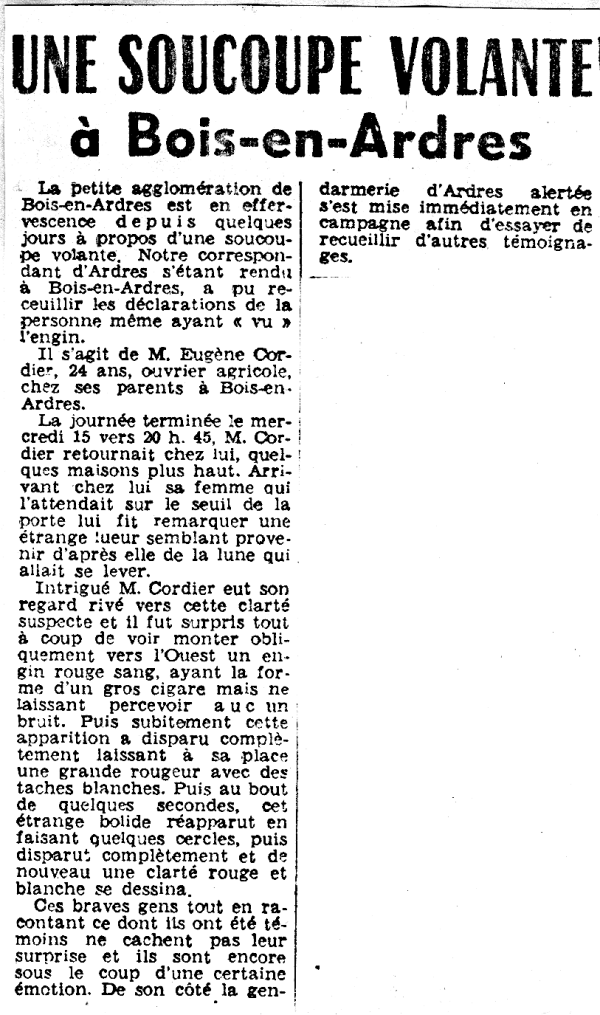 A FLYING SAUCER
in Bois-en-Ardres
The small town of Bois-en-Ardres has been buzzing for a few days about a flying saucer. Our correspondent from Ardres having gone to Bois-en-Ardres, was able to collect the declarations of the very person who "saw" the craft.
This is Mr. Eugène Cordier, 24, agricultural worker, with his parents in Bois-en-Ardres.
The day ended Wednesday 15 around 8:45 p.m., Mr. Cordier was returning home, a few houses higher. Arriving at his house, his wife who was waiting for him on the threshold of the door, pointed out to him a strange gleam seeming according to her to come from the moon that was about to rise.
Intrigued Mr. Cordier had his gaze riveted on this suspicious clarity and he was suddenly surprised to see an oblique blood-red craft, shaped like a big cigar but not letting hear any noise, climb up to the west. Then suddenly this appearance disappeared completely leaving in its place a great redness with white spots. Then after a few seconds, this strange bolide reappeared in a few circles, then disappeared completely and again a red and white clarity appeared.
These good people, while telling what they witnessed, do not hide their surprise and they are still under the influence of a certain emotion. For its part, the gendarmerie of Ardres alerted immediately went on campaign to try to collect other testimonies.