UFOs in the daily Press:
The 1954 French flap in the Press:
The article below was published in the daily newspaper Nord Littoral, Calais, France, page 5, on November 19, 1954.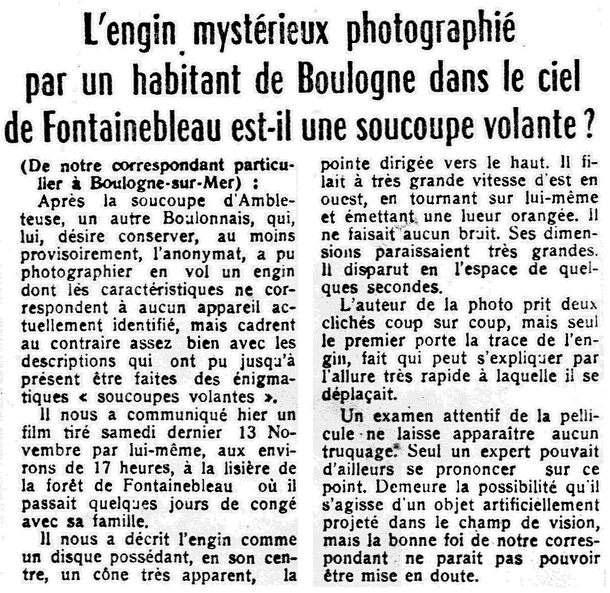 The mysterious craft photographed
by a resident of Boulogne in the sky
of Fontainebleau a flying saucer?
(From our private correspondent in Boulogne-sur-Mer):
After the Ambleteuse saucer, another resident of Boulogne, who, he, wanted to remain anonymous, was able to photograph a craft in flight whose characteristics do not match any currently identified craft, but on the contrary quite well matches with the descriptions which have so far been made of the enigmatic "flying saucers".
He communicated to us yesterday a film shot last Saturday November 13th by himself, around 5 p.m., at the edge of the Fontainebleau forest where he spent a few days off with his family.
He described the craft to us as a disc having in its center, a very visible cone, the point directed upwards. It spun at very high speed from east to west, rotating on itself and emitting an orange glow. It made no noise. Its dimensions seemed very large. It disappeared in seconds.
The author of the photo took two shots in quick succession, but only the first bears the trace of the craft, a fact which can be explained by the very fast pace at which it was moving.
A careful examination of the film does not reveal any fraud. Only an expert could comment on this point. There remains the possibility that it is an artificially projected object in the field of vision, but the good faith of our correspondent does not seem to be in doubt.