UFOs in the daily Press:
The 1954 French flap in the Press:
The article below was published in the daily newspaper Nord-Eclair, Tourcoing and Lys issue, Nord, France, on October 28, 1954.
See the case file.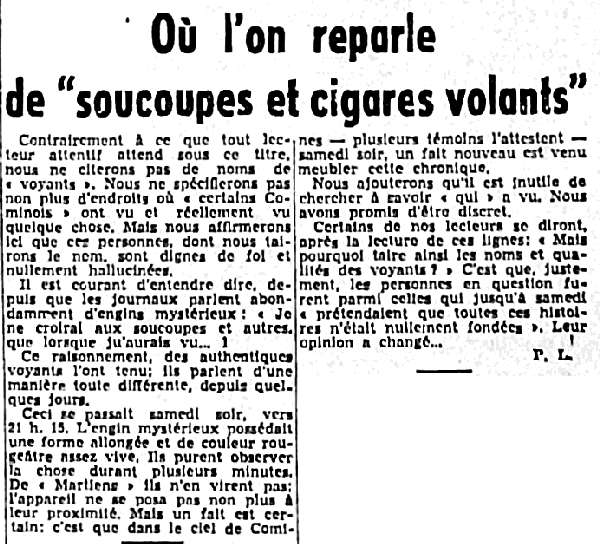 In which we talk again
"flying saucers and cigars"
Contrary to what any attentive reader expects under this title, we will not quote the name of "seers". We will also not specify a place where some residents of Comines have seen and actually seen something. But we will say here that these people, whose names we will keep under wraps, are trustworthy and in no way hallucinated.
It is common to hear people say, since the newspapers have been abundantly talking about mysterious craft: "I would not believe in saucers and stuff until I had seen it...!
This reasoning, authentic seers held it; they have been speaking in a completely different way for the past few days.
This was on Saturday evening, around 9:15 p.m. The mysterious object had an elongated shape and a fairly bright reddish color. They were able to observe the thing for several minutes. They saw no "Martians"; nor did the craft land near them. But one fact is certain: it is that in the sky of Comines - several witnesses attest it - Saturday evening, a new fact came to enrich this chronicle.
We will add that there is no point in trying to find out who saw. We promised to be discreet.
Some of our readers will say to themselves, after reading these lines: but why do the names and quality of the seers so matter? It is precisely that, the people in question were among those who until Saturday "pretended that all these stories were not at all true." Their opinions have changed...
P. L.