UFOs in the daily Press:
Marius Dewilde, France, 1954:
The article below was published in the daily newspaper Libre Artois, Arras, Pas-de-Calais, France, page 4, on September 28, 1954.
See the case file.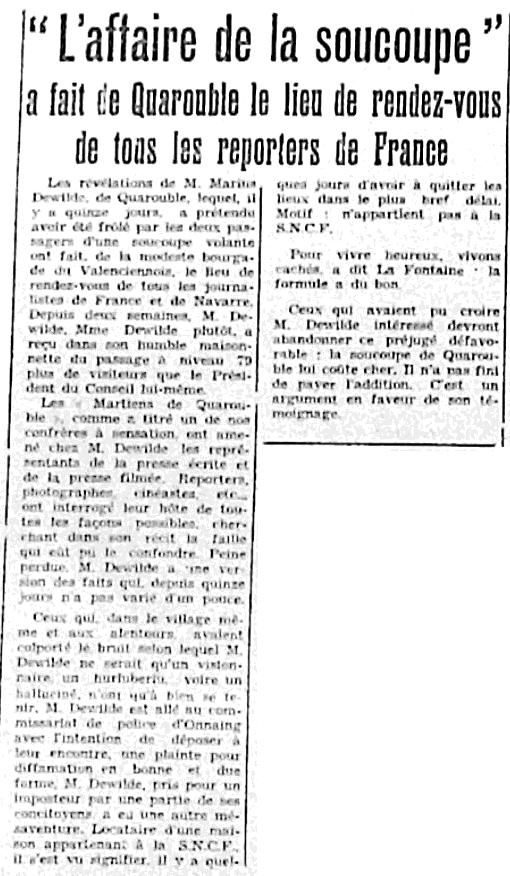 "The saucer case"
made of Quarouble the meeting place
of all reporters from France
The revelations of Mr. Marius Dewilde of Quarouble, who, a few days ago, claimed to have been grazed by the two passengers of a flying saucer, made of the modest village of the Valencienne region the meeting place for all the journalists from France and Navarre. For the past two weeks, Mr. Dewilde, or rather Mrs. Dewilde, received more visitors in his humble little house at the railway crossing 79 than the President of the Council himself.
The "Martians of Quarouble", as one of our sensationalist colleagues put it, brought representatives of the written and film press to Mr. Dewilde's. Reporters, photographers, filmmakers, etc ... questioned their host in every possible manner, looking for the flaw in his story that would betray him. In vain: Mr. Dewilde has a version of the facts which, for the past two weeks, has not varied by an inch.
Those who, in the village itself and around, had peddled the rumor that Mr. Dewilde would be only a visionary, a big mouth, or even a hallucinated, should only be careful. Mr. Dewilde went to the Onnaing police station with the intention of filing a formal defamation complaint against them. Mr. Dewilde, taken for an impostor by a part of his fellow citizens, had another mishap. Tenant of a house belonging to the S.N.C.F., he was told, a few days ago, to have to leave the premises as soon as possible. Reason: does not belong to S.N.C.F.
To live happily, let's live hidden, said La Fontaine. The formula is good.
Those who might have thought Mr. Dewilde interested will have to abandon this unfavorable prejudice: the Quarouble saucer costs him dearly. He hasn't finished paying the bill. This is an argument in favor of his testimony.