UFOs in the daily Press:
The alleged Quarouble landing, France, 1954:
The article below was published in the daily newspaper La LibertÚ, Valenciennes issue, Nord, France, page 4, on September 12, 1954.
See the case file.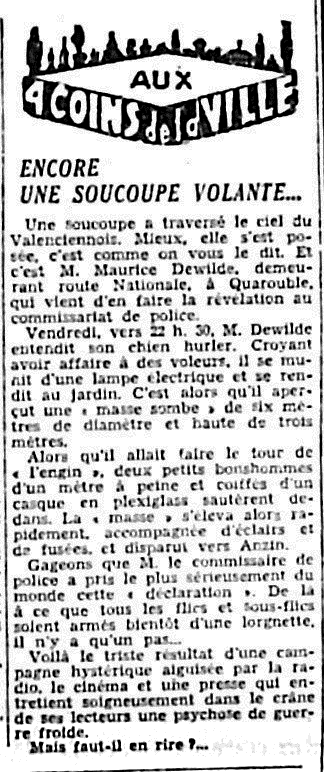 AT THE 4 CORNERS OF THE CITY
AGAIN
A FLYING SAUCER ...
A flying saucer crossed the sky of the Valenciennois. The better still, it landed, that's how we tell you. And it is Mr. Marius Dewilde, residing on the National Road, in Quarouble, who has just revealed it to the police station.
Friday, around 10:30 p.m., Mr. Dewilde heard his dog howl. Thinking he was dealing with thieves, he took an electric flashlight and went to the garden. It was then that he saw a "dark mass" six meters in diameter and three meters high.
While he was going around the "craft", little men, barely a meter tall and wearing a plexiglass helmet jumped into it. The mass then rose rapidly, accompanied by lightning and rockets, and disappeared towards Anzin.
We bet that the Police Commissioner took this "statement" most seriously. From there when all the cops and sub-cops will soon be armed with a spyglass, there is only one step...
Here is the sad result of a hysterical campaign sharpened by the radio, the cinema and a press which carefully maintains in the skull of its readers a cold war psychosis.
But should we laugh about it?...