UFOs in the daily Press:
Bad ufology in Brazil, 1980:
The article below was published in the daily newspaper Le Soir, France, on March 6, 1980.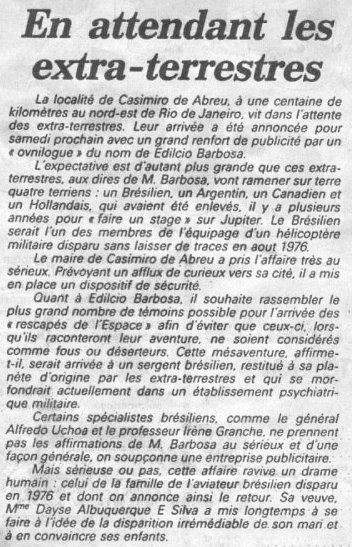 Waiting for the extra-terrestrials
The town of Casimiro de Abreu, about a hundred kilometers northeast of Rio de Janeiro, lives in wait for extra-terrestrials. Their arrival was announced for next Saturday with a lot of publicity by a "UFOlogist" named Edilcio Barbosa.
The expectation is all the greater since these extra-terrestrials, according to Mr. Barbosa, will bring back to earth four earthlings: a Brazilian, an Argentinian, a Canadian and a Dutchman, who had been abducted, several years ago to do an "internship" on Jupiter. The Brazilian would be one of the members of the crew of a military helicopter who disappeared without a trace in August 1976. The mayor of Casimiro de Abreu took the matter very seriously. Anticipating an influx of curious people to his city, he put in place a security system.
As for Edilcio Barbosa, he wishes to bring together as many witnesses as possible for the arrival of the "space survivors" in order to prevent them, when they recount their adventure, from being considered as madmen or deserters. This misadventure, he claims, would have happened to a Brazilian sergeant, returned to his planet of origin by extra-terrestrials and who is currently languishing in a military psychiatric establishment.
Certain Brazilian specialists, such as General Alfredo Uchoa and Professor Irène Granche, do not take Mr. Barbosa's assertions seriously and generally, there is suspicion of an advertising scheme. But serious or not, this affair revives a human drama: that of the family of the Brazilian aviator who disappeared in 1976 and whose return is thus announced. His widow, Mrs. Dayse Albuquerque E Silva, took a long time to come to terms with the idea of her husband's irremediable disappearance and to convince her children of it.