UFOs in the daily Press:
UFOs reported in Chile, 1980:
The article below was published in the daily newspaper Le Soir, France, on February 14, 1980.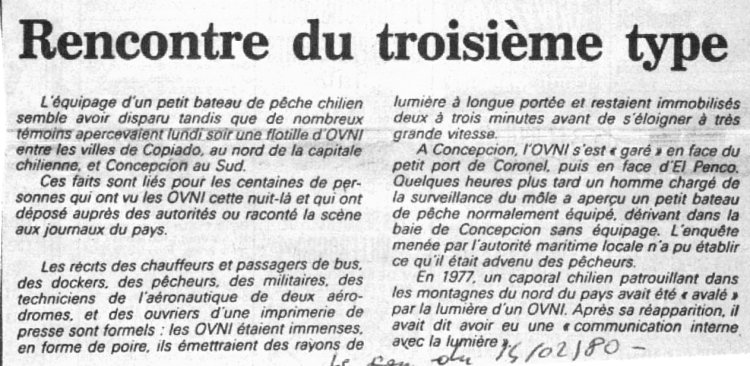 Encounter of the Third Kind
The crew of a small Chilean fishing boat appears to have disappeared while numerous witnesses spotted a flotilla of UFOs on Monday evening between the towns of Copiado, north of the Chilean capital, and Concepcion to the south.
These facts are linked for the hundreds of people who saw the UFOs that night and who testified to authorities or reported the scene to newspapers around the country.
The accounts of bus drivers and passengers, dockers, fishermen, soldiers, aeronautical technicians from two aerodromes, and workers from a press printing plant are clear: the UFOs were immense, shaped like pear, they would emit long-range rays of light and remain immobilized for two to three minutes before moving away at very high speed.
In Concepcion, the UFO "parked" in front of the small port of Coronel, then in front of El Penco. A few hours later a man responsible for monitoring the mole saw a small fishing boat normally equipped, drifting in Concepcion Bay without a crew. The investigation carried out by the local maritime authority was unable to establish what happened to the fishermen.
In 1977, a Chilean corporal patrolling the mountains of the north of the country was "swallowed" by the light of a UFO. After his reappearance, he said he had internal communication with the light.