UFOs in the daily Press:
Close encounter of the third kind in France, 1979:
The article below was published in the daily newspaper Le Soir, France, on February 13, 1980.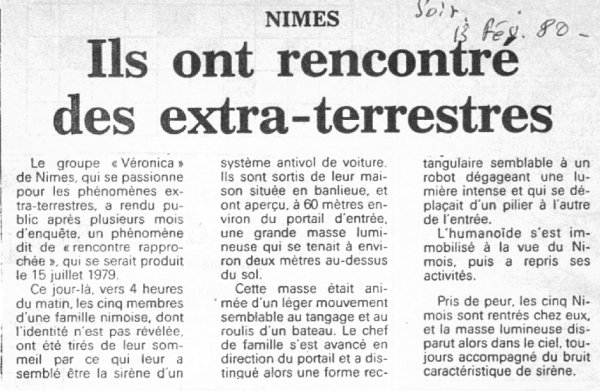 NIMES
They encountered Extra-terrestrials
The "Véronica" group from Nimes, which is passionate about extra-terrestrial phenomena, made public after several months of investigation, a phenomenon known as a "close encounter", which would have occurred on July 15, 1979.
That day, around 4 a.m., the five members of a family from Nimes, whose identity was not revealed, were awakened from their sleep by what seemed to them to be the siren of a car anti-theft system. They came out of their suburban house and saw, about 60 meters from the front gate, a large luminous mass standing about two meters above the ground.
This mass was animated by a slight movement similar to the pitching and rolling of a boat. The head of the family walked towards the portal and then distinguished a rectangular shape similar to a robot emitting an intense light and which was moving from one pillar to the other of the entrance.
The humanoid stopped at the sight of Nimois, then resumed its activities.
Taken by fear, the five Nimois returned home, and the luminous mass then disappeared into the sky, always accompanied by the characteristic sound of a siren.