UFOs in the daily Press:
UFO report from Spain, 1980:
The article below was published in the daily newspaper Le Provenšal, Údition Corse, France, le 21 mars 1980.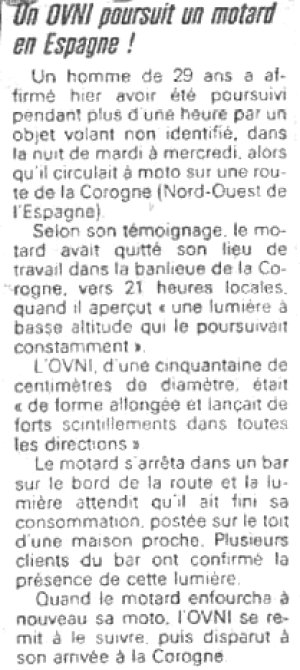 A UFO chases a biker in Spain!
A 29-year-old man claimed yesterday to have been chased for more than an hour by an unidentified flying object, during the night from Tuesday to Wednesday, while he was riding a motorbike on a road in La Coru˝a (North-Western Spain).
According to his testimony, the motorcyclist had left his workplace in the suburbs of La Coru˝a, around 9 p.m. local time, when he saw "a light at low altitude which was constantly pursuing him".
The UFO, about fifty centimeters in diameter, was "elongated in shape and threw strong scintillations in all directions."
The biker stopped at a bar on the side of the road and the light waited until he had finished his drink, posted on the roof of a nearby house. Several bar customers confirmed the presence of this light.
When the biker got back on his motorbike, the UFO started following him again, then disappeared when he arrived in La Coru˝a.