UFOs in the daily Press:
UFOs in Marseilles, France, 1980:
The article below was published in the daily newspaper Le Provençal, France, on August 16, 1980.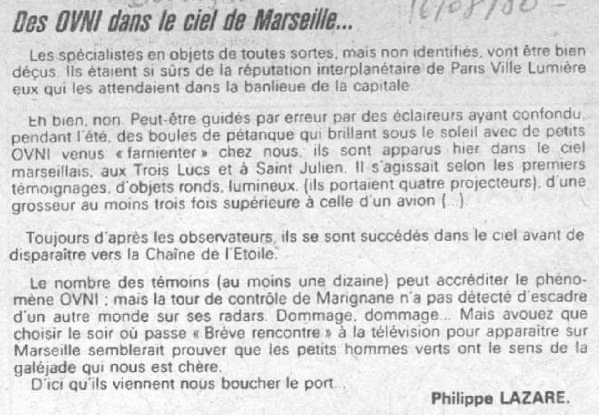 UFOs in the sky of Marseille...
Specialists in objects of all kinds, but unidentified, will be very disappointed. They were so sure of the interplanetary reputation of Paris Ville Lumière as they awaited them in the suburbs of the capital.
Well, no. Perhaps guided by mistake by scouts having confused, during the summer, pétanque balls which shine under the sun with small UFOs coming to "lounge" with us, they appeared yesterday in the Marseille sky, at Trois Lucs and in Saint Julien. According to the first testimonies, these were round, luminous objects, (they carried four searchlights), at least three times the size of an airplane.
Also according to observers, they followed one another in the sky before disappearing towards the Etoile mountain range.
The number of witnesses (at least ten) can support the UFO phenomenon, but the Marignane control tower did not detect any squadron from another world on its radars. Too bad, too bad... But admit that choosing the evening when "Brief encounter" is on television to appear in Marseille would seem to prove that the little green men have the sense of fun that is dear to us.
Until they come to block our port...
Philippe LAZARE.