UFOs in the daily Press:
UFO in the sky of Embrun, France, 1985:
The article below was published in the daily newspaper Le Méridional, France, page 16, le 6 février 1985.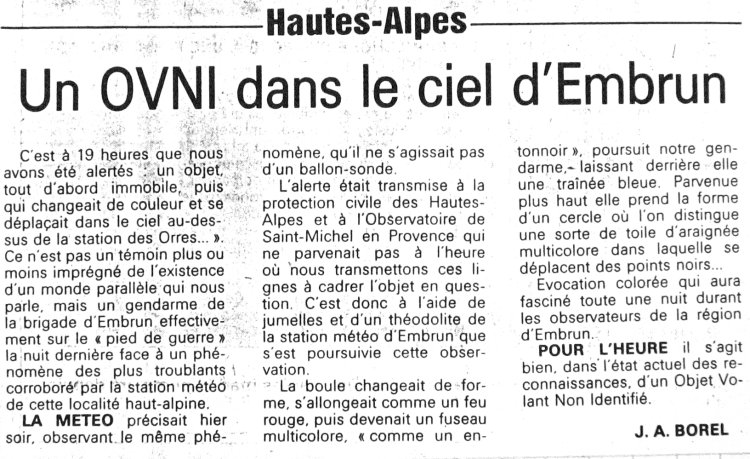 Hautes-Alpes
A UFO in the sky of Embrun
It was at 7 p.m. that we were alerted: an object first motionless, then changing color and moving in the sky above the Orres station...".
It is not a witness more or less imbued with the existence of a parallel world who speaks to us, but a gendarme from the Embrun brigade effectively on the "war footing" last night in the face of a most disturbing phenomenon corroborated by the weather station of this high-alpine locality.
THE WEATHER SERVICE clarified last night, observing the same phenomenon, that it was not a weather balloon.
The alert was transmitted to the civil protection of the Hautes-Alpes and to the Observatory of Saint-Michel in Provence which did not succeed at the time when we transmit these lines to frame the object in question. It was therefore with the help of binoculars and a theodolite from the Embrun weather station that this observation continued.
The ball changed shape, lengthened like a red light, then became a multicolored spindle, "like a funnel", continues our policeman - leaving behind it a blue trail. When it got higher, it took the form of a circle where one could see a kind of multicolored spider's web in which black dots moved...
Colorful evocation that will have fascinated observers of the Embrun region for a whole night.
FOR THE TIME it is indeed, in the current state of reconnaissance, an Unidentified Flying Object.
J.A. BOREL