UFOs in the daily Press:
A UFO swallows a car, Loire-Atlantique, France, 1979:
The article below was published in the daily newspaper Le Méridional, France, page 28, le 6 décembre 1979.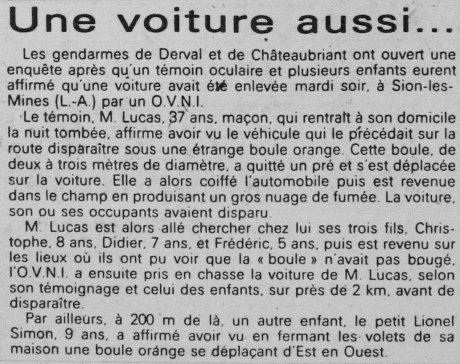 A car too...
The gendarmes of Derval and Chateaubriand opened an investigation after an eyewitness and several children claimed that a car had been kidnapped Tuesday evening, in Sion-les-Mines (L.-A.) by a UFO.
The witness, Mr. Lucas, 37, mason, who was returning home after dark, claimed to have seen the vehicle in front of him on the road disappear under a strange orange ball. This ball, two to three meters in diameter, left a meadow and moved on the car. It then capped the automobile and then returned to the field, producing a large cloud of smoke. The car, its occupant(s) had disappeared.
Mr. Lucas then went to pick up his three sons, Christophe, 8, Didier, 7, and Frédéric, 5, from his home, then returned to the place where they could see that the "ball" had not moved. The U.F.O. then chased the car of Mr. Lucas, according to his testimony and that of the children, for nearly two kilometers, before disappearing.
In addition, 200 m away, another child, the young Lionel Simon, 9 years old, claimed to have seen while closing the shutters of his house an orange ball moving from East to West.