UFOs in the daily Press:
Reports in Azerbaijan and Iran, 1980:
The article below was published in the daily newspaper Le Méridional, France, page 24, le 13 juillet 1980.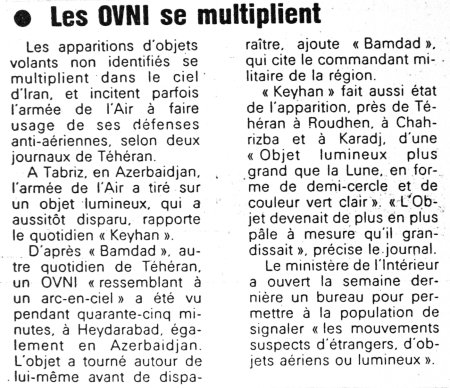 UFOs are multiplying
The appearances of unidentified flying objects are increasing in the skies of Iran, and sometimes prompt the Air Force to use their anti-aircraft defenses, according to two Tehran newspapers.
In Tabriz, Azerbaijan, the Air Force fired on a luminous object, which immediately disappeared, reports the daily "Keyhan".
According to "Bamdad", another Tehran daily, a UFO "resembling a rainbow" was seen for forty-five minutes, in Heyderabad [Hyderabad], also in Azerbaijan. The object rotated around itself before disappearing, adds "Bamdad", quoting the military commander of the region.
"Keyhan" also reports the appearance near Tehran in Rhouden, Chahrizba, and Karadj, of a "Luminous object larger than the Moon, in the shape of a semi-circle and light green in color." "The Object became paler and paler as it grew," the newspaper said.
The Ministry of the Interior opened an office last week to allow the population to report "suspicious movements of foreigners, aerial or luminous objects."