UFOs in the daily Press:
Big green men, 1979:
The article below was published in the daily newspaper Le Méridional, France, on February 13, 1979.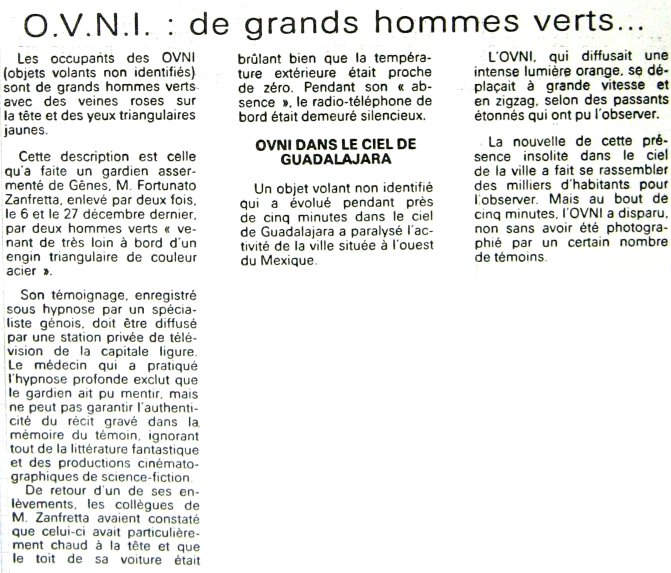 U.F.O.: big green men...
The occupants of UFOs (Unidentified Flying Objects) are tall green men with pink veins on their heads and yellow triangular eyes.
This description is that given by a sworn guard from Genoa, Mr. Fortuato Zanfretta, abducted twice, on December 6 and 27, by two green men "coming from very far aboard a triangular craft of steel color."
His testimony, recorded under hypnosis by a Genoese specialist, is to be broadcast by a private television station in the Ligurian capital. The doctor who practiced deep hypnosis excludes that the guard could have lied, but cannot guarantee the authenticity of the story engraved in the memory of the witness, being unaware of all the fantastic literature and the cinematographic productions of science fiction.
Returning from one of these kidnappings, Mr. Zanfretta's colleagues noticed that his head was particularly hot and that the roof of his car was hot even though the outside temperature was close to zero. During his "absence", the on-board radio-telephone remained silent.
UFO IN THE SKY OF GUADALAJARA
An unidentified flying object that moved for almost five minutes in the sky of Guadalajara paralyzed the activity of the city located in western Mexico.
The UFO, which emitted an intense orange light, moved at high speed and in a zigzag pattern, according to astonished passers-by who observed it.
The news of this unusual presence in the sky of the city made thousands of inhabitants gather to observe it. But after five minutes, the UFO disappeared, not without being photographed by a number of witnesses.