UFOs in the daily Press:
The 1954 French flap in the Press:
The article below was published in the daily newspaper Le Journal du Pas-de-Calais et de la Somme, France, pages 1 and 6, on October 7, 1954.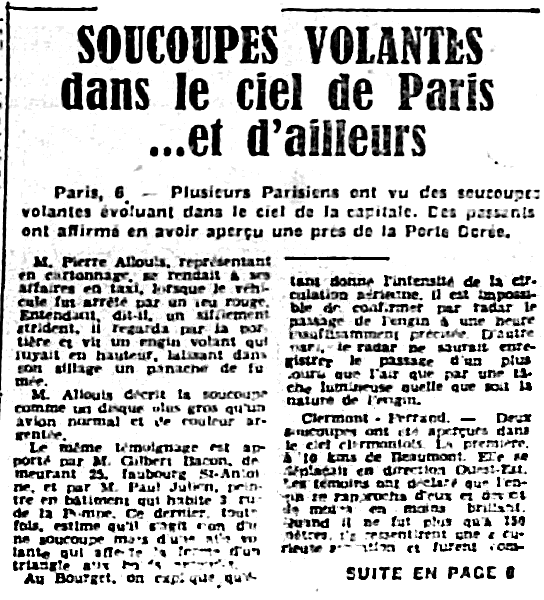 FLYING SAUCERS
in the sky of Paris
... and elsewhere
Paris, 6. -- Several Parisians have seen flying saucers moving in the sky of the capital. Passers-by claimed to have seen one near the Porte Dorée.
Mr. Pierre Allouis, a cardboard representative, was on his way to his business by taxi when the vehicle was stopped by a red traffic light. Hearing, he said, a shrill whistling sound, he looked out of the door and saw a flying object escaping high, leaving in its wake a plume of smoke.
Mr. Allouis describes the saucer as a disc larger than a normal plane and silver in color.
The same testimony is given by Mr. Gilbert Bacon, living at 25, faubourg St-Antoine, and by Mr. Paul Julien, house painter who lives at 3, rue de la Pompe. The latter, however, believes that it is not a saucer but a flying wing that takes the shape of a triangle with rounded edges.
At Le Bourget, it is explained that, given the intensity of air traffic, it is impossible to confirm by radar the passage of the craft at an insufficiently specified hour. Also, the radar can only record the passage of a heavier-than-air by a luminous spot regardless of the nature of the craft.
Clermont - Ferrand. - Two saucers were seen in the Clermont sky. The first 10 kms from Beaumont. It was moving West-East. The witnesses declared that the object approached them and became less and less brilliant. When it was only 150 meters away, they felt a "curious feeling" and were like
CONTINUED ON PAGE 6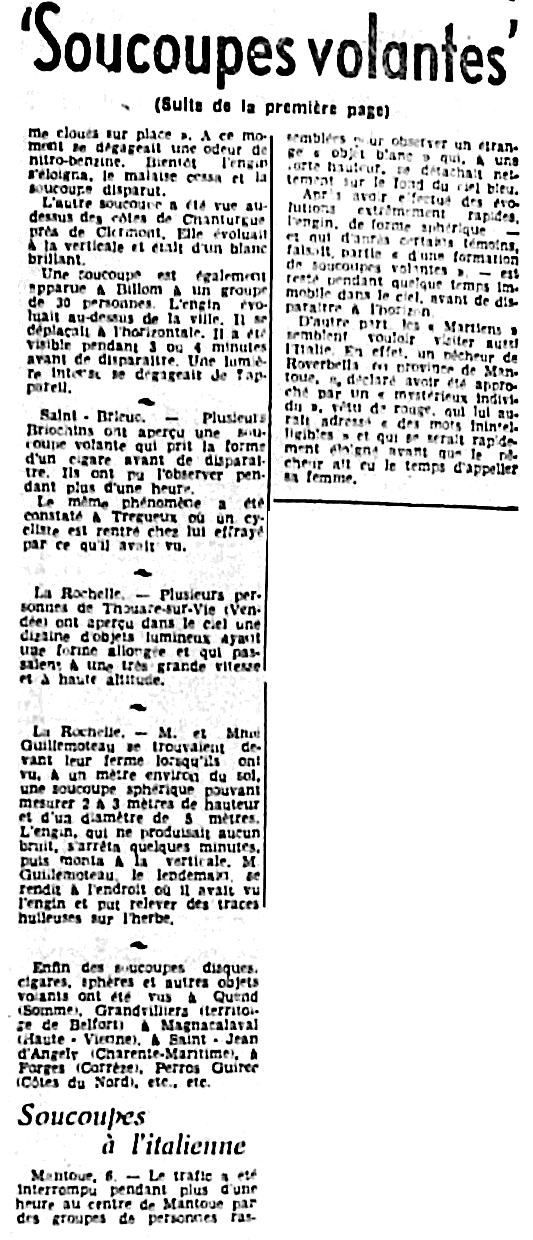 'Flying saucers'
(Continued from the first page)
nailed on the spot. At that moment there was a smell of nitro-benzine. Soon the craft moved away, the discomfort ceased and the saucer disappeared.
The other saucer was seen above the hills of Chanturgues near Clermont. It moved vertically and was bright white.
A saucer also appeared in Billom to a group of 30 people. The craft was flying above the city. It was moving horizontally. It was visible for 3 or 4 minutes before disappearing. A bright light was emitted from the craft.
Saint - Brieuc. - Several residents of Saint-Brieuc saw a flying saucer which took the shape of a cigar before disappearing. They were able to observe it for over an hour.
The same phenomenon was observed in Trégueux where a cyclist went home frightened by what he had seen.
La Rochelle. - Several people from Thouare-sur-Vie (Vendée) saw in the sky ten luminous objects having an elongated shape and which passed at very high speed and high altitude.
La Rochelle. - Mr. and Mrs. Guillemoteau were in front of their farm when they saw, about a meter from the ground, a spherical saucer which might have measured 2 to 3 meters in height and with a diameter of 5 meters. The craft, which produced no noise, stopped for a few minutes, then climbed vertically. Mr. Guillemoteau, the next day, went to the place where he had seen the craft and was able to find oily traces on the grass.
Finally, saucers, discs, cigars, spheres and other flying objects were seen in Quend (Somme), Grandvilliers (territory of Belfort), in Magnac-Laval (Haute-Vienne), in Saint-Jean-d'Angély (Charente-Maritime), in Forges (Corrèze), Perros-Guirec (Côtes du Nord), etc., etc.
Saucers
Italian style
Mantua, 6. -- Traffic was interrupted for more than an hour in central Mantua by groups of people gathered to observe a strange "white object" which, at a high height, was clearly visible on the blue sky background.
After having carried out extremely rapid moves, the craft, of spherical shape - and which according to certain witnesses, was part of "a formation of flying saucers" - remained for some time motionless in the sky, before disappearing on the horizon.
Also, the "Martians" seem to also want to visit Italy. Indeed, a Roverbella fisherman in the province of Mantua, said that he had been approached by a "mysterious individual", dressed in red, who reportedly talked to him in "unintelligible words" and who reportedly quickly moved away before the fisherman had time to call his wife.