UFOs in the daily Press:
The 1954 French flap in the Press:
The article below was published in the daily newspaper Le Journal du Pas-de-Calais et de la Somme, France, page 7, on October 22, 1954.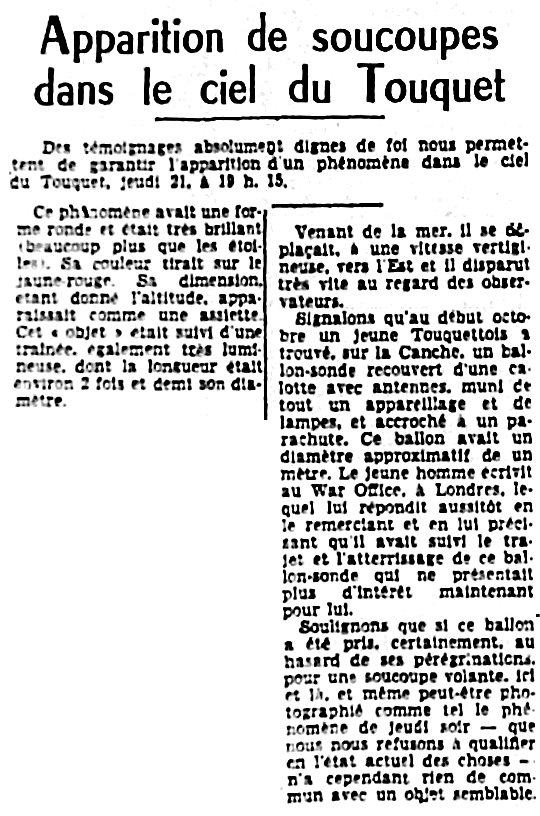 Appearance of saucers
in the Touquet sky
Testimonies absolutely trustworthy allow us to guarantee the appearance of a phenomenon in the sky of Le Touquet, Thursday 21, at 7:15 p.m.
This phenomenon had a round shape and was very luminous (much more than the stars). Its color was yellow-red. Its size, given the altitude, appeared like a plate. This "object" was followed by a trail, also very bright, whose length was about two and a half times its diameter.
Coming from the sea, it was moving, at a dizzying speed, towards the East and it disappeared very quickly in front of the observers.
Let us note that at the beginning of October a young resident of Le Touquet found, on the Canche, a sounding balloon covered with a cap with antennas, provided with a whole apparatus and lamps, and hung on a parachute. This balloon had an approximate diameter of one meter. The young man wrote to the War Office, in London, who answered him immediately by thanking him and by specifying to him that they had followed the course and the landing of this sounding balloon which did not interest them any more now.
Note that if this balloon was mistaken, certainly, at random in its wanderings, for a flying saucer, here and there, and even perhaps photographed as such the phenomenon of Thursday evening - which we refuse to qualify for now - however, has nothing in common with a similar object.