UFOs in the daily Press:
The 1954 French flap in the Press:
The article below was published in the daily newspaper Le Courrier de Valenciennes, Valenciennes, Nord, France, page 4, 30 octobre 1954.
See the case file.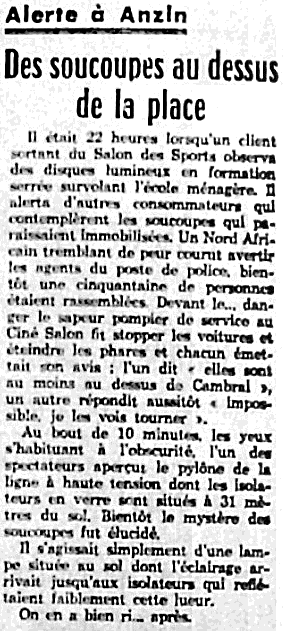 Alert in Anzin
Saucers above
the square
It was 10 p.m. when a customer leaving the Sports Hall observed luminous discs in close formation flying over the housewife school. He alerted other consumers who looked at the saucers that appeared to be immobilized. A North African trembling with fear rushed to warn the police station officers, soon about fifty people were gathered. In front of the... danger the fireman of the Salon cinema stopped the cars and turned off the headlights and each expressed his opinion: one said "they are at least above Cambrai", another immediately replied "Impossible, I see they are turning."
After 10 minutes, the eyes getting used to the darkness, one of the spectators saw the pylon of the high-voltage power line whose glass insulators are located 31 meters from the ground. Soon the mystery of the saucers was solved.
It was simply a lamp located on the ground, the lighting of which reached the insulators which weakly reflected this glow.
One laughed about it ... afterward.