UFOs in the daily Press:
Balloon in the Côte-d'Or, France, 1980:
The article below was published in the daily newspaper Le Bien Public, France, on June 28, 1980.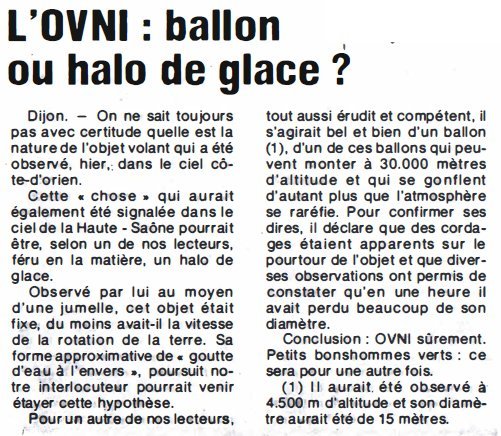 The UFO: balloon or ice halo?
Dijon. -- We still do not know with certainty what is the nature of the flying object which was observed yesterday in the sky of the Côte-d'Or.
This "thing" which would also have been reported in the sky of the Haute-Saône could be, according to one of our readers, keen on the subject, an ice halo.
Observed by him through binoculars, this object was fixed, at least it had the speed of the rotation of the earth. Its approximate shape of a drop of water upside down, continues our interlocutor, could come to support this hypothesis.
For another of our readers, just as erudite and competent, it would indeed be a balloon (1), one of those balloons which can rise to an altitude of 30,000 meters and which inflate especially as the atmosphere becomes rarer. To confirm his statements, he declared that ropes were visible around the perimeter of the object and that various observations showed that in one hour it had lost a lot of its diameter.
Conclusion: UFO surely. Little green men: that will be for another time.
(1) It was reportedly observed at an altitude of 4,500 m and its diameter would have been 15 meters.