UFOs in the daily Press:
Misinterpretation in France, 1954:
The article below was published in the daily newspaper L'Auvergnat de Paris, Paris, France, page 5, le 27 novembre 1954.
See the case file.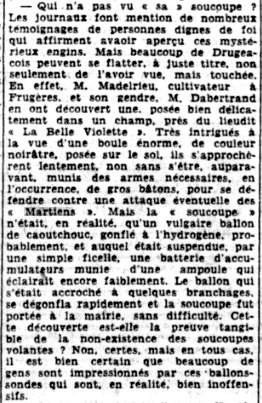 [Drugeac section:]
- Who hasn't seen "his" saucer? The newspapers mention numerous testimonies of reliable people who claim to have seen these mysterious craft. But many residents of Drugeac can rightly flatter themselves, not only having seen it, but touched it. Indeed, Mr. Madelrieu, farmer in Frugères, and his son-in-law, Mr. Dabertrand discovered one, posed very delicately in a field, near the place called "La Belle Violette". Very intrigued at the sight of a huge ball, blackish in color, placed on the ground, they approached slowly, not without having previously had the necessary weapons, in this case, large sticks, to defend against a possible attack by the "Martians". But the "saucer" was, in reality, only an ordinary rubber balloon, inflated with hydrogen, probably, and to which was suspended, by a simple string, an accumulator battery fitted with a light bulb which was still weakly lit. The balloon which had hung on some branches, deflated quickly and the saucer was carried to the town hall, without difficulty. Is this discovery tangible proof of the non-existence of flying saucers? Certainly not, but in any case, it is quite certain that many people are impressed by these sounding balloons which are, in reality, quite harmless.