UFOs in the daily Press:
UFO and gendarmes, France, 1977:
The article below was published in the daily newspaper L'Ardennais, France, on December 14, 1979.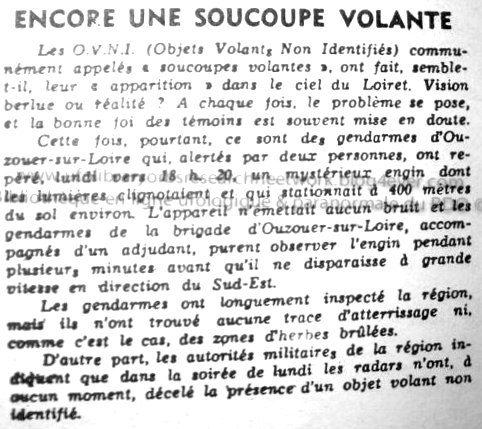 ANOTHER FLYING SAUCER
UFOs (Unidentified Flying Objects) commonly called "flying saucers", seem to have appeared in the Loiret sky. Dumb vision or reality? Each time the problem arises, and the good faith of the witnesses is often questioned.
This time, however, it was the gendarmes of Ouzouer-sur-Loire who, alerted by two people, spotted on Monday around 6:20 p.m., a mysterious craft whose lights flashed and which was hovering about 400 meters above the ground. The craft made no noise and the gendarmes of the Ouzouer-sur-Loire brigade, accompanied by a warrant officer, were able to observe the craft for several minutes before it disappeared at high speed in the direction of the South-East.
The gendarmes inspected the area at length, but they found no traces of landing or, as is the case, areas of burnt grass.
On the other hand, the military authorities of the region indicate that on Monday evening the radars did not, at any time, detect the presence of an unidentified flying object.