UFOs in the daily Press:
The landing of Harponville, France, 1954:
The article below was published in the daily newspaper La Croix du Nord, Lille, Pas-de-Calais, France, page 1, September 9, 1954.
See the case file.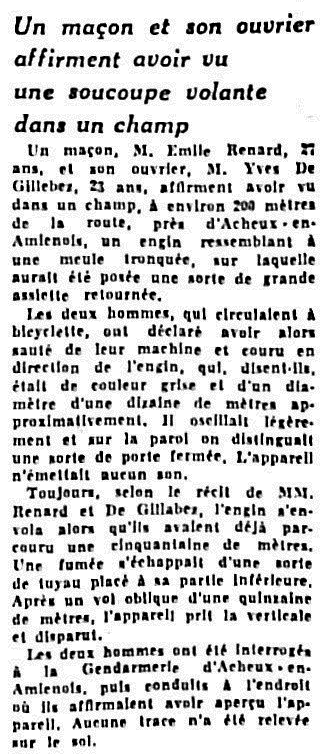 A mason and his worker
claim to have seen
a flying saucer
in a field
A mason, Mr. Emile Renard, 27, and his worker, Mr. Yves de Gillebez, 23, claim to have seen in a field, about 200 meters from the road, near Acheux-en-Amiénois, a craft resembling a truncated haystack, on which would have been placed a kind of large inverted plate.
The two men, who were riding their bikes, stated that they then jumped from their machine and ran towards the craft which, they say, was gray in color and about ten meters in diameter approximately. It swung slightly, and a sort of closed door could be seen on the wall. There was no sound from the craft.
Still according to the account of MM. Renard and Gillabez, the apparatus flew away when they had already traveled fifty meters. Smoke came out of a kind of pipe placed at its bottom. After an oblique flight of about fifteen meters, the craft took the vertical and disappeared.
The two men were interrogated at the Gendarmerie of Acheux-en-Amiénois, then taken to the place where they claim to have seen the craft. No trace was found on the ground.