UFOs in the daily Press:
The 1954 French flap in the Press:
The article below was published in the daily newspaper La Croix du Nord, Lille, Pas-de-Calais, France, pages 1 and 8, on October 16, 1954.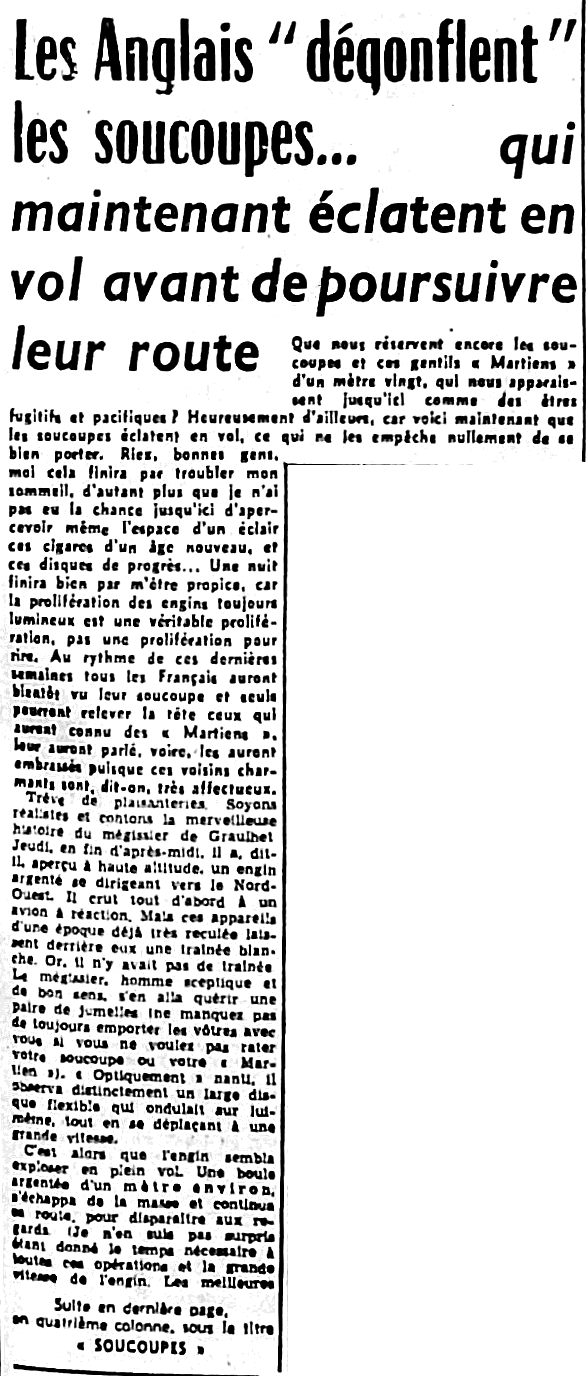 The English "deflate"
the saucers...
which now burst into
flight before continuing
their route
What do the saucers and those nice "Martians" of a meter and twenty have in store for us, who until now appear to us as fugitive and peaceful beings? Fortunately, moreover, because now the saucers burst in flight, which in no way prevents them from doing well. Laugh, good people, It will end up disturbing my sleep, especially since I did not have the chance so far to see even in a flash these cigars of a new age, and these progress discs... a night will end up being auspicious for me, because the proliferation of always luminous devices is a real proliferation, not a proliferation for nothing. At the rate of the last few weeks, all the French will soon have seen their saucer and only those who will have known "Martians" will be able to raise their heads, those who spoke to them, or even kissed them since these charming neighbors are, it is said, very affectionate.
No joke. Let's be realistic and tell the wonderful story of Graulhet's barrel maker. Thursday afternoon, he said, he saw at high altitude, a silver craft heading northwest. At first he believed it was a jet plane. But these devices from an already very old age leave behind a white trail. However, there was no trail. The skeptical man of good sense went to fetch a pair of binoculars (don't forget to always take yours with you if you don't want to miss your saucer or your "Martian") "Optically" well equipped he distinctly observed a large flexible disk that rippled on itself, while moving at great speed.
It was then that the device seemed to have exploded in mid-flight. A silver ball of about one meter, escaped from the mass and continued on its way, to disappear from view (I am not surprised by this given the time necessary for all these operations and the high speed of the machine). The best
Continued on last page,
in the fourth column, under the title
"SAUCERS"

SAUCERS
things unfortunately come to an end.
The rest of the craft fell in several sheet-like pieces of various sizes that hovered in the sky and some of which clung to the telegraph wires.
Do not take Graulhet's barrel maker for a joker too quickly: about fifteen people testify to this singular phenomenon and moreover, fragments of materials have been collected. They will not be canned even in the museum, because these "agglomerated silver filaments" crumble when touched. Too bad!
Someone disturbed the party
After such a demonstration, such sensational details, how to understand that the English remain skeptical. These gentlemen now come to disturb the party, the great interplanetary ballet of saucers, which harms no one, fuels conversations, provides themes of endless "good jokes".
The British Air Ministry, probably not to be like everyone else, does not believe in the existence of flying saucers, cigars and other flying devices. They only believe in the flying "cage-bed." While refusing to comment on the devices reported in France and other European countries, official spokespersons for the ministry say that 99 times out of 100, there are natural explanations for similar sightings reported in Britain. These are most often weather balloons. When no explanation can be given, it is usually because the testimonies of people who claim to have witnessed his appearances are insufficient. No such device has been reported in Great Britain in recent weeks.
Here are these gentlemen of the British Air Ministry want to deflate our saucers and cigars (it is true that the "Martians" seem to have a particular interest in France) into vulgar weather balloons. What a disillusion... but beware, look up, "your" saucer may be passing right now.
SCEPTICOS