UFOs in the daily Press:
French saucers of 1954 in the US Press:
The article below was published in the daily newspaper The Index-Journal, Greenwood, South Carolina, USA, page 4, on November 25, 1954.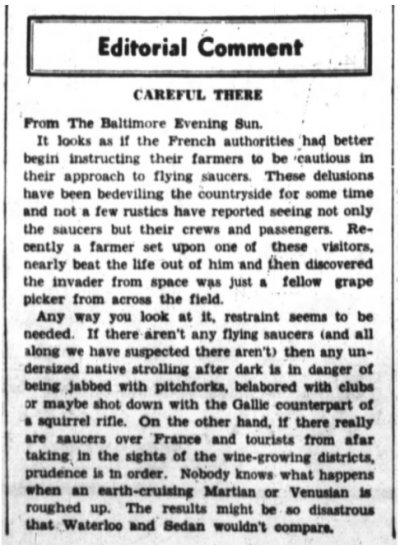 Editorial Comment>
CAREFUL THERE
From The Baltimore Evening Sun
It looks as if the French authorities had better begin instructing their farmers to be cautious in their approach to flying saucers. These delusions have been bedeviling the countryside for some time and not a few rustics have reported seeing not only the saucers but their crews and passengers. Recently a farmer set upon one of these visitors, nearly beat the life out of him and then discovered the invader from space was just a fellow grape picker from across the field.
Any way you look at it restraint seems to be needed. If there aren't any flying saucers (and all along we have suspected there aren't) then any undersized native strolling after dark is in danger of being jabbed with pitchforks, belabored with clubs or maybe shot down with the Gallic counterpart of a squirrel rifle. On the other hand, if there really are saucers over France and tourists from afar taking in the sights of the wine-growing districts, prudence is in order. Nobody knows what happens when an earth-cruising Martian or Venusian is roughed up. The result might be so disastrous that Waterloo and Sedan wouldn't compare.